2017 Pulitzer Winners for Journalism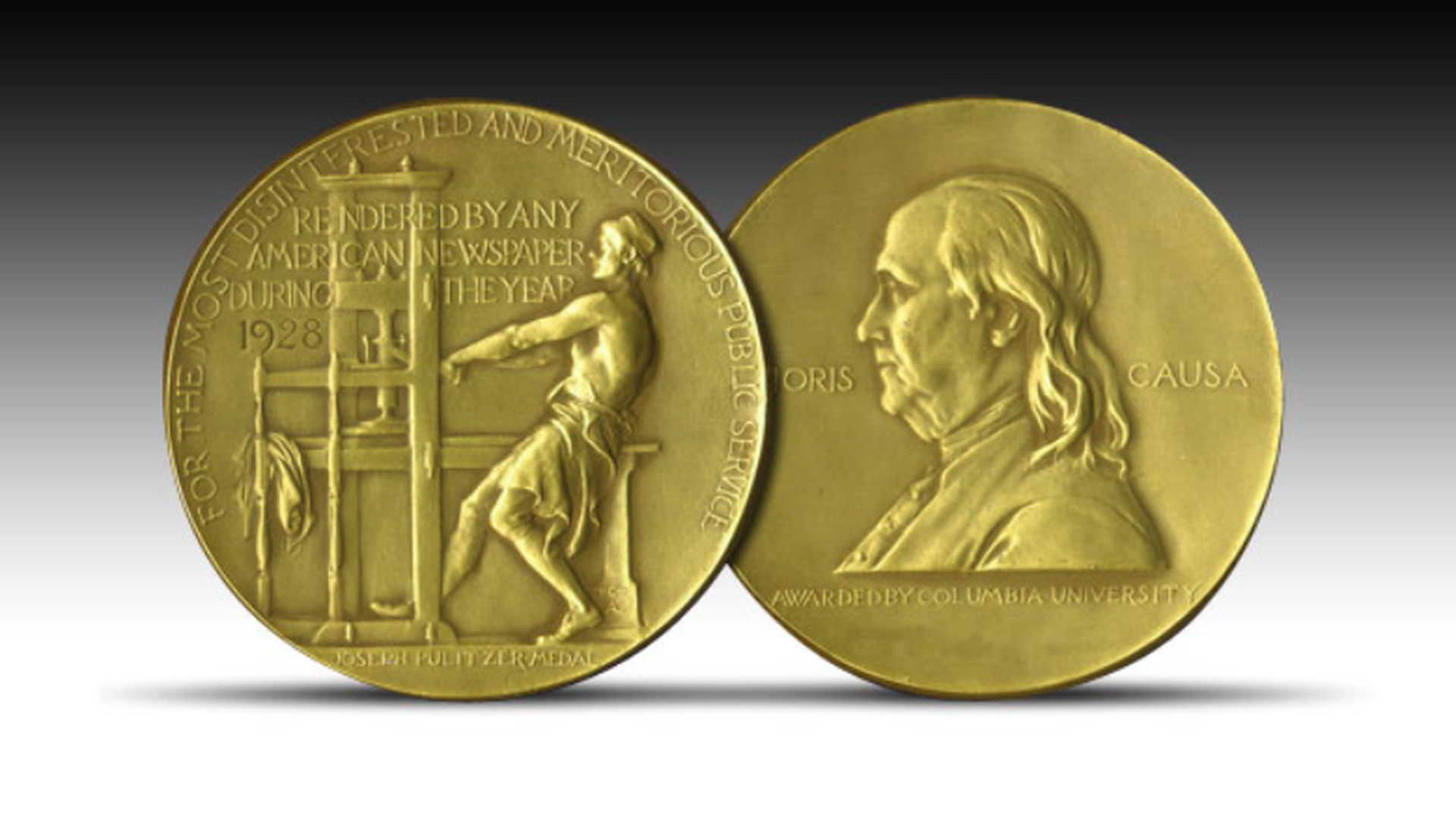 The 2017 Pulitzer Prize Winners were announced Monday.
The big winner: The New York Times clinched the most awards with three prizes for International Reporting, Featuring Writing and Breaking News Photography.
The 2016 angle: Washington Post's David Fahrenthold won the prize for best National Reporting for his series on President Trump's foundation and breaking other stories like the NBC Access Hollywood tape, which exposed President Trump's now infamous conversation with Billy Bush.
Full list of winners in journalism.
Public Service (1917-present)
Winner: The New York Daily News and Pro Publica: For uncovering, primarily through the work of reporter Sarah Ryley, widespread abuse of eviction rules by the police to oust hundreds of people, most of them poor minorities. Follow the winners: @NYDailyNews, @ProPublica and @MissRyley
Finalist: Chicago Tribune
Finalist: Houston Chronicle
Breaking News Reporting (1998-present)
Winner: Staff of the East Bay Times: For relentless coverage of the "Ghost Ship" fire, which killed 36 people at a warehouse party, and for reporting after the tragedy that exposed the city's failure to take actions that might have prevented it. Follow the Winner: @EastBayTimes
Finalist: The Dallas Morning News Staff
Finalist: The Orlando Sentinel Staff
Investigative Reporting (1985-present)
Winner: Eric Eyre of the Charleston Gazette Mail: For courageous reporting, performed in the face of powerful opposition, to expose the flood of opioids flowing into depressed West Virginia counties with the highest overdose death rates in the country. Follow the winner: @EricEyre
Finalist: Michael J. Berens and Patricia Callahan of Chicago Tribune
Finalist: Steve Reilly of USA Today Network, Tyson's Corner, VA
Explanatory Reporting (1998-present)
Winner: International Consortium of Investigative Journalists, McClatchy and Miami Herald For the Panama Papers, a series of stories using a collaboration of more than 300 reporters on six continents to expose the hidden infrastructure and global scale of offshore tax havens. (Moved by the Board from the International Reporting category, where it was entered.)Follow the winners: @ICIJorg, @mcclatchy and @MiamiHerald)
Finalist: Joan Garrett McClane and Joy Lukachick Smith of Chattanooga Times Free Press
Finalist: Julia Angwin, Jeff Larson, Surya Mattu, Lauren Kirchner and Terry Parris Jr. of ProPublica
Finalist: Staff of National Geographic, Washington, D.C.
Local Reporting (1948-1952, 2007-present)
Winner: The Salt Lake Tribune Staff For a string of vivid reports revealing the perverse, punitive and cruel treatment given to sexual assault victims at Brigham Young University, one of Utah's most powerful institutions.Follow the winner: @sltrib
Finalist: Jenna Russell, Maria Cramer, Michael Rezendes, Todd Wallack and Scott Helman of The Boston Globe
Finalist: Michael Schwirtz, Michael Winerip and Robert Gebeloff of The New York Times
National Reporting (1948-present)
Winner: David Fahrenthold, The Washington PostFor persistent reporting that created a model for transparent journalism in political campaign coverage while casting doubt on Donald Trump's assertions of generosity toward charities.Follow the winner: @Fahrenthold
Finalist: Renee Dudley, Steve Stecklow, Alexandra Harney and other members of the Reuters Staff
Finalist: The Atlanta Journal-Constitution Staff
International Reporting (1948-present)
Winner: The Staff of the New York TimesFor agenda-setting reporting on Vladimir Putin's efforts to project Russia's power abroad, revealing techniques that included assassination, online harassment and the planting of incriminating evidence on opponents.Follow the winner: @nytimes
Finalist: Chris Hamby of BuzzFeed News, New York, NY
Finalist: International Consortium of Investigative Journalists, McClatchy and the Miami Herald
Finalist: The Wall Street Journal Staff
Feature Writing (1979-present)
Winner: CJ Chivers, The New York TimesFor showing, through an artful accumulation of fact and detail, that a Marine's postwar descent into violence reflected neither the actions of a simple criminal nor a stereotypical case of PTSD.Follow the winner: @cjchivers
Finalist: Adam Entous and Devlin Barrett of The Wall Street Journal
Finalist: Eli Saslow of The Washington Post
Commentary (1973-present)
Winner: Peggy Noonan, WSJFor rising to the moment with beautifully rendered columns that connected readers to the shared virtues of Americans during one of the nation's most divisive political campaigns.Follow the winner: @Peggynoonannyc
Finalist: Dahleen Glanton of Chicago TribuneTr
Finalist: Trudy Rubin of Philadelphia Media Network
Criticism (1973-present)
Winner: Hilton Als, The New YorkerFor bold and original reviews that strove to put stage dramas within a real-world cultural context, particularly the shifting landscape of gender, sexuality and race.Follow the winner: @SLTimes
Finalist: Laura Reiley of Tampa Bay Times
Finalist: Ty Burr of The Boston Globe
Editorial Writing (1917-present)
Winner: Art Cullen, Storm Lake TimesFor editorials fueled by tenacious reporting, impressive expertise and engaging writing that successfully challenged powerful corporate agricultural interests in Iowa.
Finalist: Fred Hiatt of The Washington Post
Finalist: Joe Holley of Houston Chronicle
Editorial Cartooning (1922-present)
Winner: Jim Morin, Miami HeraldFor editorial cartoons that delivered sharp perspectives through flawless artistry, biting prose and crisp wit.Follow the winner: @MorinToon
Finalist: Jen Sorensen, freelance cartoonist
Finalist: Steve Sack of Star Tribune, Minneapolis, MN
Breaking News Photography (2000-present)
Winner: Freelancer Daniel Berehulak, The New York TimesFor powerful storytelling through images published in The New York Times showing the callous disregard for human life in the Philippines brought about by a government assault on drug dealers and users. (Moved into this category from Feature Photography by the nominating jury.)Follow the winner: @berehulak
Finalist: Jonathan Bachman, freelance photographer
Finalist: Photography Staff of the Associated Press
Feature Photography (1968-present)
Winner: E. Jason Wambsgans, Chicago TribuneFor a superb portrayal of a 10-year-old boy and his mother striving to put the boy's life back together after he survived a shooting in Chicago.Follow the winner: @ejwamb
Finalist: Jake May of The Flint Journal, Flint, MI
Finalist: Katie Falkenberg of Los Angeles Times
Go deeper