Why Trumpcare might sign you up for health insurance without asking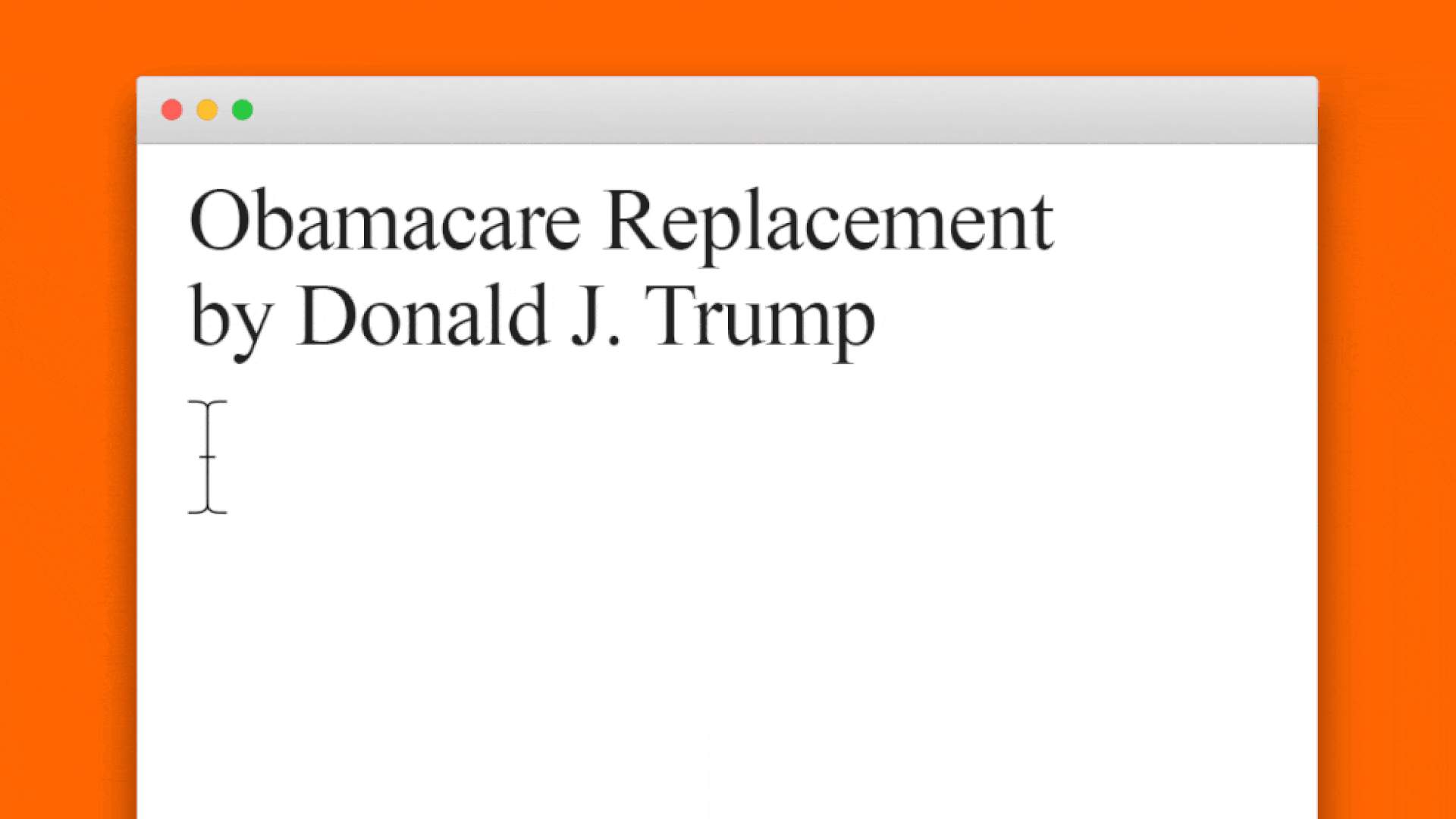 Republicans on the Hill are taking a close look at an idea they believe could actually expand health coverage: just enroll everyone in a health plan unless they opt out.
Hill staffers and conservative health wonks have been tossing the idea around for awhile as a way to replace Obamacare's individual mandate while continuing to cover everyone with pre-existing conditions — something that becomes too expensive without healthy people to cover the costs. Many now point to auto-enrollment as one of the best ways to cover more people without bleeding federal dollars.
The goal: By automatically enrolling people into a basic insurance plan, some Republicans hope to create a new system where coverage is the default for everyone. The idea is a feature of some of the leading Obamacare replacement plans, including a bill by Sen. Bill Cassidy and Rep. Pete Sessions and a white paper by the American Enterprise Institute.
Trump's HHS nominee: Tom Price included auto-enrollment in employer coverage in his Obamacare replacement plan, another sign the idea could gain traction.
There's no consensus that this is the way forward, but "there's a lot of work being done to look into it," said a senior GOP aide.
How it would work: People who don't get health insurance from another source, like an employer, would be enrolled in a bare-bones plan.
It would have the same value as the financial help uninsured people would get — meaning the federal government would cover the cost of the premium, so enrollees would get coverage for free. But they could buy better coverage if they want it.
The catch: This could be a workable policy idea, but it's a political and logistical nightmare. While some Republicans are on board with the idea already, it's going to take some clever messaging to convince small-government conservatives an automatic enrollment policy is less intrusive than an insurance mandate.
The key, supporters say, is to cover the costs. As long as that's done, "it's not viewed as a harmful mandate, because there's no consequence" to someone who doesn't enroll, said the GOP aide.
Here are some outstanding questions and concerns, raised by both liberal and conservative health wonks:
Figuring out who to automatically enroll is an insane task. Basically, it would require coming up with a list of everyone in the country and then comparing that to the list of everyone who has private insurance, Medicare or Medicaid.
Private insurers have to agree to participate. Figuring out how it actually works — and how insurers can turn a profit — would be complicated. "You'd have to find a way to make sure, if there's more than one insurer, that the actual expenses of covering these upper-end costs for people pretty much balances out with a reasonable profit margin," said Joe Antos, a conservative health economist and a member of the Axios board of experts.
Liberals still think the mandate is the better option. "I think more people would opt out of enrollment than would take a fine with the individual mandate," said Jonathan Gruber, an MIT economics professor who consulted on Obamacare. But "it's better than nothing."
The default health plan would be very skimpy coverage. Deductibles would probably be at least $10,000, and many services wouldn't be covered — meaning people would have to pay for a lot of medical costs themselves. "I don't think that's going to fly with the American public," since high deductibles are already one of the biggest complaints about Obamacare, Gruber said.
It probably would help keep the individual market balanced. That's not nothing — it's better than a market meltdown. But don't expect the customers to be happy with what they're getting. "The best case scenario is a stabilized market for shitty insurance," Gruber said.
This isn't a money-saving idea for the government. At least not if it's going to work, Antos said. "It's a way of stabilizing the individual market. But if it's also going to be used as a way to save billions of dollars, then it's not going to save the individual market."
Our thought bubble: This seems to solve the GOP's biggest problems, but if there's a reason it doesn't go anywhere, it's because not enough members know about it or understand it.
Go deeper