Why tech execs are turning on Trump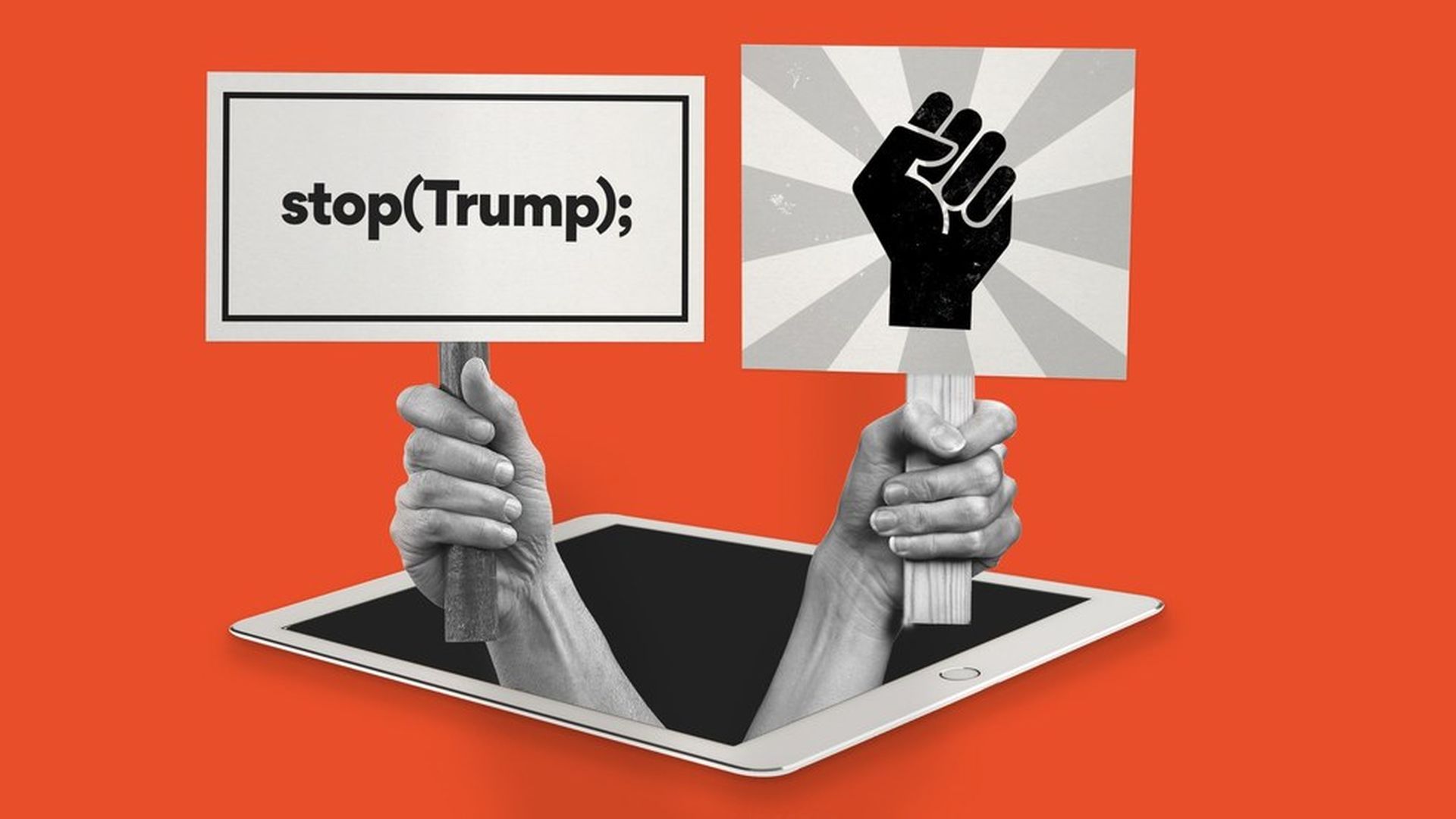 The CEOs of the tech industry's largest brands have been grappling with how to respond to President Trump's policies that are highly unpopular in Silicon Valley. Their employees and customers have ratcheted up the pressure to take a stand against the new president—and it seems to be working.
Here's why technology companies are at the vanguard of the Trump opposition:
Opinionated Customers: The most obvious example of this was the #DeleteUber campaign and other blowback that eventually caused Uber CEO Travis Kalanick to resign from Trump's CEO council.
The super-competitive job market: "Not only do tech users have ability to vote with dollars, but engineers have the ability to go and work for someone else," said Brad Taylor, one of the organizers behind the "Tech Stands Up" rally being planned for next month. That makes tech firms very sensitive to political demands from workers.
Peer Pressure: Tech industry insiders say it's not just pressure from idealistic employees that's turning the tide—it's the larger Silicon Valley "bubble," including fellow companies. For example, Elon Musk's SpaceX and Tesla were late signing on to the legal brief, after Musk repeatedly defended his participation in Trump's advisory group. "There's a certain expectation that we all need to move as a pack," said one employee of a flagship brand.
Strength in numbers: As more companies began to speak out, executives felt like they could follow suit without being singled out in potential Trump tweet or other presidential backlash.
Growing up: A lot of individuals, including CEOs, represent relatively young companies who are still figuring out what they should or shouldn't do, said Tech:NYC Executive Director Julie Samuels. "On one hand, they're horrified by what they see happening, but on the other hand they know they have obligations to shareholders. All the sudden, the travel ban provided an opportunity to criticize a specific policy point without criticizing the broader administration."
Familiar Territory: In responding to the travel order, a lot of CEOs focused on the importance of the foreign workers and H-1B visas in filling crucial technical jobs—an argument they've been making for years. Taking a stance on that issue was less risky than others.
Silicon Valley values: One reason tech companies are taking a stance is because they're pretty much the only industry being called upon by everyday consumers to do so. That reflects the nation's expectation that Silicon Valley will lead the charge promoting certain progressive ideals.
How it's played out: Even before Trump's December roundtable, tech CEOs were well-aware of the fine line they had to walk. In many cases, employees' personal beliefs did not align with how company's treated the new Trump Administration. Yet, as leaders of multi-national corporations, CEOs also knew a negative knee-jerk reaction would carry risks in coming policy debates — such as visas, trade and corporate tax reform — that directly impact their bottom lines. It became a "damned-if-you-do, damned-if-you-don't" kind of situation, said one D.C.-based advisor working with tech companies.
What started out as many companies taking a conciliatory, wait-and-see approach to the administration shifted gears after Trump's immigration and travel ban struck a nerve in Silicon Valley. CEO responses initially took a mild tone (see Mark Zuckerberg's measured Facebook post). The response grew more vocal over the past week, largely in response to blowback from employees, users and the tech press who grew increasingly frustrated with milquetoast responses.
Late Sunday, dozens of tech companies filed an amicus brief condemning the ban, capping a week of rising criticism that included a protest at Google headquarters, joint letters from companies, Uber's Kalanick quitting Trump's CEO council, and dozens of strongly worded statements. More than 1,200 tech employees are also gearing up for rallies in Silicon Valley and other tech-hub cities like Austin and Denver.
Why we're paying attention: The combination of customers, employees, executives and issues could make the tech community a strong counterpoint to the Trump administration. While it will continue to pick its battles, the tech industry is sending a message that it won't be ignored.
Go deeper