Why some of the biggest tech leaders met with Trump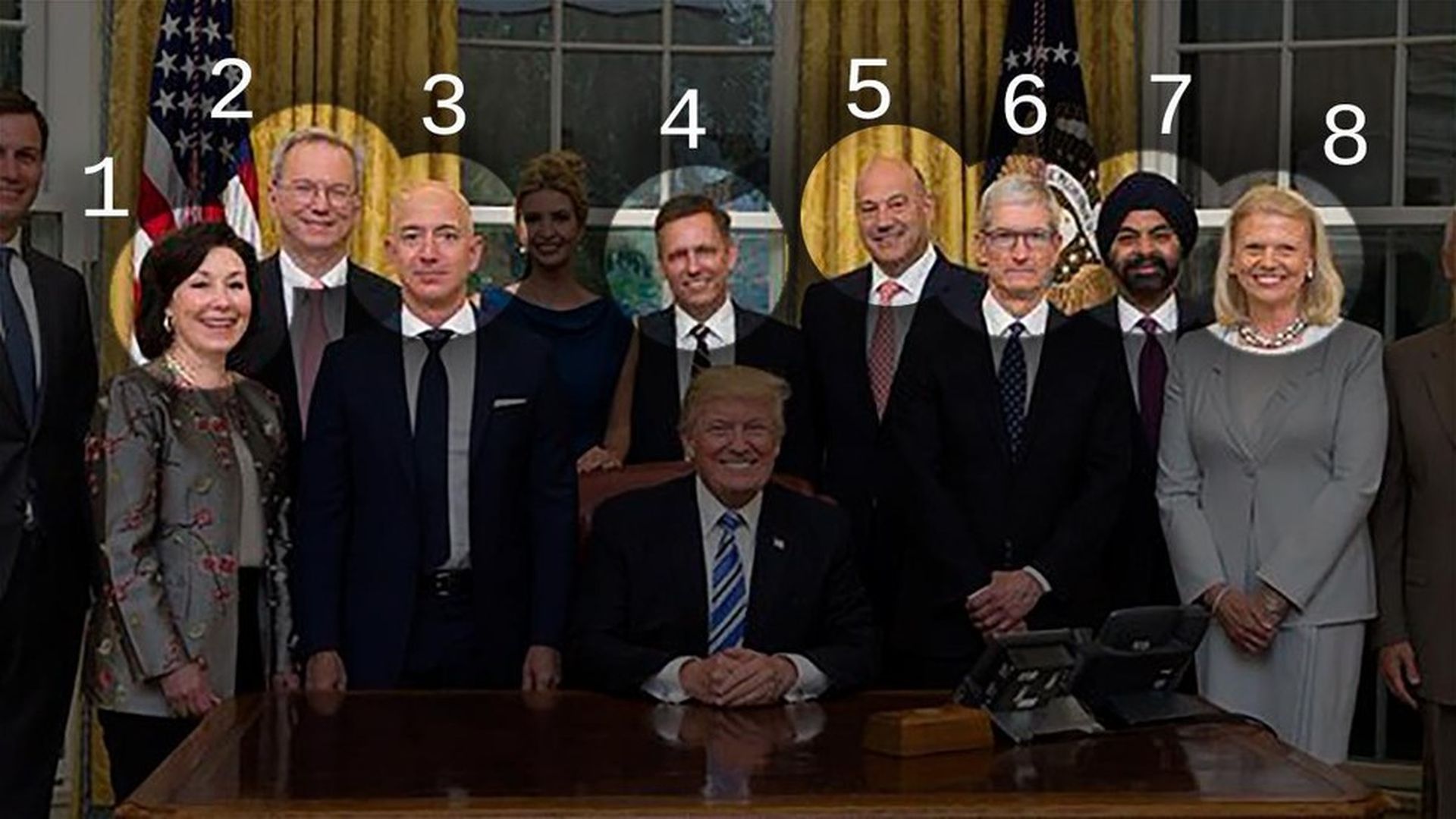 Silicon Valley doesn't see eye to eye with Trump on social and climate change policy. But major tech executives showed up to the White House for a set of meetings Monday focused on updating the government's use of technology. From tax reform to high-skilled immigration, these companies have a number of business priorities they feel they need to work with the White House on, and they want Trump to understand their perspective on technology-driven economic shifts.
Here's our rundown of what each of the players featured in this photo (from White House social media aide Dan Scavino) brought to the table:
Oracle Co-CEO Safra Catz is notably close to the administration compared to many other executives from the tech space. She was a member of Trump's transition team, and Oracle Executive Chairman Larry Ellison has been a big Republican donor. At the meeting with Trump, she said the executives and the White House had "an absolutely wonderful day working together."
Alphabet Chairman Eric Schmidt: Google parent company Alphabet is famously close to Democrats. But it has been recalibrating its government outreach to adapt to a Republican-controlled Washington. Schmidt praised the "new opportunities" of the Trump era, according to Recode. Alphabet is investing in the development of a number of new technologies, including artificial intelligence and self-driving cars, and the government is eyeing policy guidelines that will impact jobs.
Amazon CEO Jeff Bezos: Bezos pushed Trump to have the government use commercially available technology. Amazon has found a revenue driver in selling its cloud hosting services to, among other organizations, the federal government. He also told Trump about the prospects for artificial intelligence.
Founders Fund Partner Peter Thiel: Thiel was Trump's closest campaign ally in tech and told the president at Monday's meeting that "your administration is doing very well." He's also a co-founder of Palantir, the data-mining company with federal contracts whose founder also met with Trump on Monday, and a board member at Facebook, which was invited to the meeting but said scheduling conflicts existed for its executives.
National Economic Council Director Gary Cohn.
Apple CEO Tim Cook: Cook stressed the importance of modernizing technology and jobs, including equipping future workers with skills like coding. High-skilled immigration is a priority for Apple, which like many tech firms uses H-1B visas to hire foreign technical workers. Trump in the past pushed Cook to bring manufacturing jobs back to the U.S., and Apple recently announced an investment fund to support U.S. manufacturing.
MasterCard CEO Ajay Banga: He has attended other business-focused meetings at the White House. Like many tech CEOs, Banga expressed concern about Trump's travel ban. Otherwise he has been supportive of Trump's pro-business, de-regulatory initiatives, including last week's move to increase industry-driven apprenticeship programs to prepare workers with the technical skills modern companies need. Trump's tax reform proposal could also help MasterCard repatriate overseas cash.
IBM CEO Ginni Rometty: IBM is putting major resources into artificial intelligence (think Watson) and established programs to teach students the skills of the future, including programs with community colleges in line with the Trump administration's efforts to close the worker skills gap. IBM is also a big supplier of technology to federal agencies, so it has an interest in IT modernization and cybersecurity initiatives. Rometty has had more meetings with Trump than most tech CEOs, as she's part of his business advisory council.
Go deeper