Where the tax bill stands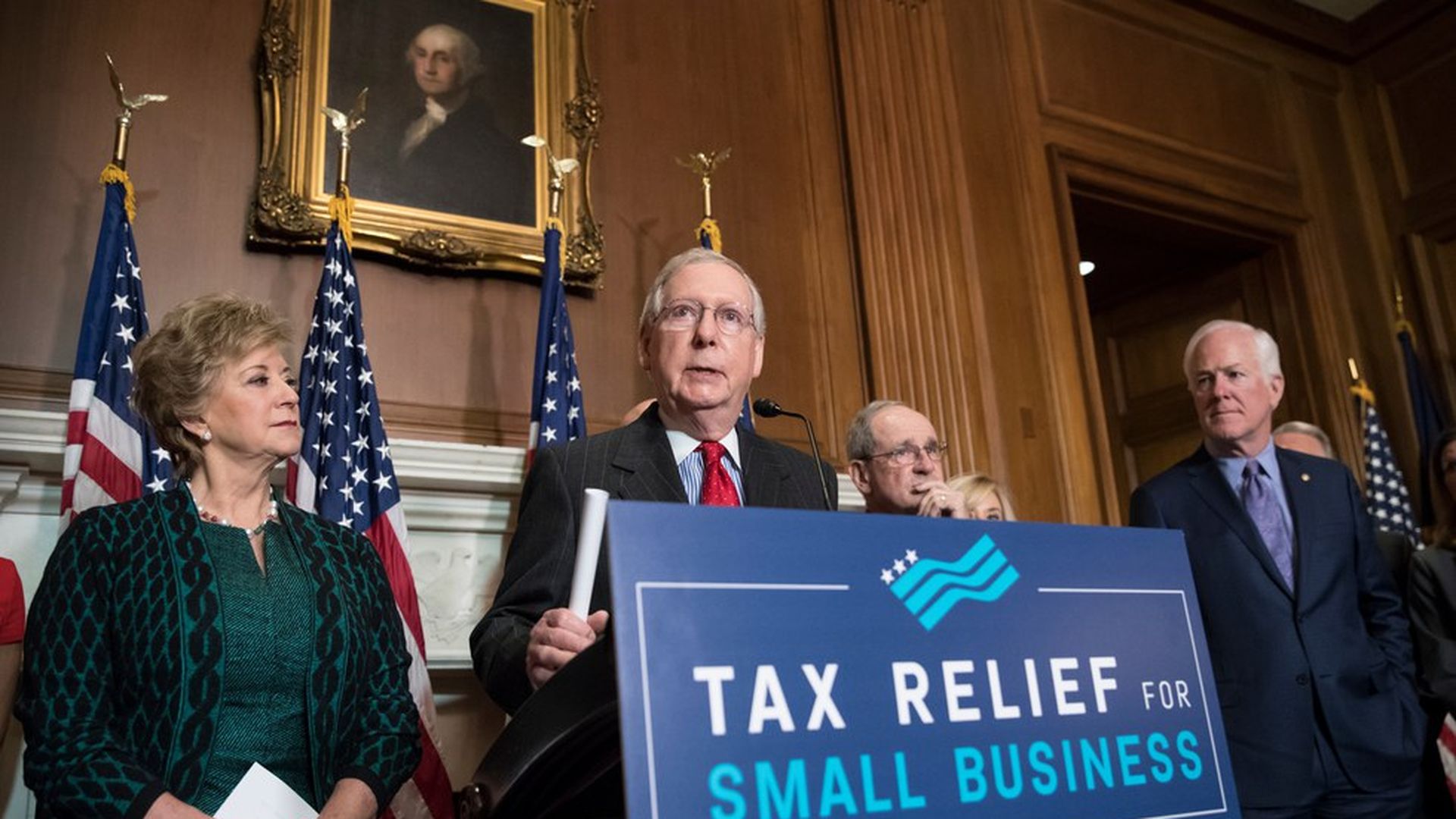 Senate GOP leadership — along with President Trump — is scrambling to get the support of holdout senators for the tax bill when it reaches the Senate floor. Talks seemed to be going well on Tuesday, although no concrete commitments seem to have been made, and many members aren't showing their cards yet.
Be smart: Holdout members are being given hope for candy without vegetables. Everything they want — and seem to be potentially getting — costs money that Republicans really don't have to spend. Paying for it could end up being painful.
Here's what the holdouts are saying:
Sen. Susan Collins:
Trump told senators at lunch today that he would support adding in a $10,000 property tax deduction to the tax plan, as the House bill did, according to Collins. She's been calling for this.
Trump also told senators he would support the Alexander-Murray health care proposal and the Collins-Nelson reinsurance bill if the Affordable Care Act individual mandate is repealed, according to both Collins and Sen. Lindsey Graham. This is exactly what Collins has asked for in exchange for repealing the mandate.
"I am happy to report that I am making progress on the issues that matter most to me...I think they're eager to help me get to yes."
Sen. Bob Corker:
Told reporters he would vote for the bill in the Budget Committee markup over an "agreement" about how the tax plan will play out given different scenarios of economic growth. In a statement, Corker said it was a "trigger mechanism to ensure greater fiscal responsibility should economic growth estimates not be realized."
Other Republicans say that means tax increases, and insist they'll never vote for it. ""I'd rather drink weed killer," Sen. John Kennedy of Louisiana told reporters. "If I vote for that thing, consider me drunk."
Sen. Steve Daines:
Told Axios he was "pleased" after his discussion with Majority Leader Mitch McConnell today about the tax negotiations since he felt he had been "listened to on fighting on behalf of Main Street businesses," but was mum on whether he was any closer to a "yes" vote.
Sen. Ron Johnson:
Voted for the bill in Budget, but a spokesman said this was to keep moving the process along. It's unclear if he's been offered changes to the small business provision that he finds acceptable.
Go deeper