What you need to know about the shocking U.K. election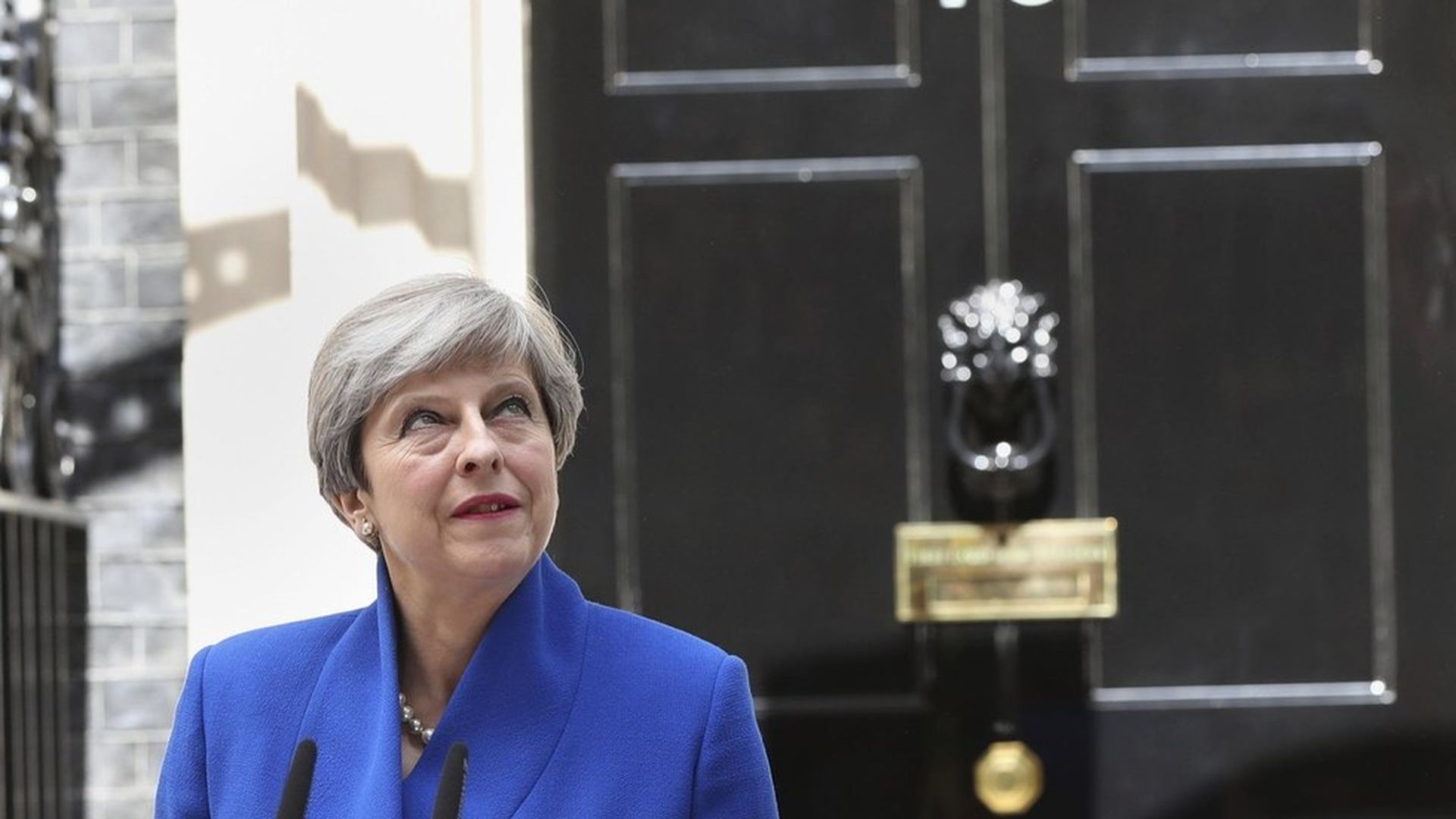 Yesterday's snap general election in the United Kingdom produced a shocking result: a hung parliament. It's not what PM Theresa May expected when she called this election six weeks ago to strengthen her hand ahead of the formal Brexit negotiations — and the result might mean more political chaos for the country in the near future.
Where things stand right now:
May will remain as PM with a minority government headed by her Conservative Party. The Conservatives are discussing a pact with the right-wing Northern Irish Democratic Unionist Party, but there is no formal coalition agreement yet.
After facing down a no-confidence vote triggered by his own MPs last year, this result is a huge success for the Labour Party's Jeremy Corbyn and his brand of left-wing politics.
Brexit is still on — the European Union has already begun trolling May — but its ultimate scope and structure is certainly in question.
Other big storylines
The Scottish National Party (SNP), the main driver behind the Scottish independence movement, lost seats all across Scotland to the other major parties. Conservative gains in Scotland provided the most shocking result, as the party hasn't had any success there in 20 years. Scottish independence is on life support right now.
Labour's Corbyn had been widely mocked and derided (even by those in his own party) as an out-of-touch socialist from the 1970s. But his hopeful message and dynamic campaigning clearly resonated with voters across the country as Labour made headway even in longtime Conservative bastions.
Former Deputy Prime Minister Nick Clegg of the Liberal Democrats was defeated in a surprise result. And the SNP lost both its deputy leader and former leader as Angus Robertson and Alex Salmond both lost their seats in Scotland.
What comes next
Theresa May's position: She gave a defiant speech in front of 10 Downing Street this afternoon that largely ignored the reality of the result. That's not going to please longtime Conservative MPs who lost their seats or saw their margins of victory greatly reduced, especially when this election was her decision. She plans to remain as prime minister and she met with Queen Elizabeth II to form a government, but there are already knives out for her in her own party.
Another general election? Minority governments are notoriously unstable. The last general election that produced a minority government occurred in February 1974 and resulted in another election later that year. If May can't hammer out a formal coalition agreement with the DUP, there's a significant chance of another election this year — and May wouldn't be leading the Conservatives into it.
Brexit: Who knows? If May pushes ahead with a minority Conservative government, that opens the door for moderate Remain supporters in her own party to become more vocal in their push for a softer Brexit. Labour had included most aspects of a "hard" Brexit — the exiting of the European single market and the end of free movement of people — in their campaign manifesto, but they might also take a softer tone given the result. Formal negotiations are set to begin with the European Union on June 19.
Go deeper