What to expect from Sally Yates' Senate testimony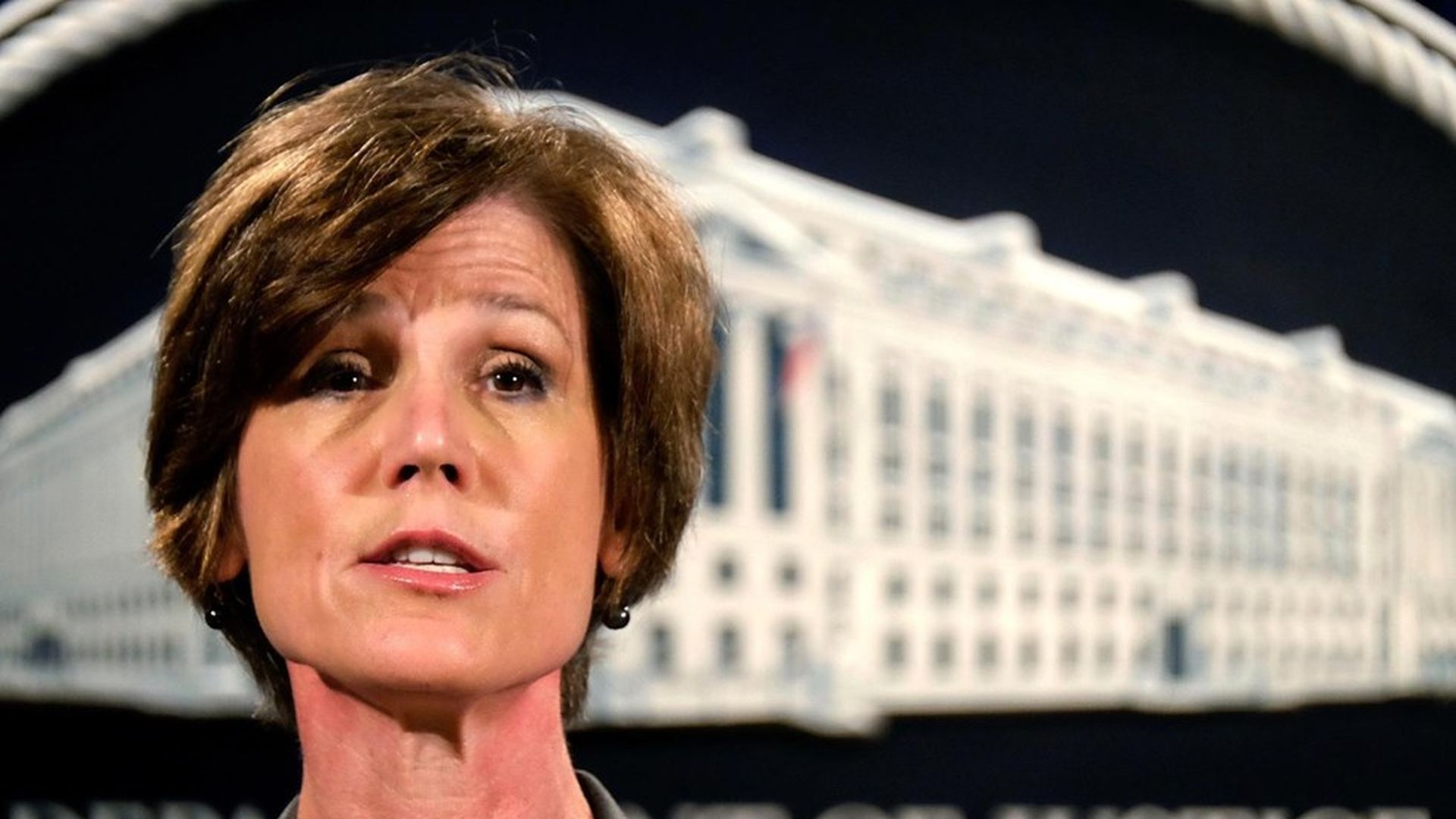 Former deputy attorney general Sally Yates will testify before Senate Judiciary Committee's Subcommittee on Crime and Terrorism at 2:30 PM this afternoon in a hearing for its investigation of Russian interference in last fall's presidential election. It's widely expected to be one of the investigation's biggest moments thus far.
The big thing: Per CNN, Yates is expected to confirm her January warning to the White House that ousted Trump national security advisor Michael Flynn might have compromised himself via contacts with the Russian ambassador to the United States, which would directly contradict the Trump administration's version of events.
The pushback: As Axios' Jonathan Swan reported last night, the White House is expected to push the Russia story as "fake news" — and drive home that Flynn received his security clearance under President Obama. And POTUS has already delivered this morning with a pair of tweets:
"General Flynn was given the highest security clearance by the Obama Administration - but the Fake News seldom likes talking about that. Ask Sally Yates, under oath, if she knows how classified information got into the newspapers soon after she explained it to W.H. Council."
The senators:
Republicans: Lindsey Graham (chairman), John Cornyn, Ted Cruz, Ben Sasse, John Kennedy
Democrats: Sheldon Whitehouse (ranking), Dick Durbin, Amy Klobuchar, Chris Coons
Graham's aims: "The bottom line is if there were any contacts between the Trump campaign and the Russian intelligence services that were inappropriate, I want to find out about it, and I want the whole world to know about it."
A caveat: As with FBI director James Comey's two prior widely-publicized rounds of testimony before the House Intelligence Committee and Senate Judiciary Committee, many details of Yates' Flynn tale remain classified, so some of her more explosive details might be reined in.
Go deeper