Under fire, Trump weighs new changes to refugee ban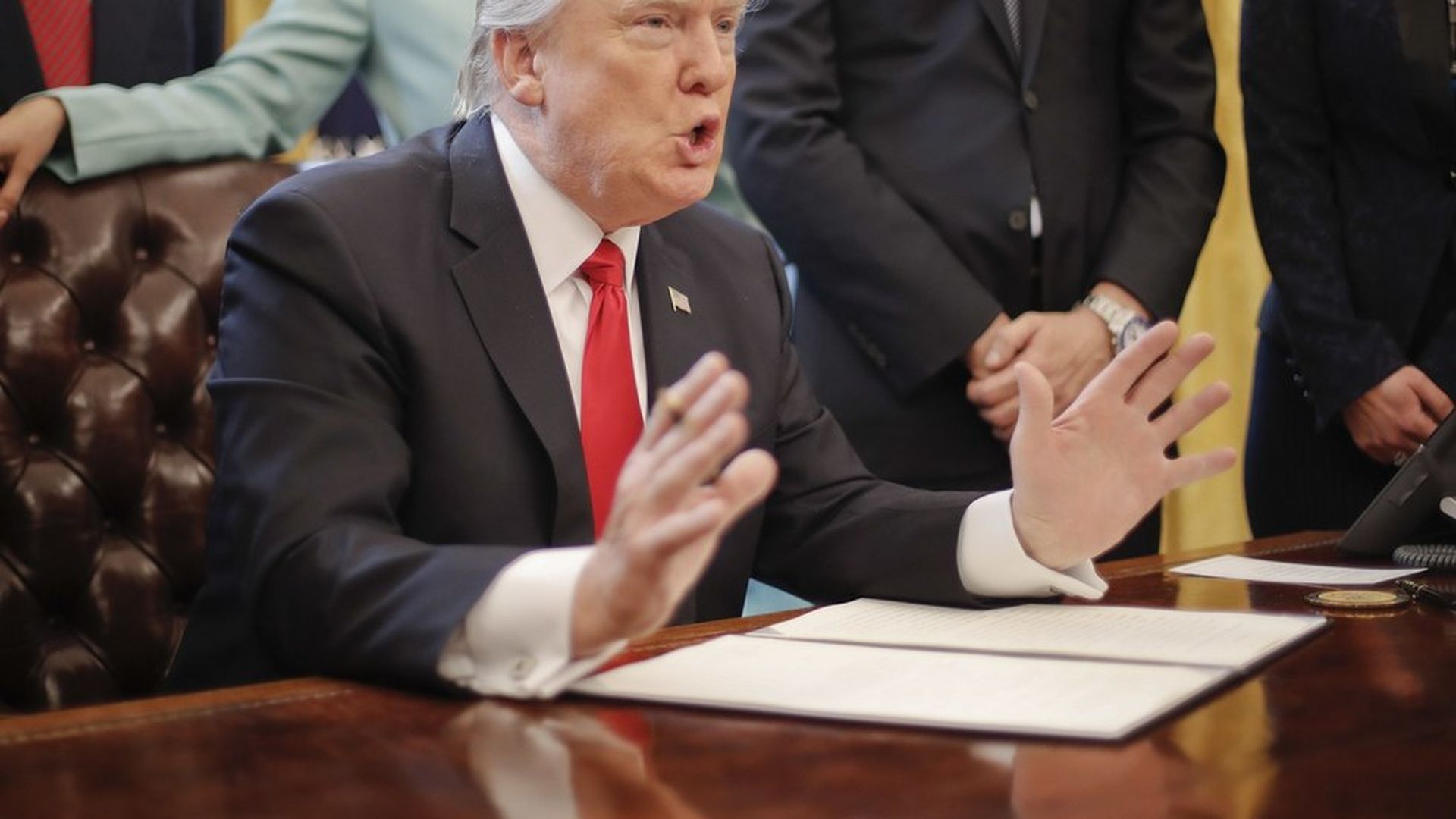 Republican sources tell us that the Department of Homeland Security may issue "implementation guidance" that would allow for softening, and even policy changes, to President Trump's travel restrictions on migrants. The White House insists that any further guidance wouldn't constitute a walk-back.
But the internal conversation, led by Homeland Security Secretary John Kelly, reflects the widespread view among top Republicans that the current chaotic situation — beset with blame-casting, backstabbing and unintended consequences — is untenable.
An official at one of the top firms in corporate America emails: "The pressure from inside these companies is intense. One of my deputies spent all day with a relative who needs to go back to Iran to see her mom who is dying. Worried she might get stuck but had to go. Lots of needless worrying. They have been Americans since the Shah left."
Yesterday was a day that'll be dissected by historians and political scientists forever:
A made-for-the-movies twist came at 9:16 last night, after a day in which corporation after corporation had condemned the policy, helping produce the worst stock-market day of 2017. A White House statement announced that the acting attorney general, Sally Yates, had been fired because she "has betrayed the Department of Justice by refusing to enforce a legal order designed to protect the citizens of the United States" and is "weak on borders and very weak on illegal immigration.
Hours earlier, Yates had sent a letter to Justice Department lawyers telling them not to defend the travel ban in court arguments, because she was not "convinced that the Executive Order is lawful."
The N.Y. Times, which reports that Yates was informed of her dismissal two minutes before the statement went out, writes in its lead story that the sacking "recalled the so-called Saturday Night Massacre in 1973, when President Richard M. Nixon fired his attorney general and deputy attorney general for refusing to dismiss the special prosecutor in the Watergate case."
Fox News employees got a corporation-wide email last night from their parent, 21st Century Fox (signed by Lachlan and James Murdoch), saying: "We deeply value diversity and believe immigration is an essential part of America's strength."
That all happened AFTER a crazy day of drama over the executive order that has become the defining opening act of Trump's presidency. Forget the merits of the refugee ban for a second. Let's just recap the fallout from the refugee ban over a 12-hour period, from Trump allies alone
"Morning" Joe Scarborough, fresh off meeting with Trump and his foreign-policy team, blamed policy chief Stephen Miller for botching the order and P.R.
Steve Bannon, one of the authors of the executive order, said in an email to the Washington Post that there was an adult deeply involved in setting "policy and philosophy": incoming Attorney General Jeff Sessions.
Rex Tillerson, soon to be Sec of State, made plain through friends he was cut out of the loop -- and not happy: "Tillerson has told the president's political advisers that he was baffled over not being consulted on the substance of the order."
Capitol Hill aides secretly helped draft the EO and signed non-disclosure agreements to assist WITHOUT telling their bosses, Politico reported — an extraordinary move given the separation of powers between the White House and Congress.
Homeland Security Secretary John Kelly was also cut out and upset, on top of feeling the White House was trying to jam a hard-liner he didn't want in as his number two.
Retired Gen. James Mattis, the incoming SecDef, "is said to be particularly incensed," AP reports. "Mattis, along with Joint Chiefs Chairman Joseph Dunford, was aware of the general concept of Trump's order but not the details."
But Dems are more torn about how to react than you'd think. Some well-known Democrats told us they think the first polls will show Trump's plan is more popular than the current coverage suggests — maybe 45% to 52% support, tracking the fault lines of the country. So Dems thinking about the presidency, like Sen. Cory Booker of New Jersey, will make hay. But senators facing reelection in Trump states have a tricky balancing act.
Go deeper