Twitter goes all in on live video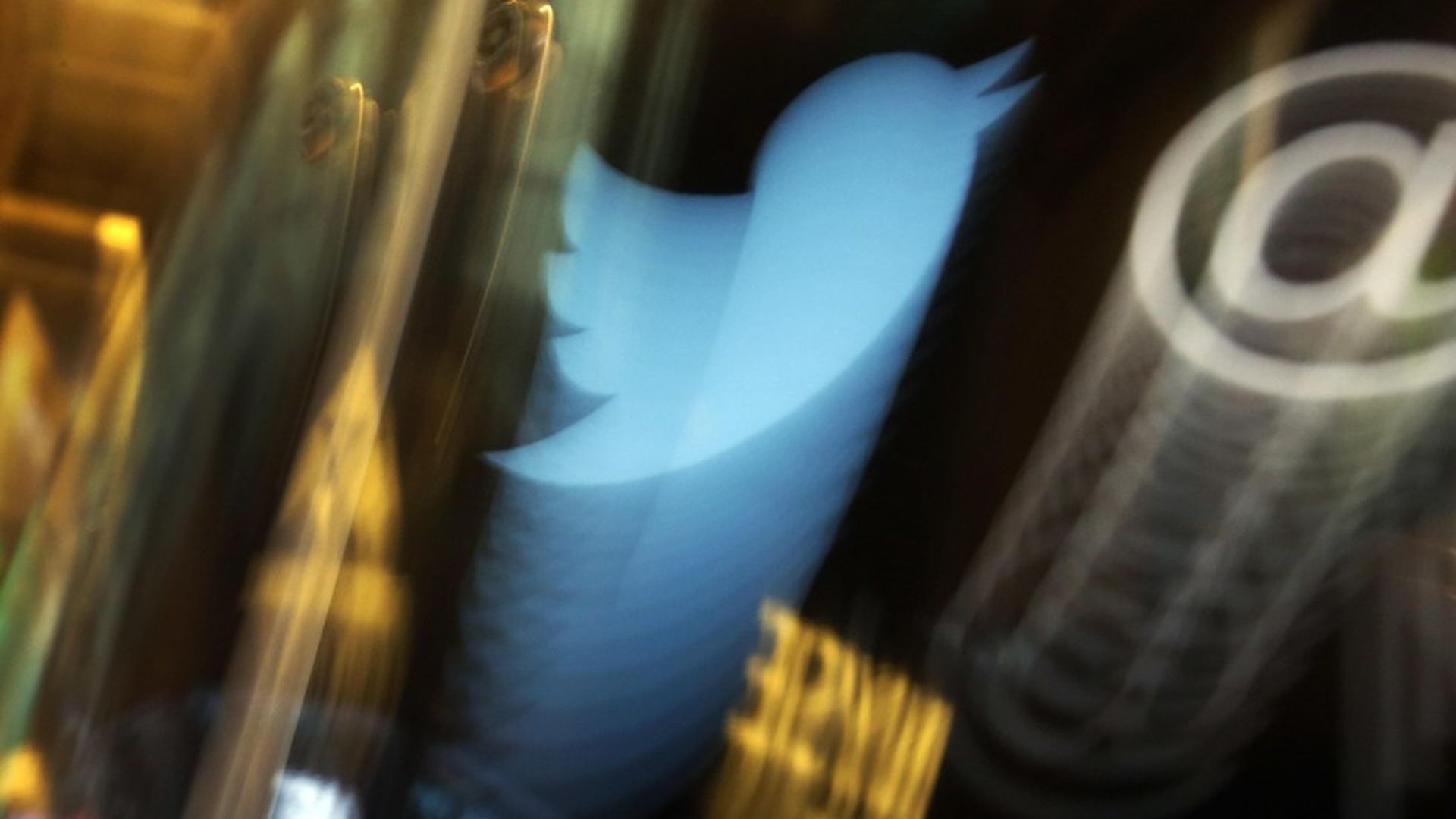 Twitter announced over a dozen new live-streaming and original video content partnerships Monday, making it clear that their business strategy moving forward will be to expand ad-funded video content — the area where they saw the most revenue growth last quarter.
Why it matters: Until Monday, it seemed that Twitter was far behind the other social platforms in the race to win the $70 billion US TV ad market. Now, it's clear that Twitter could be giving them all, and particularly Snapchat, a run for their money.
In particular, the 11-year old tech giant emphasized at their first-ever Newfronts presentation that their future lies in live-streaming sports, followed by news and entertainment. The majority of the newly-announced video deals are with sports leagues, and some feature original content with stars like Seahawks' cornerback Richard Sherman and Bengals wide receiver A.J. Green. Twitter also announced a 24/7 live-streaming news partnership with Bloomberg LP earlier that day.
By the numbers: In total, Twitter has closed over 40 live stream partnerships around the world with sports leagues, media companies, etc. The company increased live programming by 60% last quarter and aired roughly 800 hours of live content reaching 45 million viewers. Of those hours, 51% were sports, 35% were news and politics, and 14% were entertainment. Above all, Twitter says 55% of its unique viewers are under the age of 25, a stat that directly competes with Snapchat's coveted millennial demographic.
Here's the full list of new sports, news and entertainment partnerships from Twitter.
SPORTS:
WNBA: Starting later this month, the WNBA will live stream a weekly regular-season game on Twitter (20 total per season) during the 2017, 2018 and 2019 seasons.
MLBAM: In addition to weekly live MLB games that stream on Twitter this season, a new 3-hour once weekly MLB program will live stream exclusively on Twitter.
STADIUM: A new, original, 24/7 experiential program that will stream live on Twitter in the coming months. It will integrate exclusive live collegiate sporting events, highlights, games, and daily live studio programming. It will include real-time, fan sentiment and feedback into every sports conversation.
The Players' Tribune: #Verified, a forum for athletes to connect directly with fans, will be a live show, exclusively on Twitter, featuring athletes answering fan questions and sharing their insight, reactions and timely takes on important topics on and off the field. Driven by Twitter and fan-submitted questions, the series will debut in the coming months and will feature regular interviews from some of the most popular players across sports, including Karl-Anthony Towns, A.J. Green and Richard Sherman.
PGA TOUR: Building upon the current live stream relationship between Twitter and PGA TOUR LIVE, the PGA TOUR will live stream 360 degree video of the 17th hole at TPC Sawgrass during The Players Championship (from May 11-14) on Periscope and Twitter.
NFL: The company will expand its live partnership with the NFL through exclusive content.
NEWS:
Bloomberg Media: Bloomberg will debut the first-ever 24/7 breaking news network that will be exclusively on Twitter. The new live streaming news network, to launch this fall, will combine the vast global editorial and news gathering capabilities of Bloomberg with the conversation and speed of Twitter.
The Verge: Coming this fall, Circuit Breaker: The Verge's Gadget Show is a weekly live program that will review and experiment with the gadgets everyone wants right now, and the weirdest ones we'll want tomorrow, hosted by The Verge's Nilay Patel.
BuzzFeed News: MorningFeed, a brand new morning news and current events show broadcast live on Twitter by BuzzFeed; hosts will bring news and memes to the audience where they are — on their timeline — from reporters in the field to special guests on set.
Cheddar: Cheddar's hour-long Opening Bell will stream live daily at 9am ET from the New York Stock Exchange, beginning today. This expands on Cheddar's Closing Bell show partnership that already streams live at 3pm ET.
ENTERTAINMENT:
Live Nation: Live Nation will deliver select Live Nation concerts and original content exclusively on Twitter. The concert series launches on Saturday, May 13th with a live stream of Zac Brown Band.
IMG Fashion: IMG Fashion will bring its designer and brand relationships to a live content program consisting of runway shows and behind-the-scenes Fashion Week content for Twitter users, live, from New York, Milan, Paris, London and beyond in September 2017.
Propagate: #WhatsHappening is a new live daily, entertainment-driven, primetime show on everything in the world that embraces Twitter's unique conversation.
Viacom: Exclusive original content partnership in the entertainment sector.
Dick Clarke productions: An extension of their pre-existing partnership that includes the American Music Awards
Go deeper