Trump's "workforce development week," by his tweets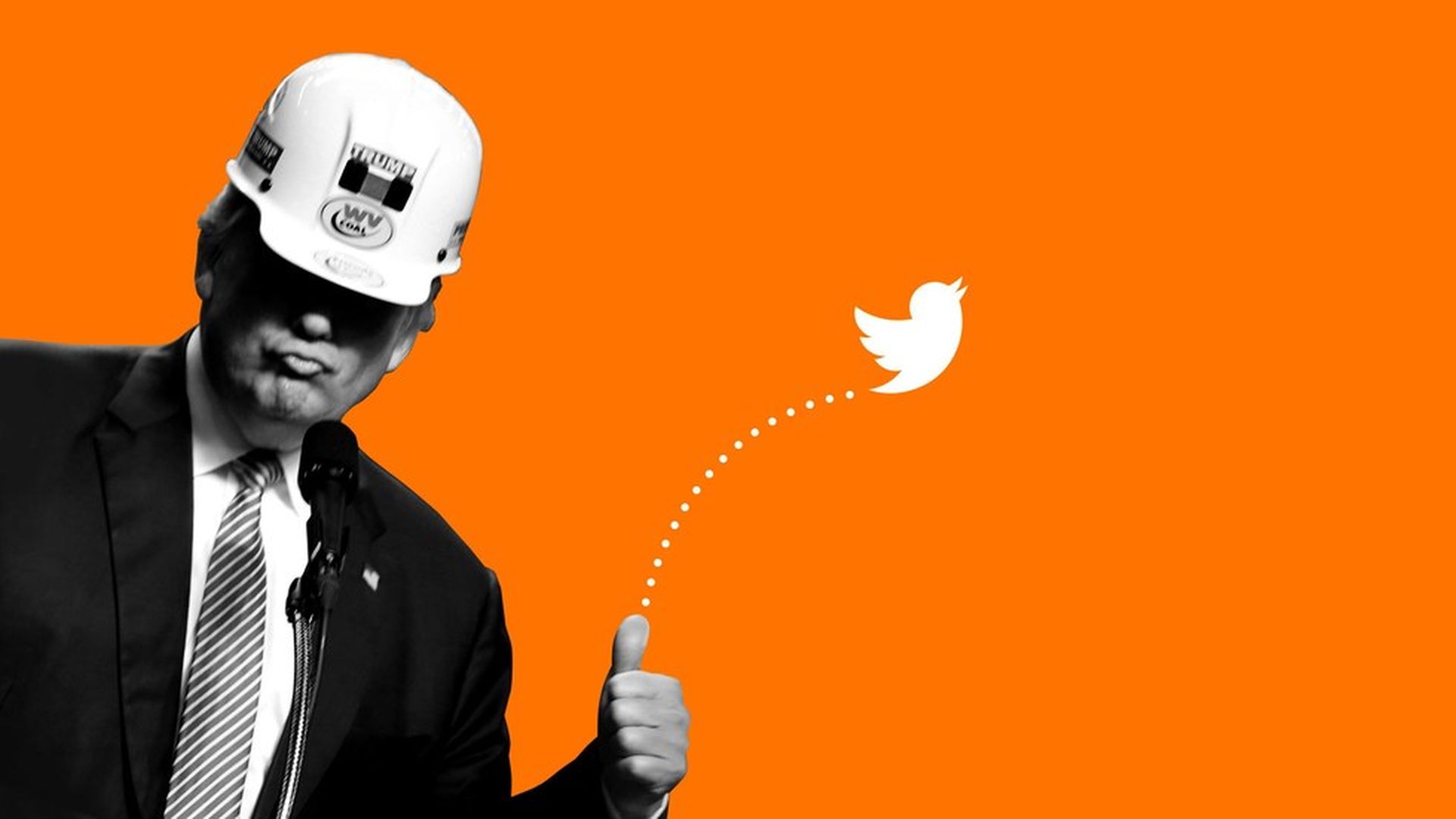 The White House dubbed this week "Workforce Development Week" but the chaos in Washington has taken center stage instead. President Trump hasn't done much to help refocus the narrative, at least on Twitter.
The stats: This week, the president tweeted 28 times: four of his tweets were related to the administration's agenda, while the others ranged from the "Fake News Media" to Hillary Clinton to his travel ban.
Why it matters: Rather than setting a clear agenda and sticking to its message, the White House has had to contain scandal after scandal. That's a difficult goal to accomplish while the man at the center of it all can't help but use Twitter to address issues that only distract from the administration's core.
Workforce Development Week (June 12-16) Twitter breakdown
28 total tweets
4 tweets relating to Workforce Development Week
24 unrelated tweets
The "Fake News Media" (4)
Tuesday:
"The Fake News Media has never been so wrong or so dirty. Purposely incorrect stories and phony sources to meet their agenda of hate. Sad!"
"Fake News is at an all time high. Where is their apology to me for all of the incorrect stories???"
Thursday: "They made up a phony collusion with the Russians story, found zero proof, so now they go for obstruction of justice on the phony story. Nice"
Friday: "The Fake News Media hates when I use what has turned out to be my very powerful Social Media - over 100 million people! I can go around them"
Wisconsin visit (4):
Tuesday:
"Heading to the Great State of Wisconsin to talk about JOBS, JOBS, JOBS! Big progress being made as the Real News is reporting."
"Just arrived in Wisconsin to discuss JOBS, JOBS, JOBS! #MAGA"
"Just got back from Wisconsin. Great day, great people!"
Thursday: "Thank you Wisconsin! Tuesday was a great success for #WorkforceWeek at @WCTC w/ @IvankaTrump & @GovWalker. Remarks: http://45.wh.gov/BXYooL"
Shooting at Congressional baseball practice (3)
Wednesday:
"Rep. Steve Scalise of Louisiana, a true friend and patriot, was badly injured but will fully recover. Our thoughts and prayers are with him."
"Just left hospital. Rep. Steve Scalise, one of the truly great people, is in very tough shape - but he is a real fighter. Pray for Steve!"
Thursday: "#CongressionalBaseballGame"
Hillary Clinton (2)
Thursday:
"Why is that Hillary Clintons family and Dems dealings with Russia are not looked at, but my non-dealings are?"
"Crooked H destroyed phones w/ hammer, 'bleached' emails, & had husband meet w/AG days before she was cleared- & they talk about obstruction?"
Russia investigation (2)
Friday:
"After 7 months of investigations & committee hearings about my 'collusion with the Russians,' nobody has been able to show any proof. Sad!"
"I am being investigated for firing the FBI Director by the man who told me to fire the FBI Director! Witch Hunt"
The "single greatest WITCH HUNT in American history" (1)
Thursday: "You are witnessing the single greatest WITCH HUNT in American political history - led by some very bad and conflicted people! #MAGA"
@FoxAndFriends (1):
Monday: "Ivanka on @foxandfriends now!"
Remembering victims of Orlando nightclub shooting (1)
Monday: "We will NEVER FORGET the victims who lost their lives one year ago today in the horrific #PulseNightClub shooting. #OrlandoUnitedDay"
New Pennsylvania coal mine (1)
Monday: "Congratulations! 'First New Coal Mine of Trump Era Opens in Pennsylvania'" With a link to Fox News article.
Administration's first full Cabinet meeting (1)
Monday: "Finally held our first full @Cabinet meeting today. With this great team, we can restore American prosperity and bring real change to D.C."
Clemson Tigers WH visit (1)
Monday: "Congratulations to the 2016 @ClemsonFB Tigers! Full ceremony: http://45.wh.gov/GwaHfE #NationalChampions"
Travel Ban (1)
Tuesday: "Well, as predicted, the 9th Circuit did it again - Ruled against the TRAVEL BAN at such a dangerous time in the history of our country. S.C."
Loretta Lynch (1)
Tuesday: A.G. Lynch made law enforcement decisions for political purposes...gave Hillary Clinton a free pass and protection. Totally illegal!
Health care (1)
Tuesday: "2 million more people just dropped out of ObamaCare. It is in a death spiral. Obstructionist Democrats gave up, have no answer = resist!"
Veterans Affairs (1)
Tuesday: "The passage of the @DeptVetAffairs Accountability and Whistleblower Protection Act is GREAT news for veterans! I look forward to signing it!"
U.S. Army (1)
Wednesday: "Happy birthday to U.S. ARMY and our soldiers. Thank you for your bravery, sacrifices, & dedication. Proud to be your Commander-in-Chief!"
Economy and jobs number (1)
Friday: "Despite the phony Witch Hunt going on in America, the economic & jobs numbers are great. Regulations way down, jobs and enthusiasm way up!"
Rasmussen approval rating (1)
Friday: "Great news! #MAGA"
Go deeper