Trump's warnings on Iran deal and health care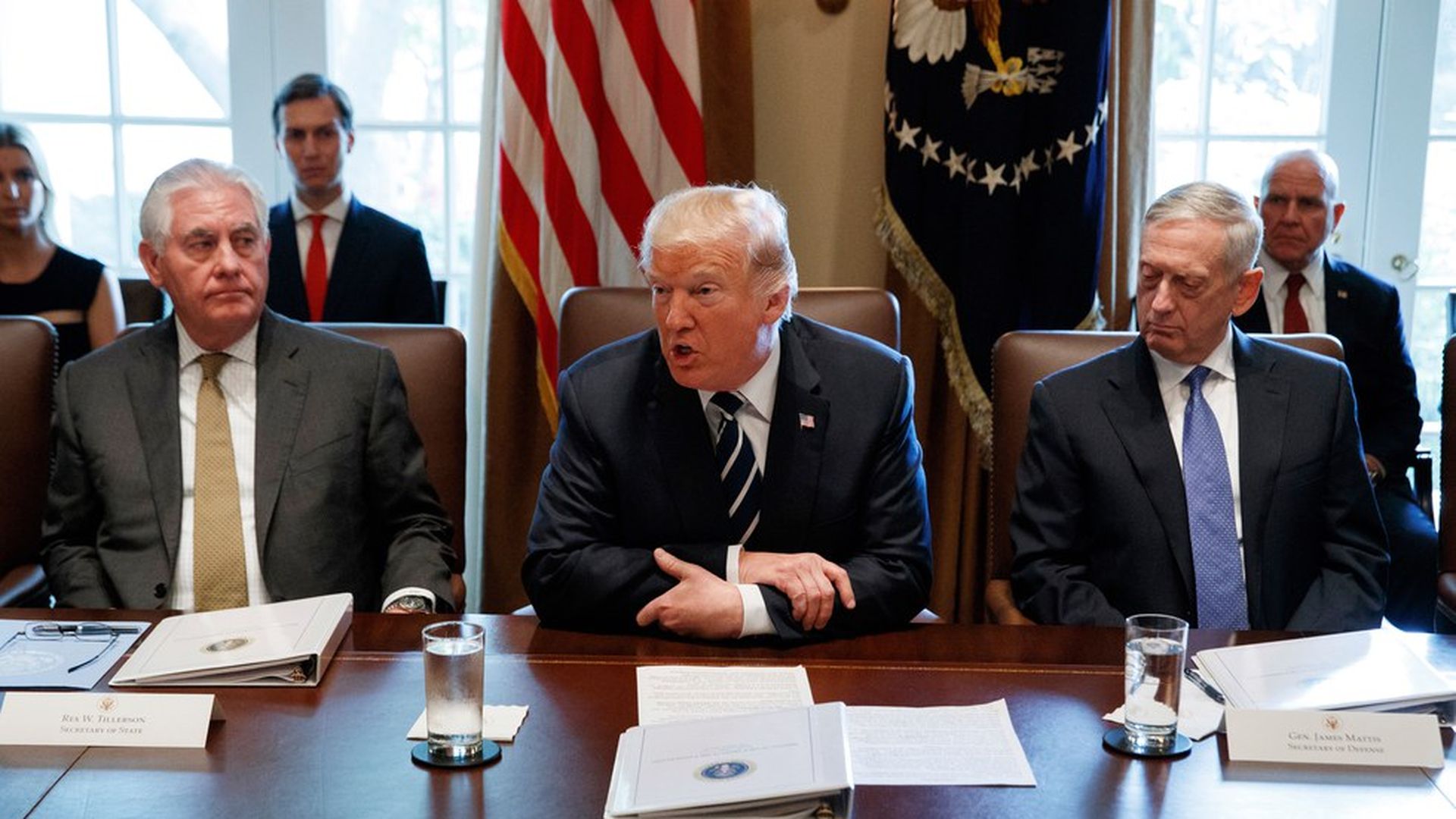 President Trump, situated between Secretary of State Rex Tillerson and Defense Secretary James Mattis during his Monday morning Cabinet meeting, said he "feels strongly" about his decision to decertify the Iran nuclear deal, stating that he's "tired of being taken advantage of."
Trump also revealed that he is not giving up on health care, stating: "Obamacare is finished, it's dead, it's gone...There is no such thing as Obamacare anymore." He added that Senate Republicans are currently working on a short-term fix to insurance markets after he "cut off the gravy train" by ending subsidies — a move that has threatened to throw the Affordable Care Act markets into chaos.
Future of Iran deal: Trump said Congress and the deal's member countries will either find a solution that would improve the agreement, or else "total termination" will be "a very real possibility."
More on health care: Trump said he wants to "help the poor people" get better health care, and believes congressional Republicans will agree to a long-term fix for the ACA by March or April. Trump acknowledged that Democrats are unlikely to support that effort.
Other highlights:
Pharma: "Prescription drug prices are out of control" with drugs costing much more in the U.S. than in other countries, "meaning as usual the world is taking advantage of the United States," said Trump. "The drug companies quite frankly are getting away with murder."
Senate/House GOP: "I have a great relationship with them but they're not getting the job done... and I'm not going to blame myself. I'll be honest. They are not getting the job done."
Immigration: "Visa overstays... they're so out of control... more than ever we need the wall."
Las Vegas shooter: "We continue to pray for the victims... he was a demented sick individual, the wires were crossed pretty badly in his brain."
California wildfires: "Very sad thing to watch."
Go deeper