Trump's quote-unquote defense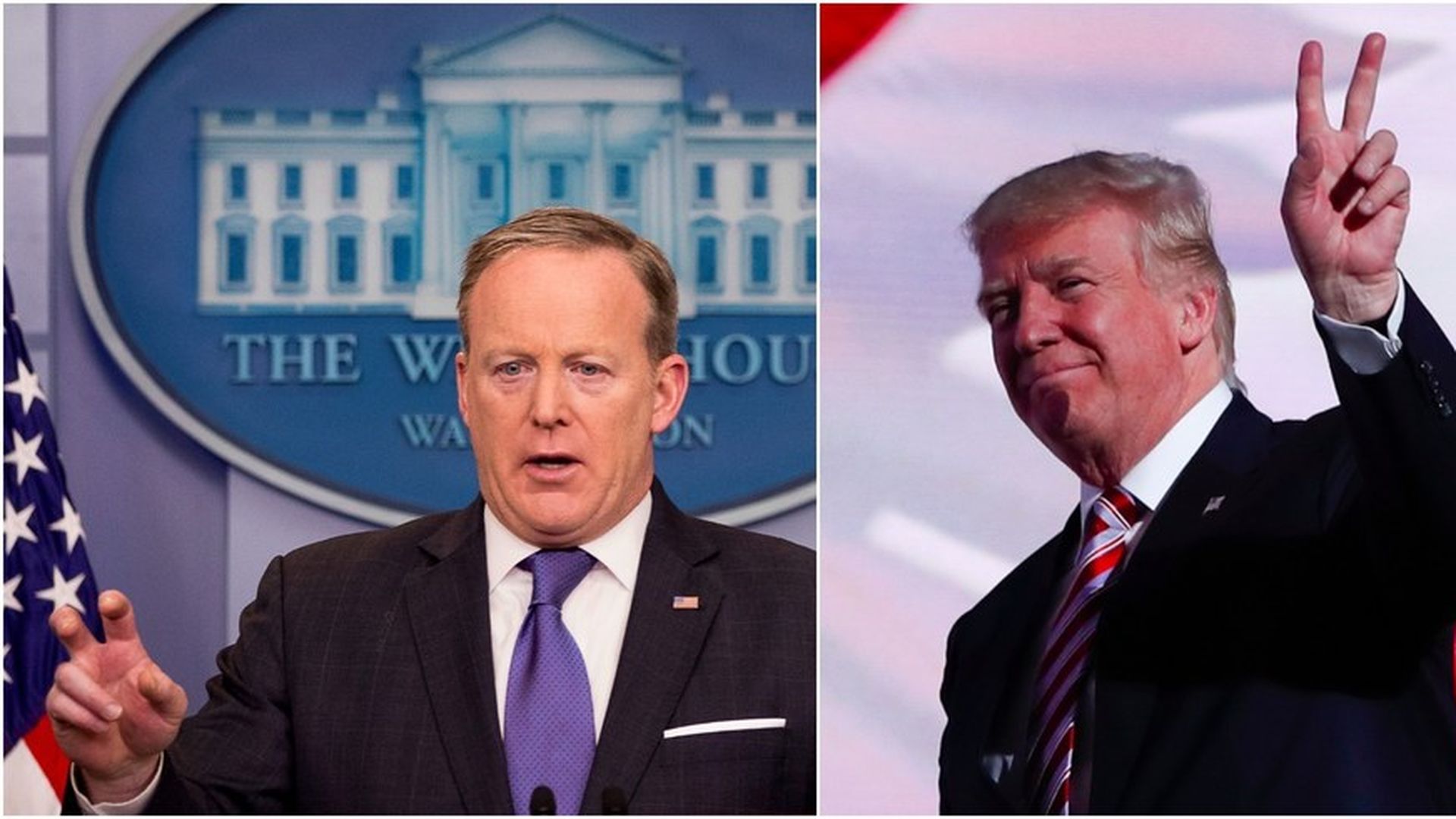 This morning, Trump used quotation marks for key words in two of his tweets:
"James Comey better hope that there are no "tapes" of our conversations before he starts leaking to the press!"
"...Maybe the best thing to do would be to cancel all future "press briefings" and hand out written responses for the sake of accuracy???"
Translation: Trump is aware nobody uses actual tapes to record conversations anymore and Spicer, Sanders and Trump don't actually brief the press.
It's a trend we first noticed in March, when Trump defended his wiretapping accusation on Fox. Here are other times Trump has used quote mark formulations in tweets in 2017.
Jan 3: The "Intelligence" briefing on so-called "Russian hacking" was delayed until Friday, perhaps more time needed to build a case. Very strange!
Jan 4: Jackie Evancho's album sales have skyrocketed after announcing her Inauguration performance.Some people just don't understand the "Movement"
Jan 6: Wow, the ratings are in and Arnold Schwarzenegger got "swamped" (or destroyed) by comparison to the ratings machine, DJT. So much for....
Jan 7: Having a good relationship with Russia is a good thing, not a bad thing. Only "stupid" people, or fools, would think that it is bad!
Jan 17: ... with the massive cost reductions I have negotiated on military purchases and more, I believe the people are seeing "big stuff."
Jan 24: If Chicago doesn't fix the horrible "carnage" going on, 228 shootings in 2017 with 42 killings (up 24% from 2016), I will send in the Feds!
Jan 30: If the ban were announced with a one week notice, the "bad" would rush into our country during that week. A lot of bad "dudes" out there!
Feb 3: Iran is playing with fire - they don't appreciate how "kind" President Obama was to them. Not me!
Feb 9: Chris Cuomo, in his interview with Sen. Blumenthal, never asked him about his long-term lie about his brave "service" in Vietnam. FAKE NEWS!
Feb 16: FAKE NEWS media, which makes up stories and "sources," is far more effective than the discredited Democrats - but they are fading fast!
Mar 2: ...is all of the illegal leaks of classified and other information. It is a total "witch hunt!"
Mar 4: Terrible! Just found out that Obama had my "wires tapped" in Trump Tower just before the victory. Nothing found. This is McCarthyism!
Mar 7: For eight years Russia "ran over" President Obama, got stronger and stronger, picked-off Crimea and added missiles. Weak! @foxandfriends
Mar 15: Does anybody really believe that a reporter, who nobody ever heard of, "went to his mailbox" and found my tax returns? @NBCNews FAKE NEWS!
Mar 17: North Korea is behaving very badly. They have been "playing" the United States for years. China has done little to help!
(NOTE: This piece was originally published on March 18, 2017 and was updated to reflect the President's latest tweets.)
Go deeper