Trump's own words put his trade policy in jeopardy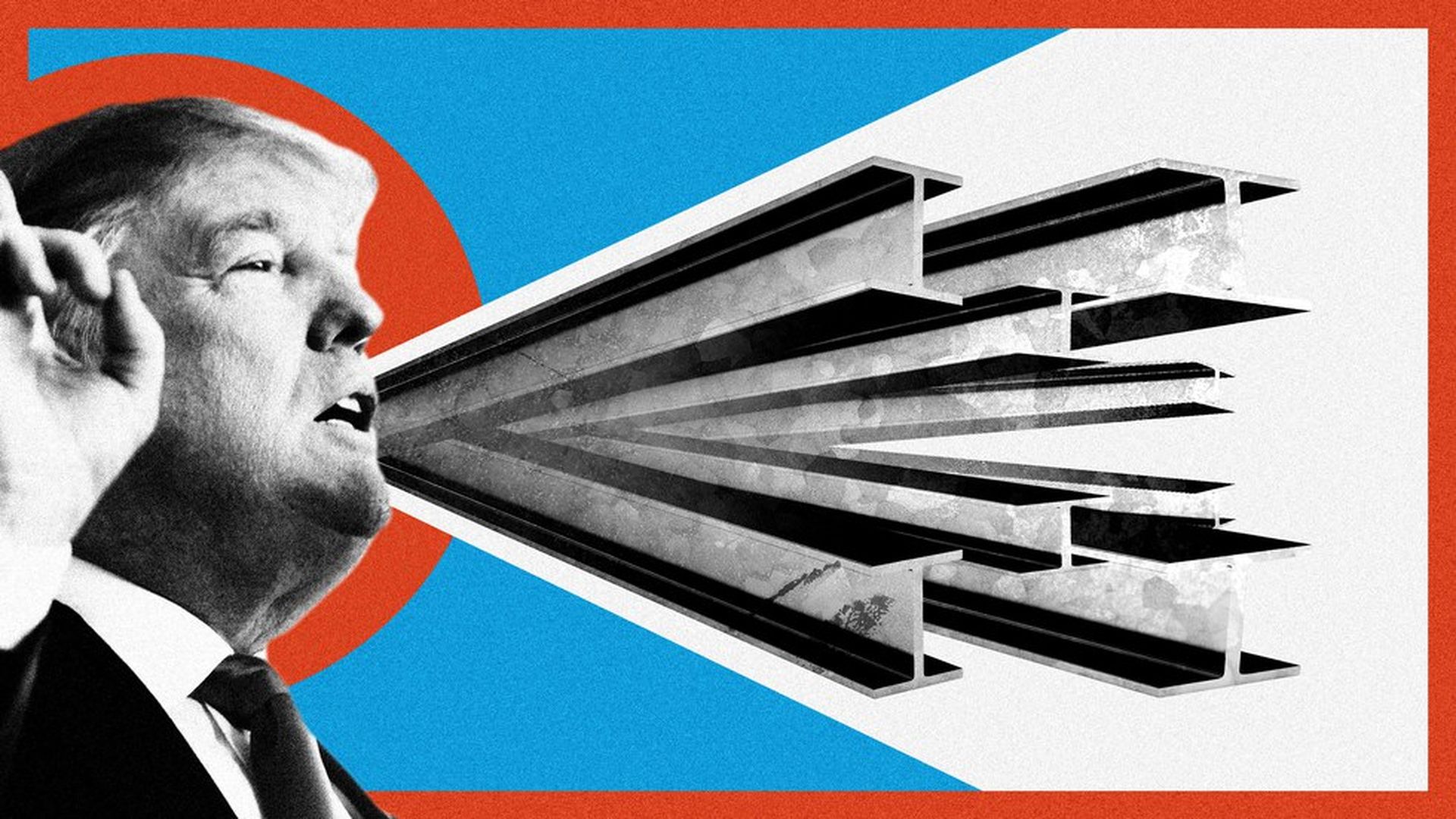 President Trump wants to invoke a national security provision to stop the "dumping" of cheap steel into America, but trade lawyers believe Trump's public statements —and dubious legal reasoning — could expose the administration to significant legal problems.
The White House's rhetoric: The administration in April identified dumping as the impetus for Trump "standing up" for the steel and aluminum industries.
Trump last week on Air Force One:"They're dumping steel and destroying our steel industry, they've been doing it for decades, and I'm stopping it."
Why it matters: International trade experts, including NYU Law professor Robert Howse, told Axios that Trump made a big mistake by identifying "dumping" as his basis for imposing retaliatory tariffs on national security grounds. There are already laws on the books to remedy dumping, and if Trump invokes the national security provision to impose new tariffs, other nations will immediately challenge him because they're operating under a World Trade Organization agreement that has no national security exceptions.
If this self-sabotaging scenario sounds familiar, that's because lawyers fighting Trump's travel ban used his bombastic tweets and public statements as evidence he was motivated by a desire to ban Muslims from America rather than his stated mission of keeping out terrorists.
How this works: The Trump administration has launched an investigation under Section 232 of the Trade Expansion Act to explore how to stop foreign countries "dumping" artificially cheap steel into the U.S. market. The Trump administration labels this a national security threat because it undermines American manufacturers. Trump's team would likely try to justify its actions to the WTO by citing Article XXI of the General Agreement on Tariffs and Trade, which allows countries to make trade decisions based on "the protection" of "essential security interests."
But the White House might never be able to use its preferred defense for steel tariffs using the GATT because the WTO already has a superseding Anti-Dumping Agreement that specifically disciplines such cases — and it doesn't allow for a dumping case based on "national security" or contain any national security exceptions. Given that the administration has been clear that dumping is a centerpiece of its Section 232 investigation, a WTO member could choose bring a legal challenge under the Anti-Dumping Agreement to preempt the administration's Article XXI plan.
The approach has other problems: Trade experts view Article XXI — designed for emergencies or wartime — as a third rail in international trade law. If Trump invokes it he would threaten the WTO's legitimacy and potentially spark a global trade war. The U.S. also has domestic laws surrounding dumping that were recently expanded by Congress early last year, and White House could face a domestic legal challenge to any action against steel dumping — for example, from an auto manufacturer or a foreign exporter — before it has to face down the WTO.
What trade lawyers are asking: Is this the strategy of a nationalist administration set to paint either an international trade organization or the judicial branch as diametrically opposed to its America first policy or, similar to the roll-out of the travel ban, is the administration not prepared for the impact of the president's public statements?
Go deeper