Trump's off-the-record jokes at Mike Pence party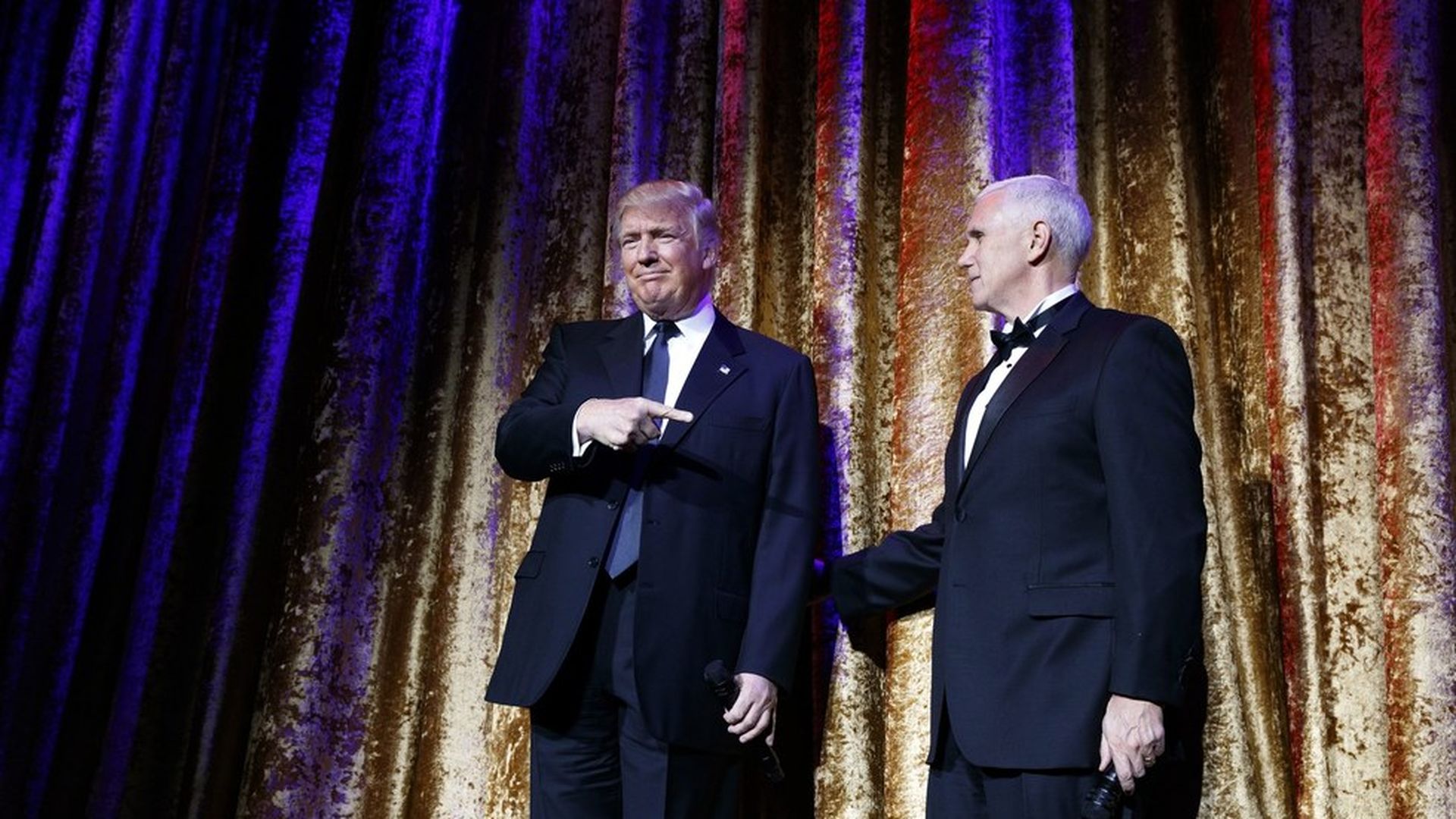 The president-elect, who flew down to Washington last evening for a fancy dinner honoring his prospective Cabinet, showed up unannounced at the Vice President's Dinner, a fundraiser starring Mike Pence (entree was duck) at the National Portrait Gallery.
He gave lengthy, no-teleprompter remarks that were closed to the press. But an Axios AM reader sent us a partial tape. (Don't forget to do that.) Trump was feisty, funny and all over the place. A sampler of what was on his mind, 36 hours before show time:
"I chose Mike, and we went out on the trail, and I'll tell you: From Day 1, we started hitting it. We had our little ups and downs. You might have known there were some little canyons there [laughter] on occasion. … We don't give up, do we, folks? We never give up." [Applause.]
"A lot of you are political people. A lot of you are just rich people … " [Laughter]
"And we put out a tweet: Tweet! Tweet! [Laughter, applause.] I mean, you know, when I get all that dishonest stuff, one tweet can straighten it all out." [Laughter.]
"We could not have done it without the people in this room. The people in this room are very special. Everyone is special. [Applause.] They're friends of mine. Sheldon Adelson is here someplace. … I think he only gave $125 million." [Applause.]
"I think we ought to straighten out the PACs — right, folks? I think they should be able to give to a campaign and expose it and everything. But I think this PAC stuff — maybe we can get it straightened out, because it's a little ridiculous. [Laughter.] You have no idea. It's like the great sinkhole. You have no idea who's doing it, who's running them. I think people get very rich running PACs, but we're going to try and get that straightened out because it's crazy."
"We're going to cut your taxes. We're going to get rid of the regulations that are strangling the economy. [Applause.] … I know the biggest businessmen and the small ones that love me and voted for me, and I love them. … Almost every single person that I ask was more excited about the regulations being cut than the taxes, which is surprising. [Applause.] So, we're going to do that."
"Any Never Trumpers in this room? [Laughter.] No. … These people were angry. They didn't even know me. I never met them. … They're really right now on a respirator. … And we actually do have some Never Trumpers that are fantastic people. They just didn't understand me."
Go deeper