Trump's hug and hammer on Obamacare repeal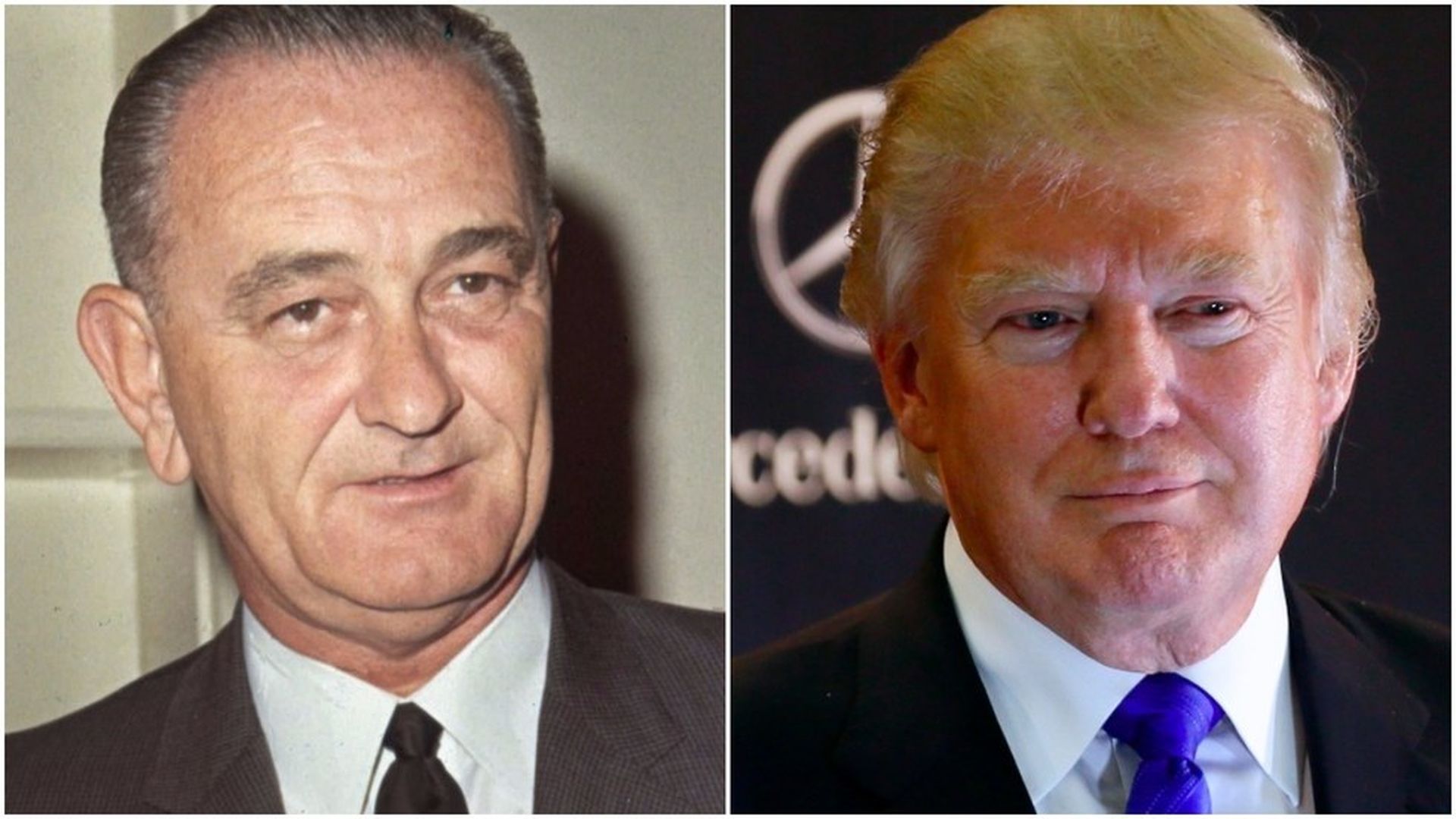 Trump as LBJ? White House officials say President Trump is prepared to use a combination of hug and hammer to try to rescue Republicans' repeal-and-replace plan for Obamacare.
The hug: Trump plans to travel the country to talk up the need for repeal, Vice President Pence has mobilized, Cabinet members will be deployed, administration officials are blitzing talk radio, and the White House has begun outreach to conservative groups.
The hammer, per a White House official: "Ultimately, members are going to be faced with a binary choice: Do I support repeal, or have gone to voters for four election cycles in a row, and now look to keep Obamacare?"
The House GOP version was savaged from all sides yesterday, including by the most conservative Republicans, Heritage Action and the American Hospital Association.
One top health-policy expert emails: "So far, this has been a bill that has something for everyone … to hate. I really don't see how they get the votes for this bill in the Senate ... [The Congressional Budget Office] score will only add fuel to the fire, showing that it covers fewer people, with crappier insurance, and probably doesn't save much $."
Aides said a harbinger of Trumpo's involvement is a gentle tweet yesterday at a prominent critic of the legislation: "As I feel sure that my friend @RandPaul will come along with the new and great health care program because he knows Obamacare is a disaster!"
Gentle for now, but what if Trump starts tweeting at individual Republicans that they're trying to stop him from making America great again? House Republicans in conservative districts fear that Trump's digital bully pulpit, turned on them, could mean they face primaries from the right.
The news coverage is bearish ... Axios' David Nather and Caitlin Owens, "The Obamacare repeal is a mess" ... Axios' Jonathan Swan, "Conservative websites going to war against Trumpcare" ... AP: "Conservative backlash threatens to sink new GOP health bill" ... N.Y. Times front page, above fold, "G.O.P. HEALTH BILL MEETS A REVOLT." Wall Street Journal, ditto, "Health Bill Draws Fire From Foes In the GOP." HuffPost banner yesterday afternoon: "REPUBLICANS COME APART AT THE SEAMS."
So can Trump stitch his party back together? Officials said the administration will also do a better job of explaining that the repeal-and-replace plan is not just a single bill but a complete package, including regulatory action by HHS Secretary Tom Price,
A senior GOP source on the Hill was chill, saying some conservative groups are opposing the plan "because it's their business model": "Members are largely in a good place."
Go deeper