Trump's foreign trip, day 5: Highlights and schedule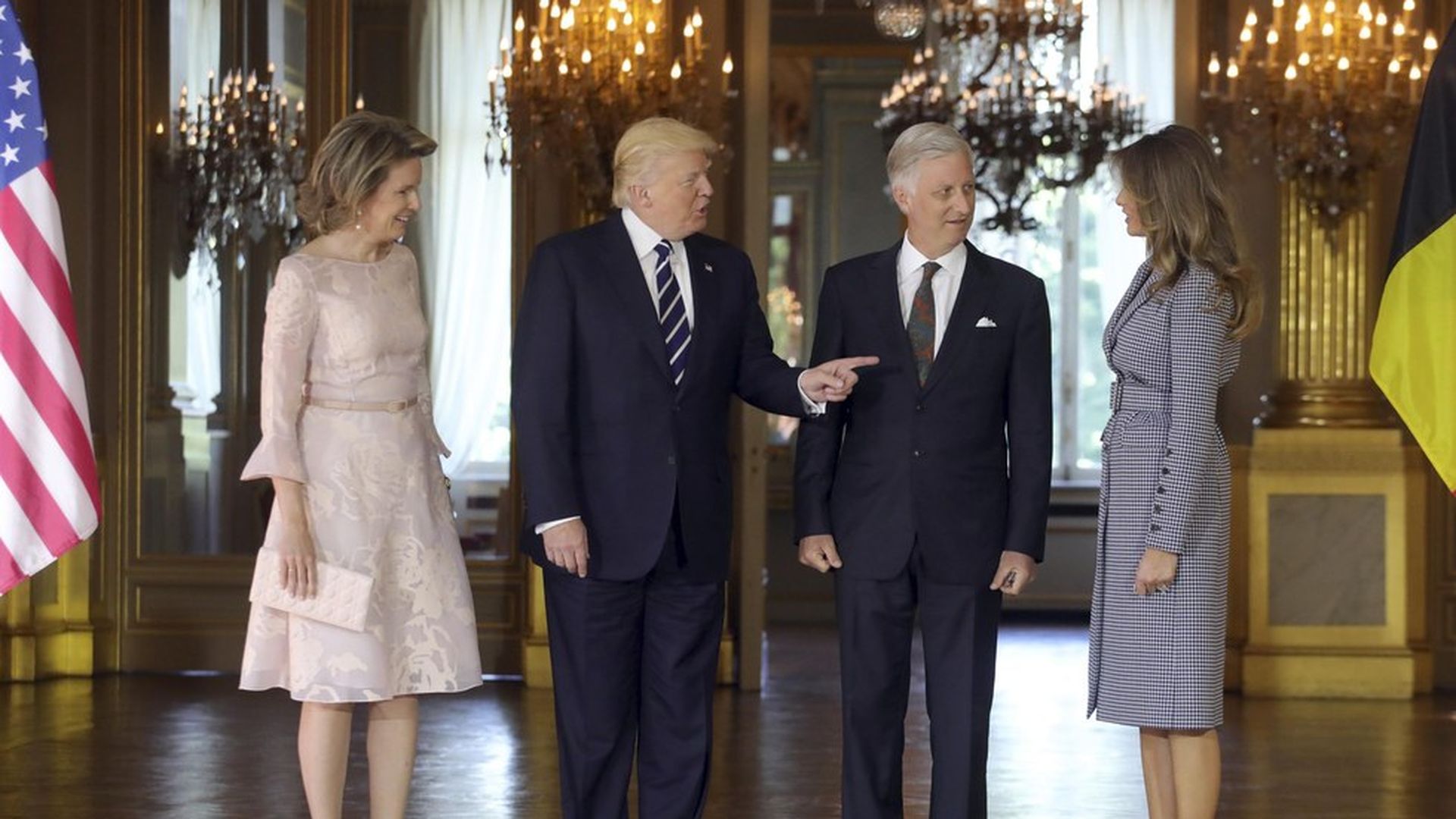 It's day five of President Trump's first foreign trip. He started his day at the Vatican, where he and Melania met with Pope Francis and exchanged gifts from their respective countries. Trump later returned to Rome to meet with the President and Prime Minister of Italy before traveling to Brussels, where he met with the King and Queen of Belgium, as well as the Prime Minister. Live updates, per White House pool reports.
The latest: President Trump arrived at the U.S. ambassador to Belgium's residence around 6:30pm local time, where he is staying for the evening. He later tweeted at the Belgian Royal Palace. "Thank you for the warm welcome to Brussels, Belgium this afternoon!"
1:59am ET/ 7:59am GMT+2: The presidential motorcade departed Villa Taverna, Trump's overnight hotel, en route to the Vatican. Trump donned a Vatican flag on his jacket along with the American standard.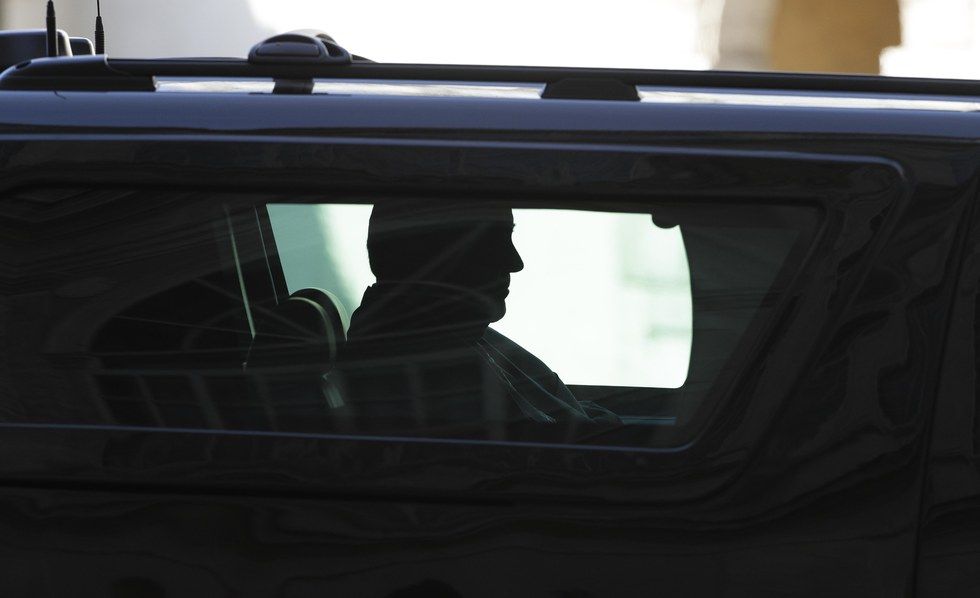 2:29am ET/ 8:29am GMT+2: The pope greeted POTUS in Sala del Tronetto, the room of the little throne, on the second floor of Apostolic Palace. The two leaders shook hands, and Trump thanked the pope for welcoming them. The pope did not say anything, and he did not smile.
3:01am ET/9:01am GMT+2: The pope rang the bell in his study, signaling that the one-on-one meeting is over.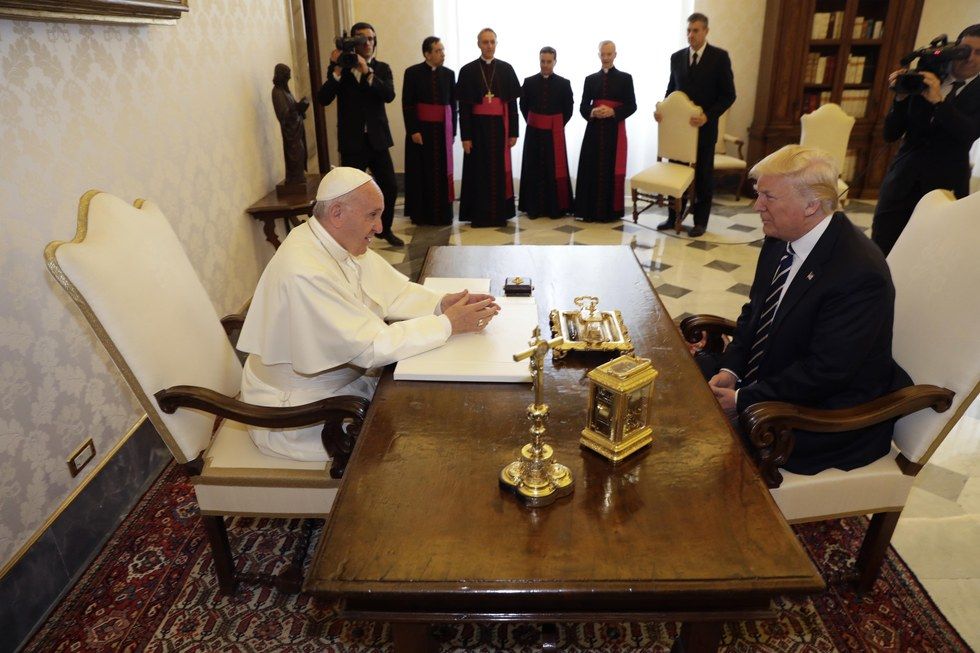 3:15am ET/ 9:15am GMT+2: The pope and Trump's delegation met in the Cardinal Pietro Parolin room to exchange gifts. Trump gave the Pope a case of books from Martin Luther King Jr. The pope gave Trump what he said was a medal by a Roman artist, noting that it's an olive, which is a symbol of peace. The pope then gave Trump three books that he said he gives to all Catholics on the topics of family, the joy of the gospel, and "care of our common home, the environment." Pope Francis also gave each member of Trump's delegation a token in a white box. On their way out, Trump told the Pope that the meeting was "a very great honor."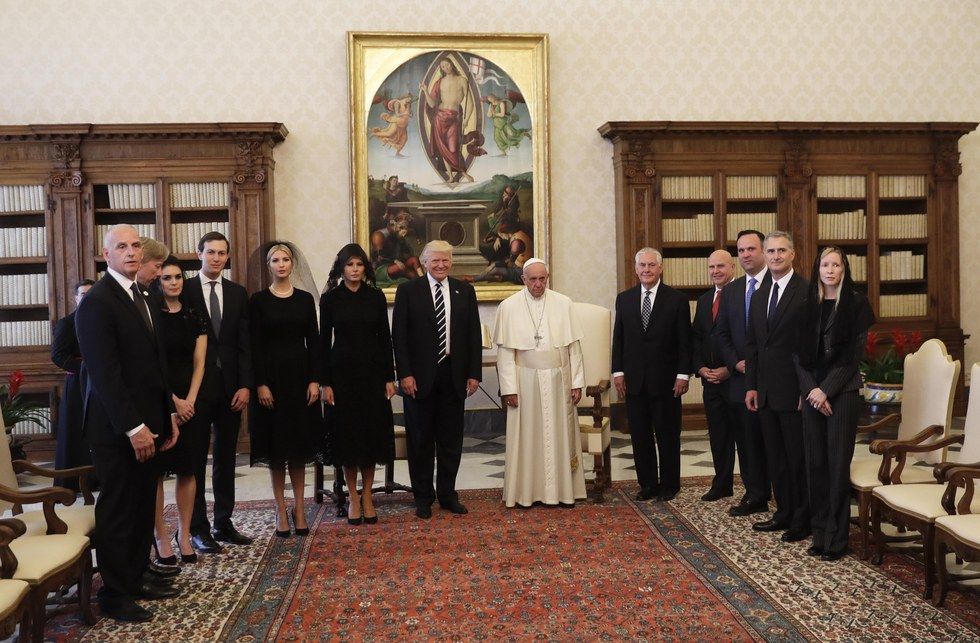 Note that Melania and Ivanka following proper Vatican protocal with their outfits. "Women who have an audience with the Pope are required to wear long sleeves, formal black clothing, and a veil to cover the head," Stephanie Grisham, the first lady's communications director, told CNN.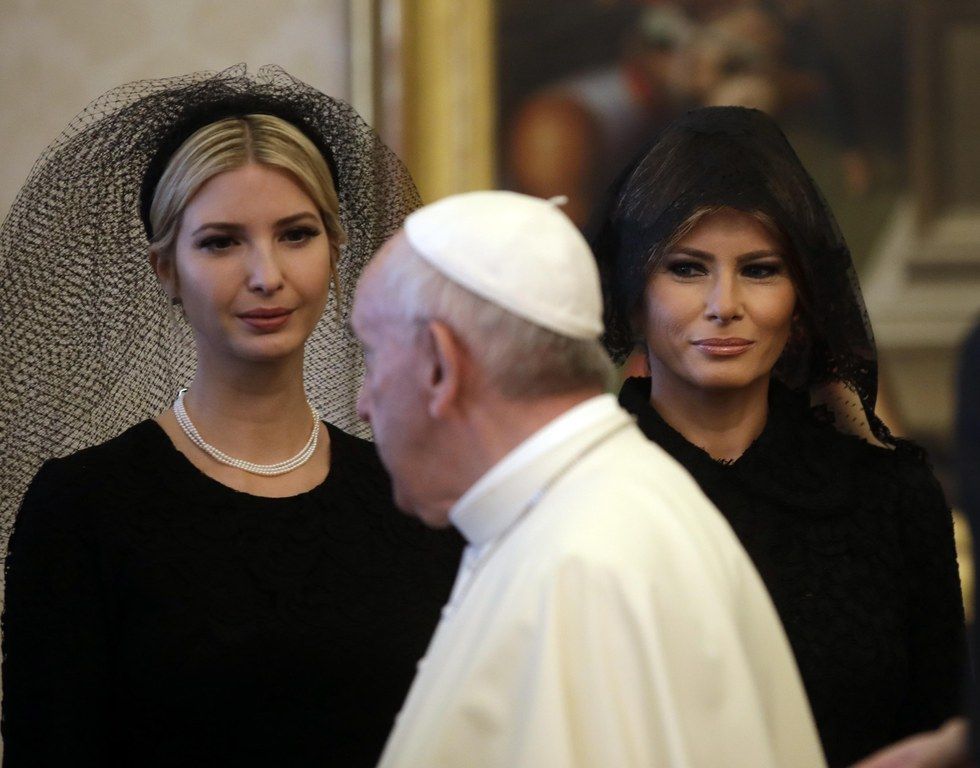 3:25am ET/ 9:25am GMT+2: Trump and Cardinal Secretary of State Pietro Parolin hold a bilateral meeting
Alessandra Tarantino / AP 4am ET/ 10am GMT+2: Trump and Melania tour the Sistine Chapel and St. Peter's Basilica. L'Osservatore Romano / Ap Gregorio Borgia / AP 5am ET/ 11am GMT+2: Melania meets with children and visits the chapel at the pediatric hospital Bambin Gesu' at the Vatican. Remo Casilli / AP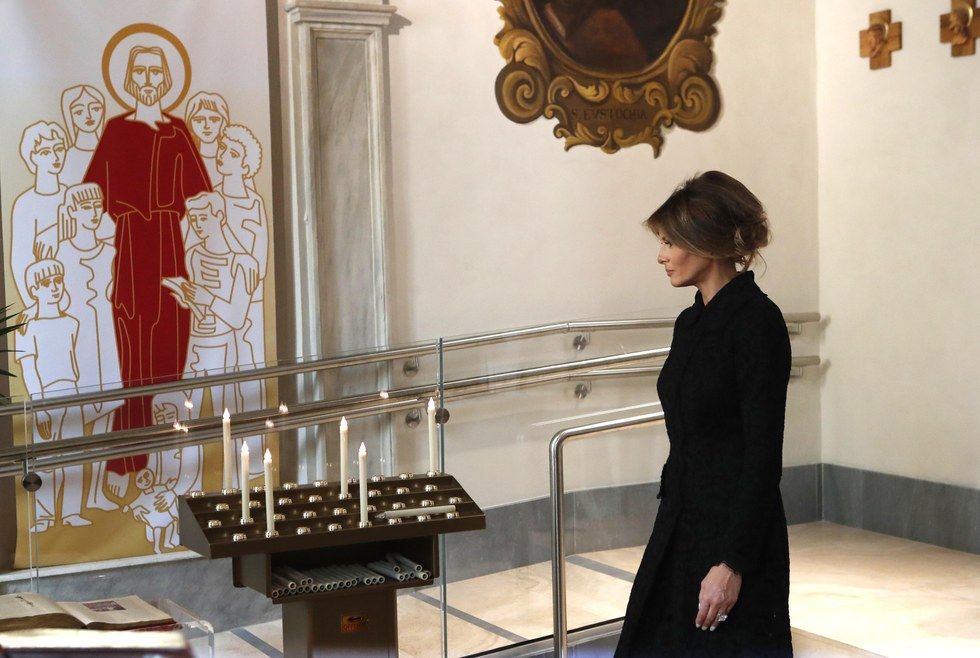 5:15am ET/ 11:15am GMT+2: Trump's motorocade arrives at the Quirinal Palace, Italian President Sergio Mattarella's residence. The two leaders greeted each other, then walked down the line to greet each member of their respective delegations. They then stood in front of American and Italian flags for a photo and shook hands, before moving into a smaller room for their meeting.
Trump thanked the president for Italy's contributions to global counterterrorism efforts, especially for its participation in the Global Coalition to Counter ISIS and its active role in Iraq and Afghanistan. He also complimented the country's diplomatic efforts to end the violence in Libya.
Evan Vucci / AP
6:35am ET / 12:35am GMT+2: President Trump returned to Villa Taverna, where he participated in a meeting with Prime Minister Paolo Gentiloni of Italy. The two leaders were seated across from one another at a long, rectangular table. Their delegations were seated beside them on each side. When asked by a reporter how his meeting with Pope Francis went, Trump said, "Great. He is something. We had a fantastic meeting."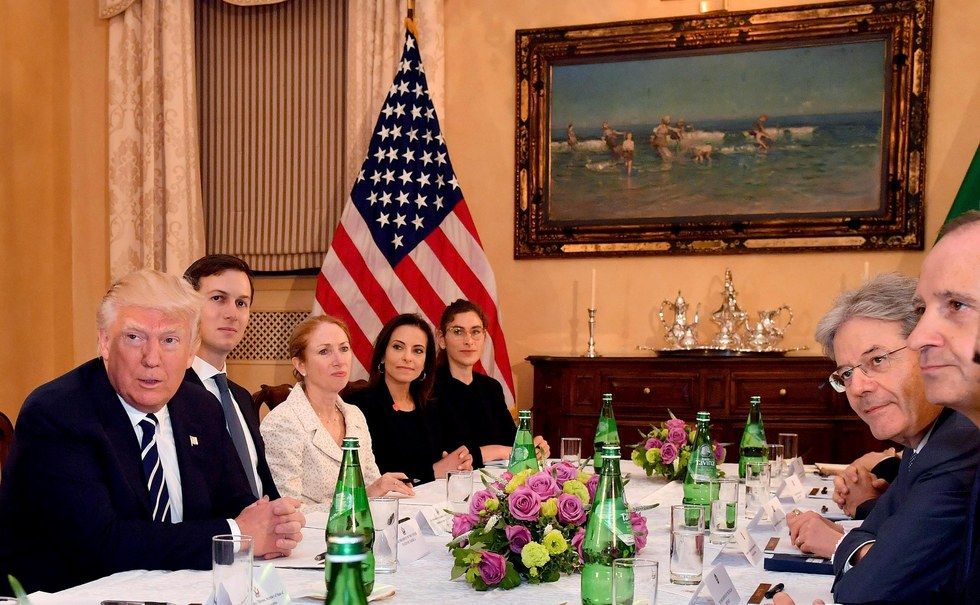 8:15am ET/ 2:15pm GMT+2: President Trump departed Villa Taverna in Rome and arrived at Air Force One at 2:15pm local time. They waved goodbye to Italy before ducking inside. Shortly after the plane took off, and is now headed for Brussels, Belgium.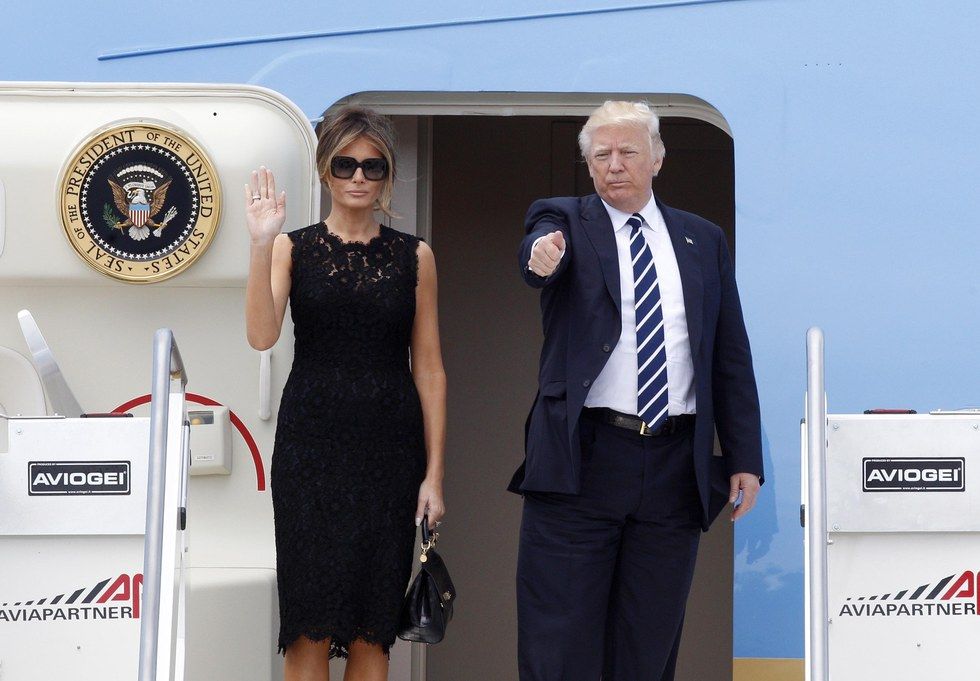 10:15am ET/ 4:15pm GMT+2: Air Force One touched down at Melsbroek Military Airport in Melsbroek, Belgium at 4:15pm local time. He was greeted by the Belgian PM Charles Michel, and the two made their way to a podium where they listened to the national anthems of both countries. Trump will now attend a NATO summit and meet with EU and Belgian officials, where he'll discuss his desire for NATO to formally join the fight against ISIS.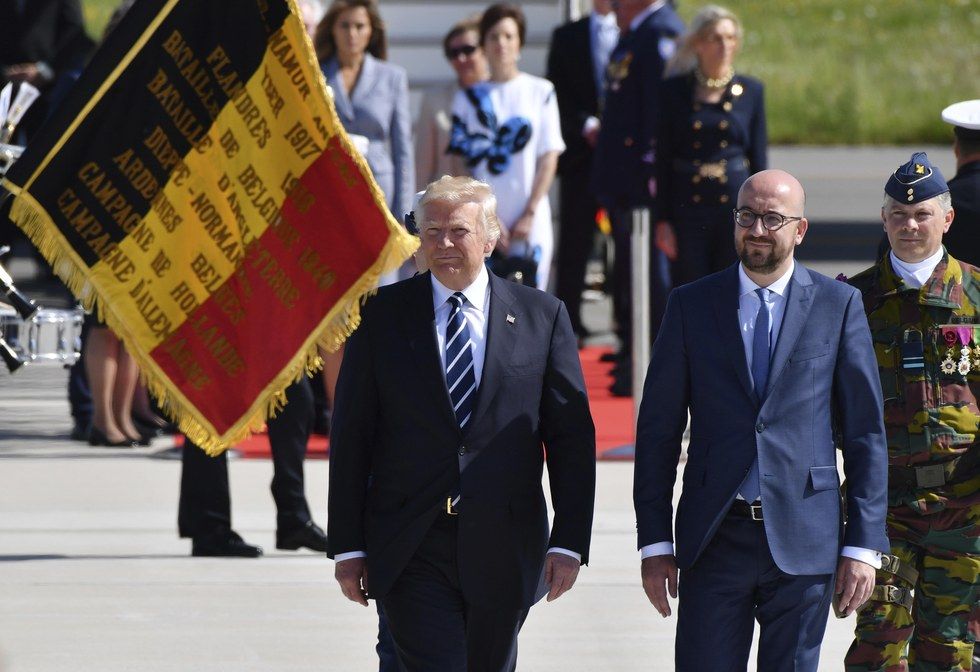 10:55am ET/ 4:55pm GMT+2: Trump and Melania arrive at the Royal Palace in Brussels, where they are greeted Their Majesties King Philippe and Queen Mathilde of Belgium and take an official photo. Afterwards the Royal Family gave Trump and Melania tour of the palace.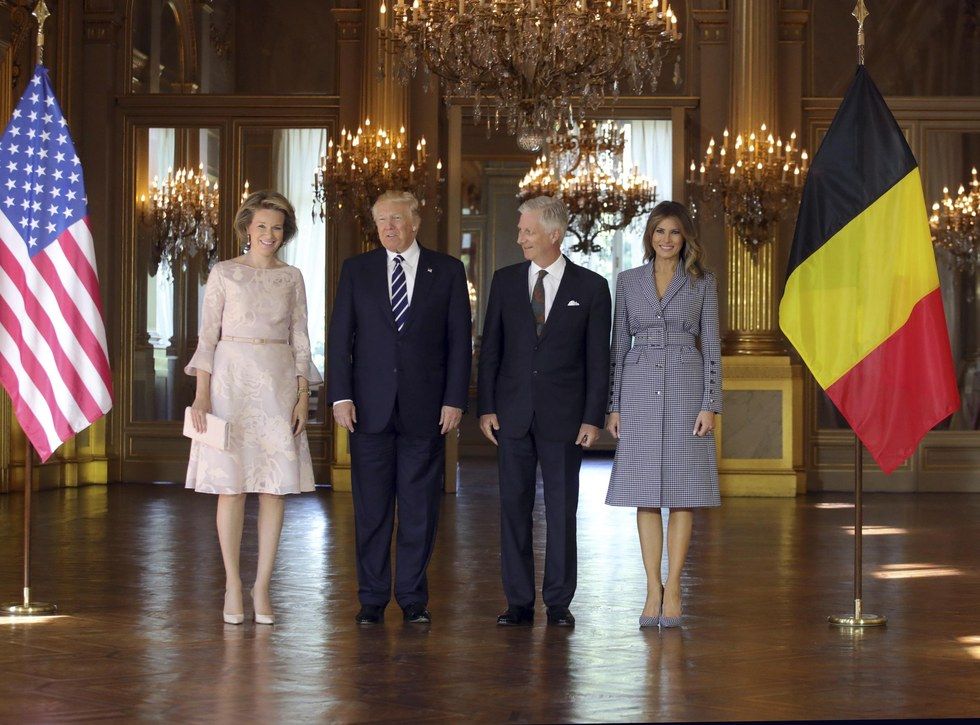 11:14am ET/ 5:14pm GMT+2: President Trump participated in a bilateral meeting with Prime Minister Charles Michel of Belgium at the Royal palace. The U.S. delegation, Rex Tillerson, HR McMaster, Dina Powell, and Gary Cohn were all present. They sat at a long table under a crystal chandelier, and there was a small plate of chocolates on the table.
Trump told Michel that it was "an honor" to be with him, and that he had a great discussion with the king. "We are fighting very hard, doing very well under our generals. Making tremendous progress. But when you see something like what happened a few days ago, [the Manchester attack] you realize how important it is to win this fight. And we will win this fight."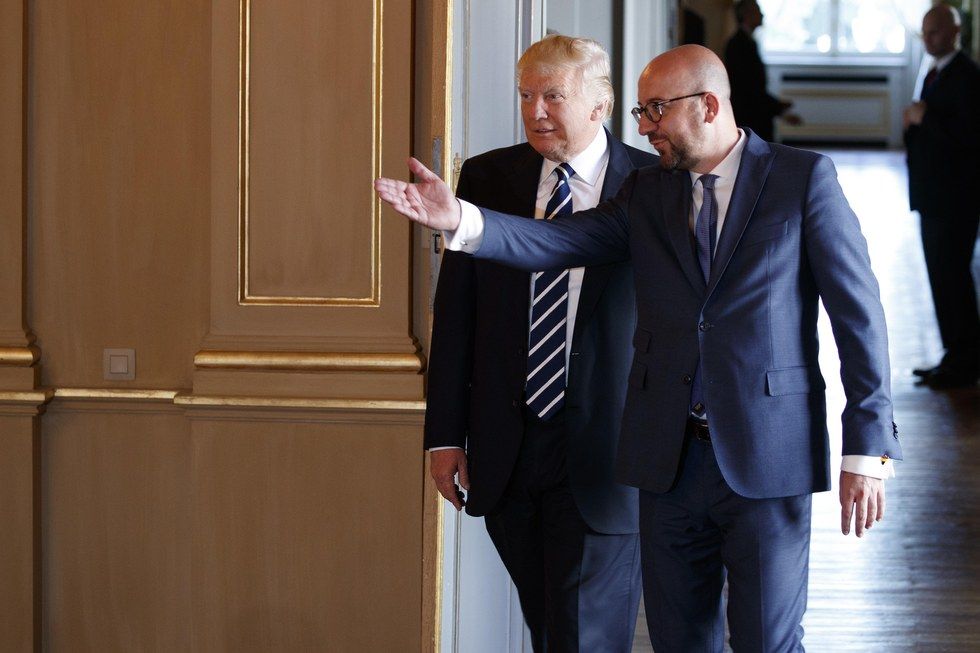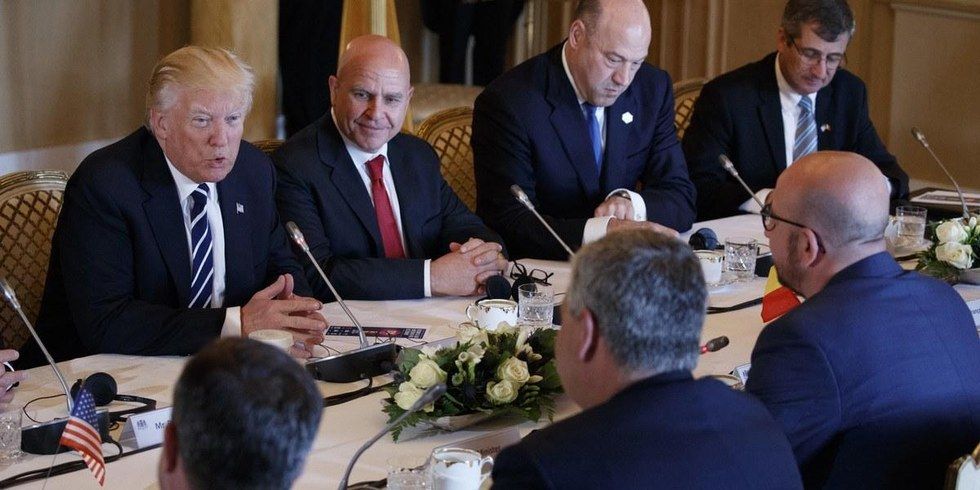 Go deeper