Trump's charm offensive on Capitol Hill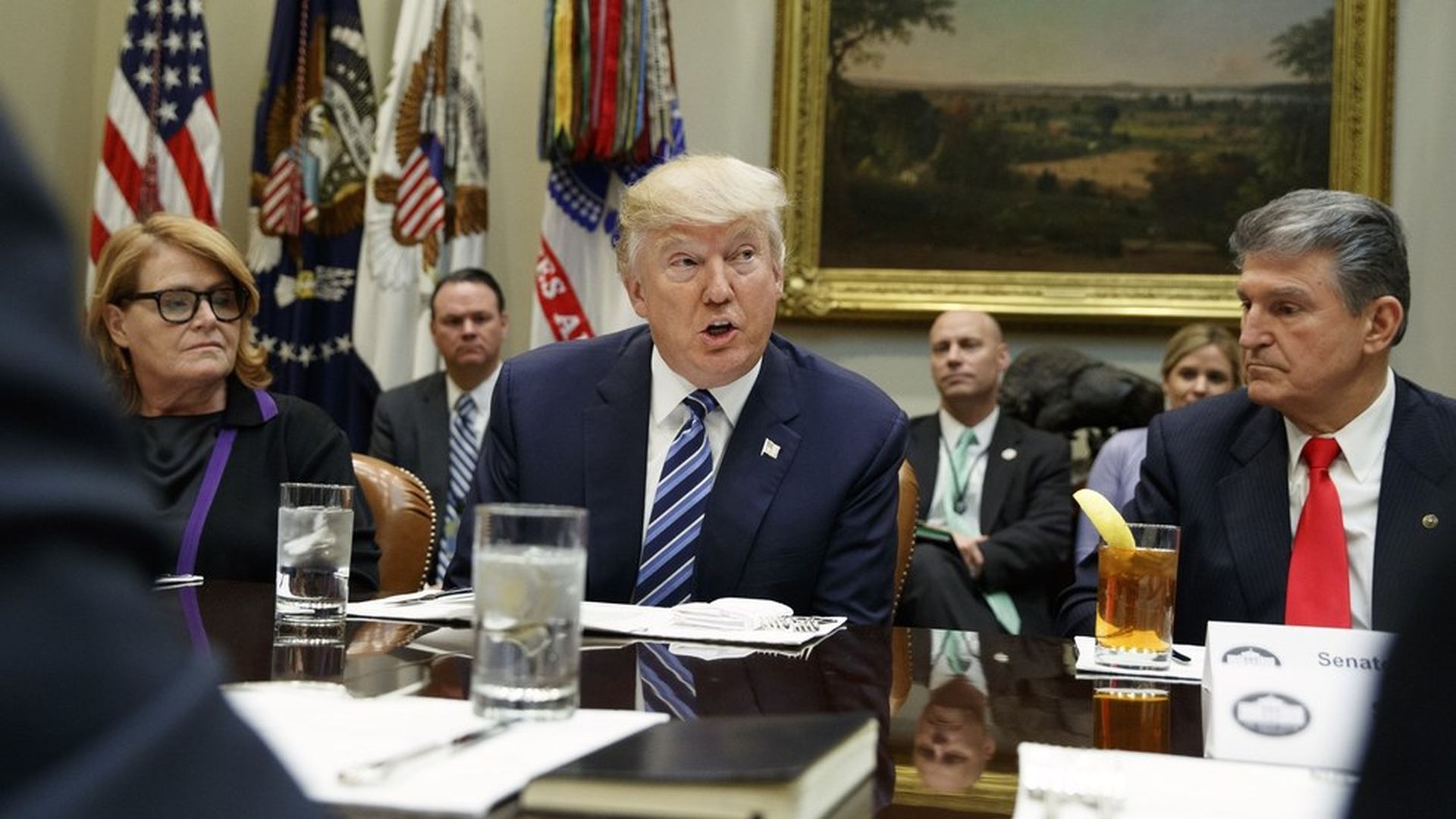 While bosses were home on recess last week, the White House held two bowling nights and a bowling lunch for top staff left in D.C. (The White House's two-lane alley has photos on the wall of past presidents bowling.) So far, 45 Hill aides have watched one of Washington's great spectacles — a Marine One departure from the South Lawn.
Rusty Capitol Hill aides — Republicans and Democrats — shed suit jackets and bowled a few frames, before eating pizza and pouring soda out of two-liter bottles.
They were at the White House, in the basement of the Eisenhower Executive Office Building, as part of an intense effort by the Trump White House to make amends with lawmakers and their staffs — who felt ignored for most of the Obama years, and blindsided by early Trump actions.
The legislative-outreach strategy, and how it's working, based on conversations with lawmakers, their aides, and White House staff:
For his first five years, President Obama paid little attention to egos on the Hill: He scheduled events involving senators during their 12:30 Tuesday party lunches, the one sacrosanct time on their calendars. And he invited a championship team to the White House when the lawmakers from that state — who would have loved to bask in the event — were home on recess.
Although Obama's team paid more attention in the final years, Trump is pushing on an open door by courting lawmakers and their aides, deploying staff to work the office buildings, and hiring staff from leadership and the cloakrooms who understand the members' micro and macro needs. A House Democrat told us: "Trump doesn't understand Congress, but he doesn't disdain Congress."
Rick Dearborn, White House deputy chief of staff for Legislative Affairs, Office of Intergovernmental Affairs, Cabinet Affairs, and Implementation, was chief of staff to Sen. Jeff Sessions (now attorney general). Marc Short, Director of Legislative Affairs, has been a chief of staff in both the House and Senate. "These aren't diplomats to a foreign land," said Don Stewart, deputy chief of staff to Leader McConnell.
Perhaps the most important element is the art of the schmooze by the president himself. Democrats are regularly being invited to Oval Office events, and are riding on presidential aircraft.
After Neil Gorsuch was nominated to the Supreme Court, Trump invited several red-state Democratic senators (with a few Republicans thrown in to make it less obvious) for a low-key chat in the Roosevelt Room. Photographers were invited in, giving the lawmakers good publicity back home — and making it tougher for the senators to stiff him later.
Go deeper