Trump's bizarre obsession with the election map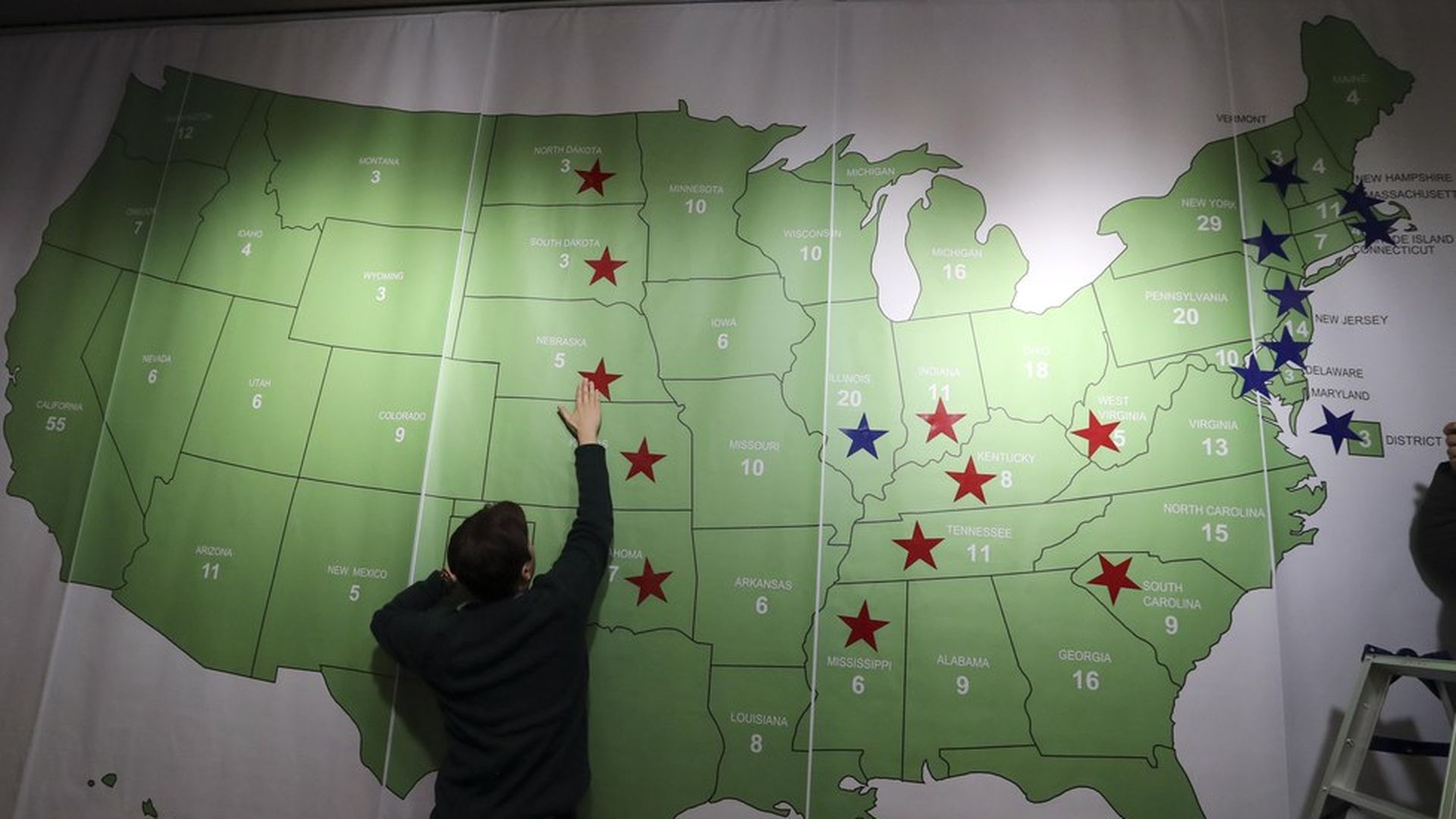 President Trump wanted to celebrate his 100th day in office with an image of the 2016 electoral map displayed on the front page of the Washington Post. "He encouraged me to take it home to my colleagues at the Washington Post and try to run it on the front page of our newspaper," said WaPo's Washington Correspondent Philip Rucker during a MSNBC interview Friday.
Why it matters: It has been five months since the election and 100 days since Trump was sworn in as president, yet he continues to have a bizarre, never-ending obsession with how many electoral votes he received — with copies of the electoral map ready to present to anyone who will listen.
Trump in 2012: "The electoral college is a disaster for a democracy." And then in 2016:
The Electoral College is actually genius.
— Trump
Understanding the origin of his obsession
Exactly one week after the election, Trump tweeted: "The Electoral College is actually genius in that it brings all states, including the smaller ones, into play. Campaigning is much different!" (See GIF below for how that played out.)
This was seemingly the first time he recognized the EC as another intriguing layer to his hyper-competitive participation in the election — it became a challenge to overcome, something else to win.
"I did what was almost an impossible thing to do for a Republican-easily won the Electoral College!" He then considered his feat an even greater win, thus strengthening his obsession.
Big league accomplishment: "Campaigning to win the Electoral College is much more difficult & sophisticated than the popular vote. Hillary focused on the wrong states!"
One-track mind
For Trump, there's never a wrong time to cite his electoral college victory:
When asked about the rise of anti-Semitism during a February presser with Israeli PM: "Well, I just want to say that we are very honored by the victory we had. 306 Electoral College votes. We were not supposed to crack 220."
During a joint presser with Canadian PM Trudeau, he was asked about deporting Syrian refugees and said, "That's what I said I would do. I'm just doing what I said I would do, and we won by a very, very large electoral college vote."
In the middle of discussing Chinese President Xi Jinping with three Reuters reporters, Trump handed them three copies of the election map he had printed out that were sitting atop his desk in the Oval Office. "Here, you can take that, that's the final map of the numbers. It's pretty good, right? The red is obviously us."
He gave a speech to the NRA yesterday, the first POTUS to do so since Raegan, and spent the first portion of it talking about his electoral college victory. He listed the states he won, touted his 306 (actually 304) EC votes. "Big sports fans said [the election] was the single most exciting event they're ever seen."
5 minutes into his speech at a Louisville rally in March, Trump called Nov. 8 "a beautiful day" adding "they weren't giving us a chance, saying, 'There is no way to 270.' ...And you remember for the Republicans, the Electoral College has been very, very hard to win."
Go deeper