Trump's alternative reality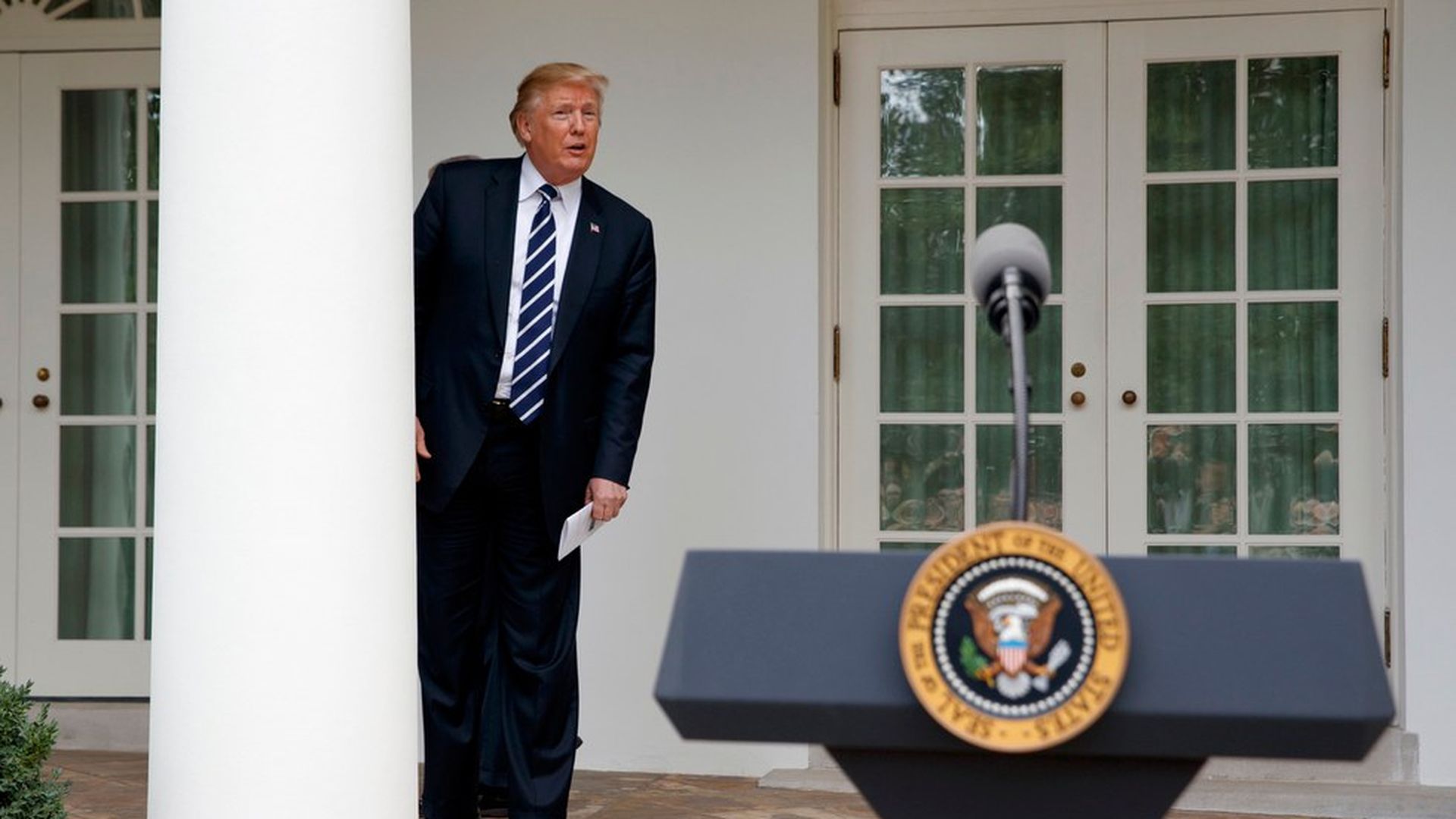 President Trump "goes there, on just about every topic imaginable," as NBC's Brian Williams put it, during a pair of Q&As, two hours apart yesterday — one in the Cabinet Room and one with Senate Majority Leader Mitch McConnell in the Rose Garden.
Why it matters: It's almost impossible for the media to cover these press conferences — or for Republicans to discern what he wants and how he plans to get it — because Trump spreads fake news while calling real news fake. This isn't new. And, yes, 35% of voters don't seem to care. But that doesn't make it any less dangerous.
A look at Trump's alternative reality:
Trump says he and McConnell are "closer than ever before." Both men and their staffs have been trashing each other in public and private for months.
Trump says other presidents "didn't make calls" to families of soldiers killed in duty. They did.
Trump says Obamacare is "dead." His repeated efforts to repeal it failed.
Trump says it's been established that "no collusion" took place with the Russians. Bob Mueller is interrogating the president's associates and advisers on this very point in real time.
Trump says he's on a historic pace of accomplishment. He's not.
Trump says he "already" has "the votes right now" for a bipartisan health care fix. He doesn't.
Sound smart: The damnedest thing is not a single bullet point I just wrote is disputable — while every one of those things the president said was.
Yesterday's keepers:
On GOP senators: "I'm not going to blame myself, I'll be honest. They are not getting the job done."
"Obamacare is finished. It's dead. It's gone. It's no longer — you shouldn't even mention. It's gone. There is no such thing as Obamacare anymore."
On Steve Bannon's war on McConnell and the Republican establishment: "Steve is ... a friend of mine ... I can understand where Steve Bannon is coming from. ... I know how he feels. ... There are some Republicans, frankly, that should be ashamed of themselves."
On whether he's considering firing Mueller: "No, not at all."
"Oh, I hope Hillary runs. Is she going to run? I hope. Hillary, please run again."
P.S. Bannon tells me by email: "McConnell and the GOP Establishment have sown the wind — now be prepared the reap the whirlwind."
Go deeper