Trump's 24/7 House of Cards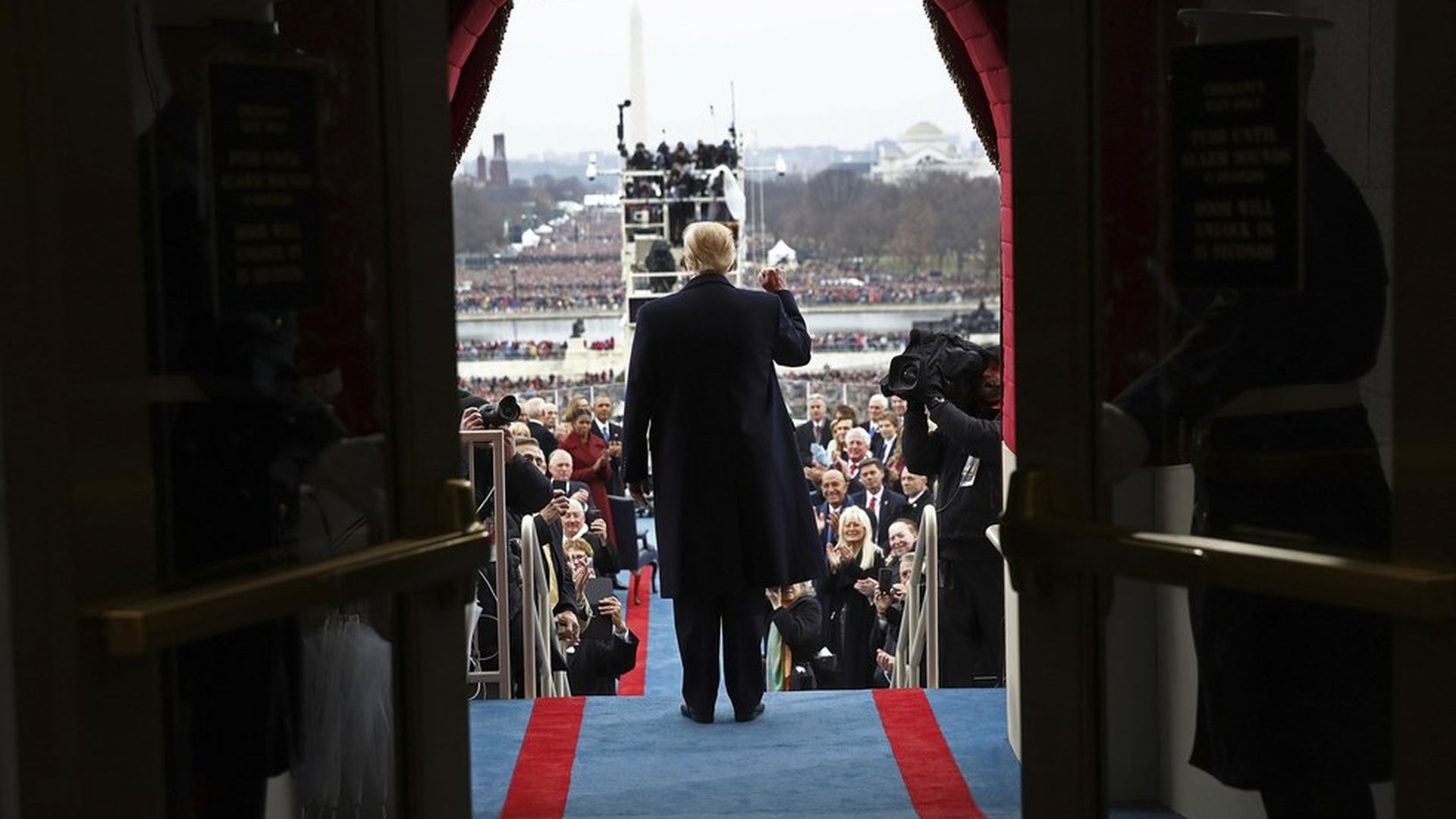 Read these five items and remember this is real, not fake, news — not "The West Wing," not "House of Cards," but honest-to-goodness events that unfolded in a 24 hour period less than a week into the Trump presidency.
And remember this: There is a dominant faction inside the White House that believes fervently this is shrewd, long-term, disruptive politics that will forever change the country.
Sweeping executive actions on immigration: Beginning this afternoon, including steps toward a Mexican border wall, that will be announced when he visits the Dept. of Homeland Security. Last night, he tweeted: "Big day planned on NATIONAL SECURITY tomorrow. Among many other things, we will build the wall."
Rapid, radical gutting of the regulatory state. In a new "Trump 101": Axios revealed deep details of Trump's plans: "Internally, [his Cabinet secretaries] are known by some as 'deconstructors,' … tapped because of their shared view in eviscerating key pieces of the agencies they will run."
Tweeted on "carnage" in Chicago. Last night at the @realdonaldtrump feed: "If Chicago doesn't fix the horrible 'carnage' going on, 228 shootings in 2017 with 42 killings (up 24% from 2016), I will send in the Feds!" CNN's Dylan Byers points out that the tweet SEEMED to come out of nowhere. Then, you discover that Fox's "O'Reilly Factor" had just run a segment about violence in Chicago that noted "42 homicides in 2017 (up 24% from last year)."
Pushed voter fraud falsehoods: Sean Spicer used yesterday's briefing to cement Trump's belief in the untrue conspiracy theory that widespread voter fraud tainted the election. The press secretary said the president had said "3 to 5 million people could have voted illegally, based on the studies that he's seen." There are no such studies.
"'1984' sales soar after Trump claims, 'alternative facts'" per AP: "First published in 1949, Orwell's classic dystopian tale of a society in which facts are distorted and suppressed in a cloud of 'newspeak' topped the best-seller list of Amazon.com [last] evening. … Sinclair Lewis' 1935 novel about the election of an authoritarian president, 'It Can't Happen Here,' was at No. 46. Aldous Huxley's 'Brave New World' was at No. 71. Sales also were up for Hannah Arendt's seminal nonfiction analysis 'The Origins of Totalitarianism.'"
Go deeper