Trump vows even-more-extreme vetting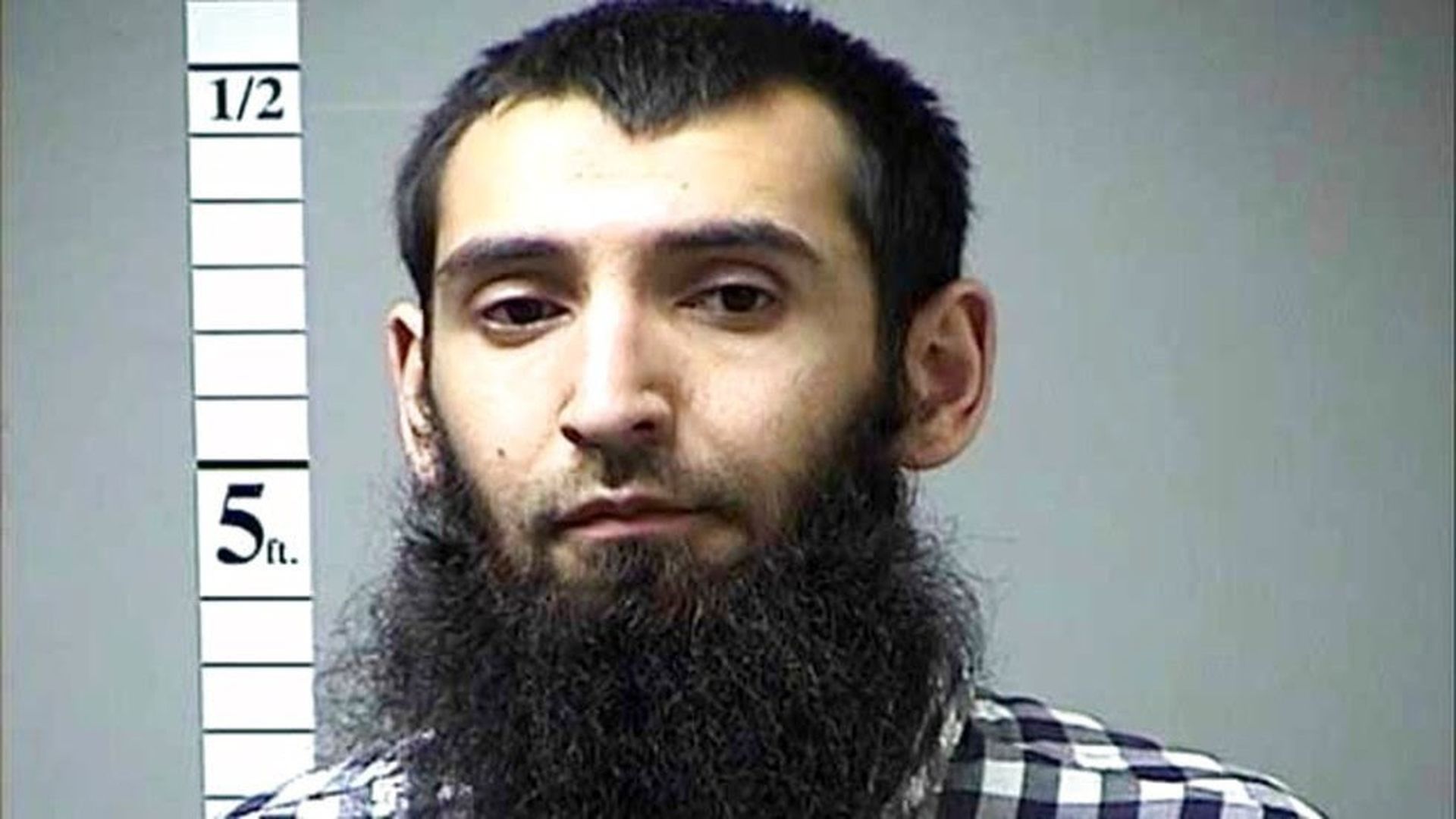 At 9:26 p.m. — just over six hours after the rented truck attack near the World Trade Center in Lower Manhattan — President Trump tweeted: "I have just ordered Homeland Security to step up our already Extreme Vetting Program. Being politically correct is fine, but not for this!"
Why it matters: We've known this moment — a radical Islamic terror attack on U.S. soil — would happen while Trump was president, and now it's here. Will President Trump stoke fears, or unite Americans with resolve against an insidious enemy?
The last 48 hours have rocked Trump's world: the indictment of his former campaign manager, followed by the bike-path Halloween attack that killed eight, which "officials are calling the deadliest terrorist attack on New York City since Sept. 11, 2001." The grim facts, from the N.Y. Times. "The rampage ended when the motorist — whom the police identified as Sayfullo Saipov, 29 — smashed into a school bus, jumped out of his truck and ran up and down the highway waving a pellet gun and paintball gun and shouting 'Allahu akbar,' Arabic for 'God is great,' before he was shot in the abdomen by the officer. He remained in critical condition." "Investigators discovered handwritten notes in Arabic near the truck that indicated allegiance to the Islamic State ... But investigators had not uncovered evidence of any direct or enabling ties between Mr. Saipov and ISIS and were treating the episode as a case of an 'inspired' attacker." Uber confirmed that the suspect was one of its drivers. What to watch: Does President Trump handle this like George W. Bush [after 9/11], or like campaign trail Trump? It's never been more important that Trump's aides do their jobs competently. Any time an attack like this happens, hate crimes against Muslims go up. Key context: Haroon Ullah — a terrorism expert whose "Digital World War: Islamists, Extremists, and the Fight for Cyber Supremacy" was just published by Yale University Press — tells me the "end of ISIS" was exaggerated after Raqqa was overrun: "ISIS has made unexpected gains — especially on the battlefield that matters most to them, the information battlefield, which is an arena fought through social media and dark web. The activity of fanboys after this gruesome NY terrorist attack in multiple languages demonstrates their influence." What's next: The New York City Marathon, with 51,394 finishers in 2016, will be run Sunday. Be smart: A former law-enforcement official who fought terrorism in Manhattan tells me that there's no way to stop these attacks: Police have thousands of leads, and surveilling a single person can take at least 16 agents (four per shift, three shifts per day, with days off). So this threat, which poses such a dark risk to freedoms we expect and deserve, is permanent.
Go deeper