Trump: "The wall will come later"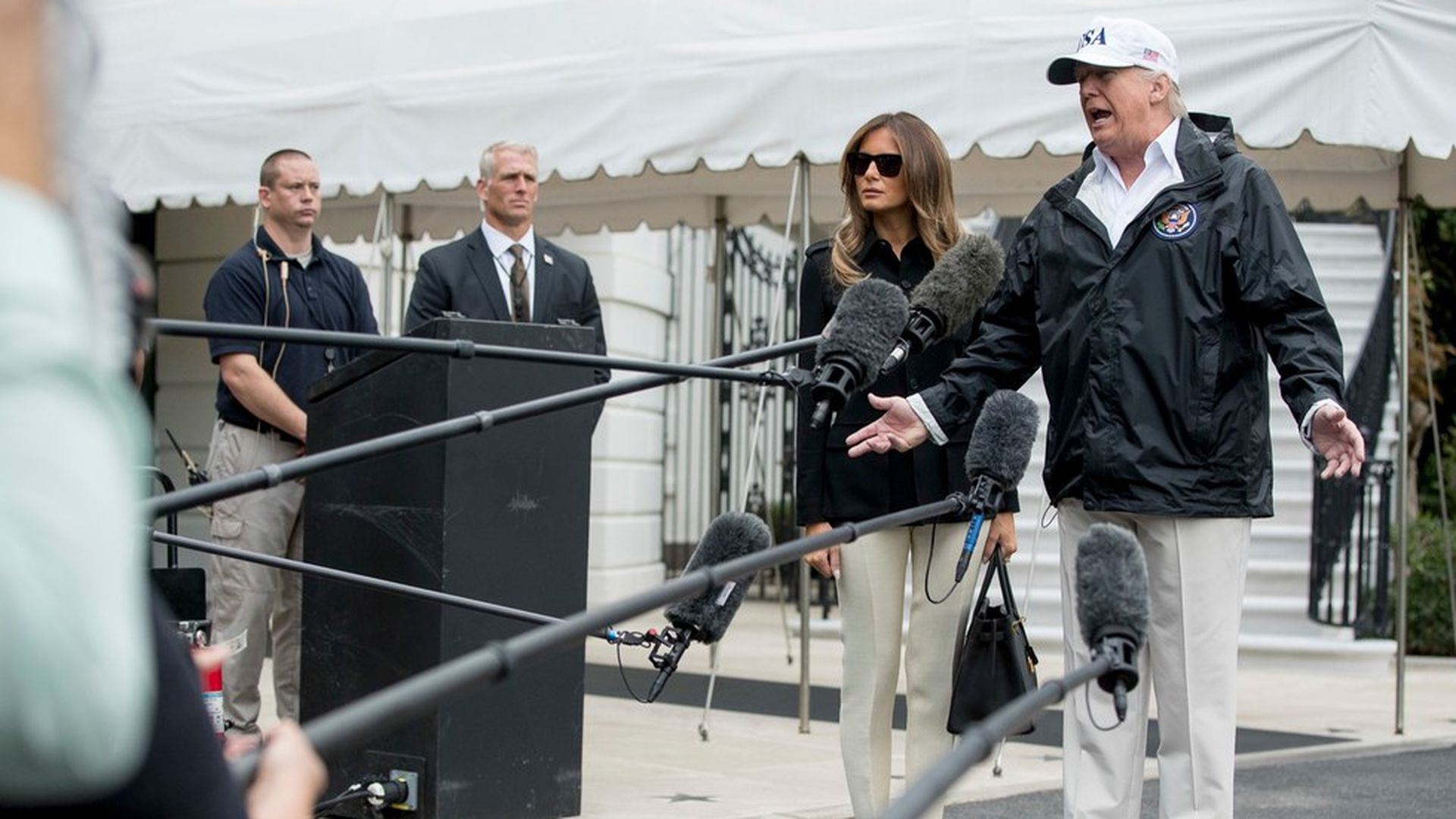 Nancy Pelosi and Chuck Schumer issued a joint statement responding to President Trump's morning tweets surrounding DACA, agreeing that there was "no final deal" but rather general agreement on the following terms:
Trump will encourage the House and Senate to enshrine protections granted by DACA into law.
There will be a bipartisan border security package that still needs to be negotiated — but it will not include the wall, which Trump plans to continue to advocate at a later date.
Confirmation from POTUS: Leaving the White House for Florida this morning, Trump told the pool that "the wall will come later," adding that a deal is "fairly close" with Paul Ryan and Mitch McConnell both on board, but both sides have to "get past the border security."
More quotes from Trump:
"We're working on a plan — subject to getting massive border controls. We're working on a plan for DACA. People want to see that happen. You have 800,000 young people, brought here, no fault of their own. So we're working on a plan, we'll see how it works out. We're going to get massive border security as part of that. And I think something can happen, we'll see what happens, but something will happen."
"We want to get massive border security. And I think that both Nancy Pelosi and Chuck Schumer, I think they agree with it."
"Mitch is on board, Paul Ryan's on board. We all feel — look, 92% of the people agree on DACA — but what we want is very, very powerful border security, okay?"
The full Pelosi/Schumer statement:
President Trump's Tweets are not inconsistent with the agreement reached last night. As we said last night, there was no final deal, but there was agreement on the following:
We agreed that the President would support enshrining DACA protections into law, and encourage the House and Senate to act.
What remains to be negotiated are the details of border security, with a mutual goal of finalizing all details as soon as possible. While both sides agreed that the wall would not be any part of this agreement, the President made clear he intends to pursue it at a later time, and we made clear we would continue to oppose it.
Both sides agreed that the White House and the Democratic leaders would work out a border security package. Possible proposals were discussed including new technology, drones, air support, sensor equipment, rebuilding roads along the border and the bipartisan McCaul-Thompson bill.
Go deeper