Trump says he and McConnell are "closer than ever before"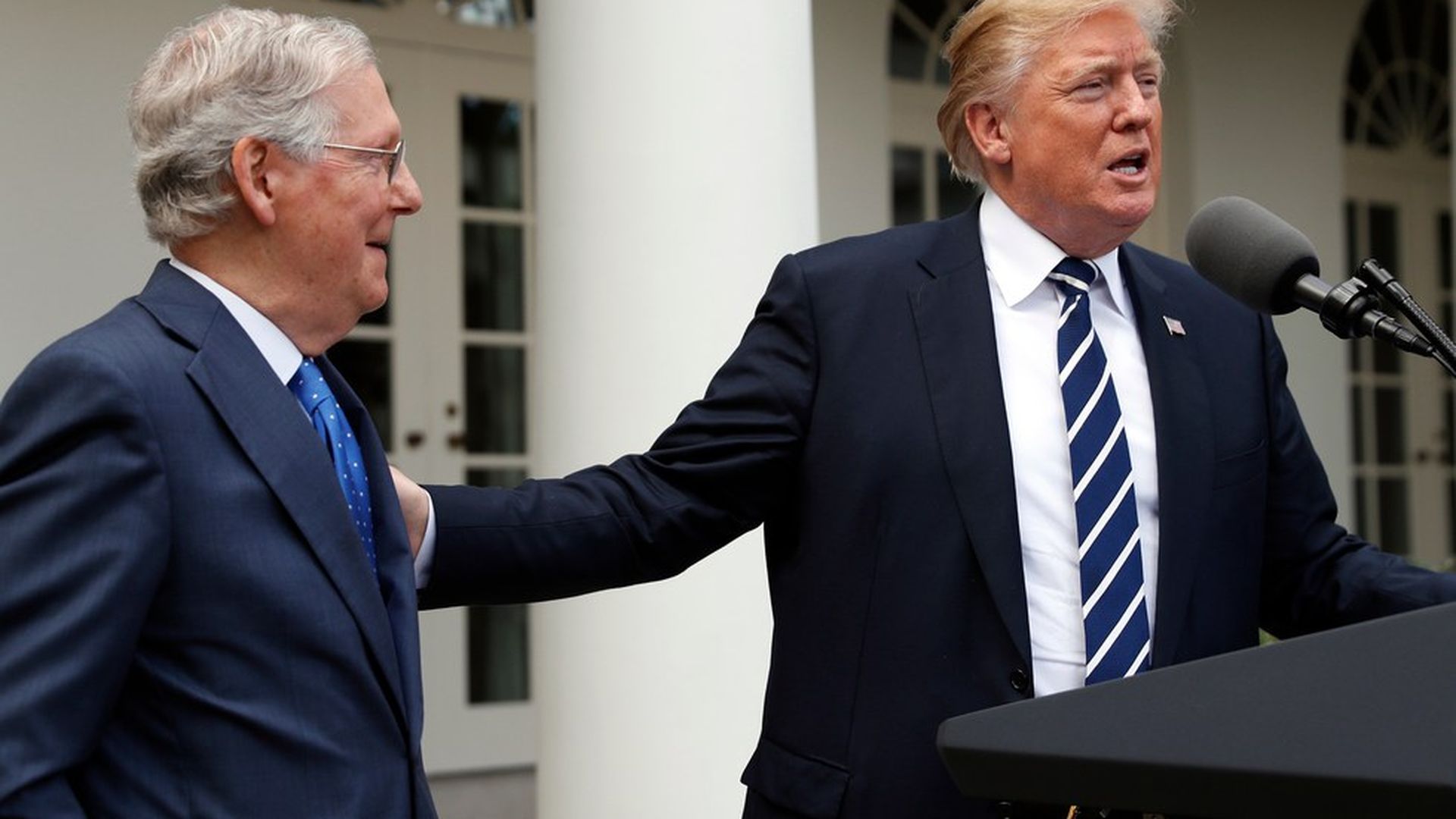 President Trump and Senate Majority Leader Mitch McConnell held a surprise press conference following their lunch meeting at the White House Monday. Trump opened by stating, "McConnell and I have been friends for a long time. We're probably now, despite what you read, closer than ever before."
Why it matters: Trump has repeatedly attacked McConnell, both publicly and in private, for his failure to repeal and replace the Affordable Care Act. This press conference is an effort to show a united front heading into key legislative fights.
Go deeper: Mike Allen on Trump and McConnell's "truce of necessity"
Trump on his agenda
Tax reform: "I would very much like to see it be done this year... but don't forget, it took years for the Reagan administration to get tax reform done... I could say the same for health care."
Health care: "We're getting close... we feel confident we have the votes... I feel Republican and Democrats are as we speak working very hard for an intermediate [health care] plan, a short term plan."
Judges: "We will set records for the number of judges we'll confirm... we have a tremendous number of judges under review by the Senate... the level of quality is extraordinary... we're getting really great reviews." (Go deeper: Trump privately predicts he will appoint four Supreme Court justices).
Trump on the Russia probe
Length of investigation: "They ought to get to the end of it because I think the American public is sick of it."
Will you consider firing Special Counsel Robert Mueller? "No, not at all."
Trump on U.S. efforts abroad
U.S. soldiers killed in Niger: "I will at some point during the period of time call the parents and the families... If you look at President Obama and other presidents, most of them didn't make calls. A lot of them didn't make calls." (When asked a follow-up question on whether the Obama claim was true, Trump said he didn't know if Obama made such calls. Former Obama aides on Twitter said Trump's statement was false. News reports from the time show Obama making such gestures. Here's a story about Obama visiting a military base for the return of soldiers killed in Afghanistan.)
Fighting in Iraq: "We don't like the fact that they are clashing. We're not taking sides, but we don't like the fact that they are clashing."
On illnesses of US government personnel in Havana: "I do believe Cuba is responsible."
"We now actually have military distributing food—something that, really, they shouldn't have to be doing."
More from Trump
NFL: "It is very disrespectful to our country when they take a knee... the American people are very angry... it is highly disrespectful — they shouldn't do it."
Bipartisanship: "I hope to have a relationship [with Chuck Schumer and Nancy Pelosi], but if we don't, we don't."
Bannon challenging Trump on primary candidates: "I like Steve a lot. Steve is doing what Steve thinks is the right thing."
Clinton 2020? "Oh I hope she runs. Hillary, please run!"
Sexual assault allegations made against him resurfacing amid Harvey Weinstein fallout: "All I can say is it's totally fake news ... it's totally made up stuff."
On Tom Marino nomination for drug czar: "We are going to look into the report... We are going to be looking into Tom... We are going to take it very seriously," Trump said following the 60 Minutes/Washington Post report on the opioids. Trump also said he'll declare the opioid crisis a national emergency "next week"
More from McConnell
On his relationship with Trump: "We have the same agenda. We've been friends and acquaintances for a long time. We talk frequently, we don't give you a readout every time we talk... but we talk frequently about the issues before us."
Bannon challenging GOP on their endorsements of primary candidates: "Our operating approach will be to support our incumbents, and in open seats, to help nominate people who can actually win in November... That's the way you keep a governing majority."
Judges: "The single most significant thing this president has done to change America is the appointment of Neil Gorsuch."
Go deeper