Trump meets Pope Francis: highlights and photos
Pool report from President Trump at the Vatican today, by the Wall Street Journal's Carol Lee: "When pool entered the room, ... POTUS had already introduced Ivanka Trump, who ... wore a black lace dress and veil, and Jared Kushner. ... Other members of the delegation were still in the back of the room near pool."
"The first person pool saw POTUS introduce to Pope Francis was Rex Tillerson. 'This is my secretary of state,' POTUS explained. H.R. McMaster was next. ... Hope Hicks ... [t]hen Dan Scavino, Brian Hook, Keith Schiller and others."
The pope was brought a tray of rosaries on a silver tray, which were then taken away. He handed out tokens, in white boxes, to each member of the delegation. He had an exchange with Ivanka Trump and Jared Kushner where they smiled and laughed ... POTUS was very effusive in expressing his gratitude. He said 'thank you very much' multiple times as the pope talked him through his gift offerings. ...
"The pope asked Melania Trump, referring to POTUS: 'What do you give him to eat, potizza?' She repeated 'potizza,' which apparently is a Slovenian treat. (Not pizza as some thought they heard.) One of the pope's attendants, a clergyman, gave Mrs. Trump a small object, maybe a rosary, as she was walking away (she seemed to have forgotten about it), and she turned back and asked the pope to bless it, which he did.
Information on the gifts POTUS gave the Pope, from the White House: "A first-edition set of Dr. King's writings are presented to Your Holiness on the occasion of President Donald J. Trump's first visit to the Holy See. ... Each book is custom-bound and accented with gold hand-tooling, and 'The Strength to Love' bears Dr. King's signature."
"The 'Stone of Hope' statue sits as the centerpiece of the Martin Luther King Jr. Memorial in Washington ... A piece of the monument's granite — a stone of hope — is presented."
Photos from their meeting:
Trump and Melania greeted by Pope Francis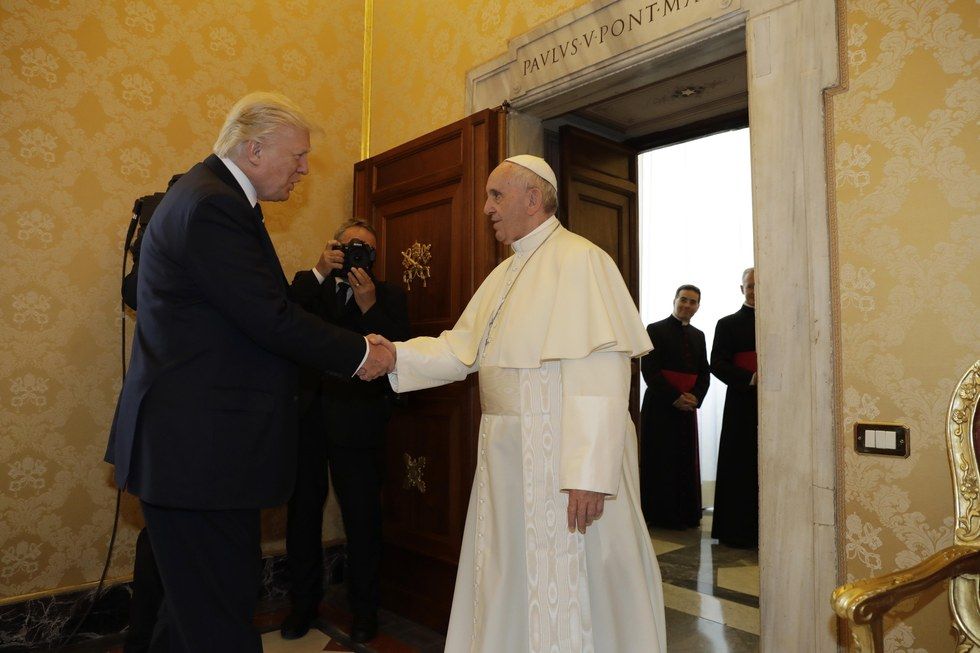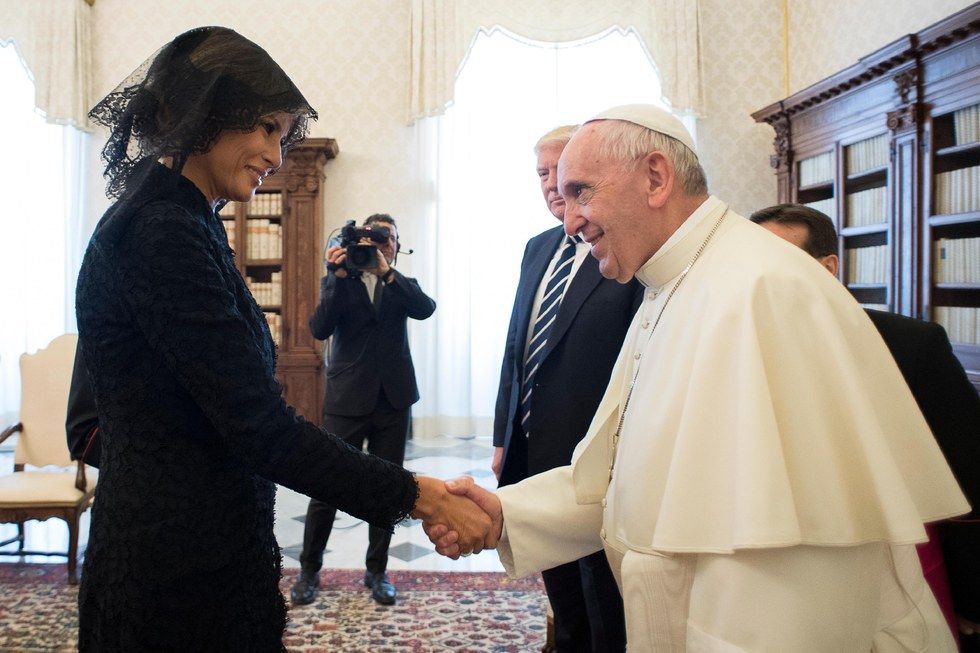 The First Family stands for a photo during a meeting with Pope Francis.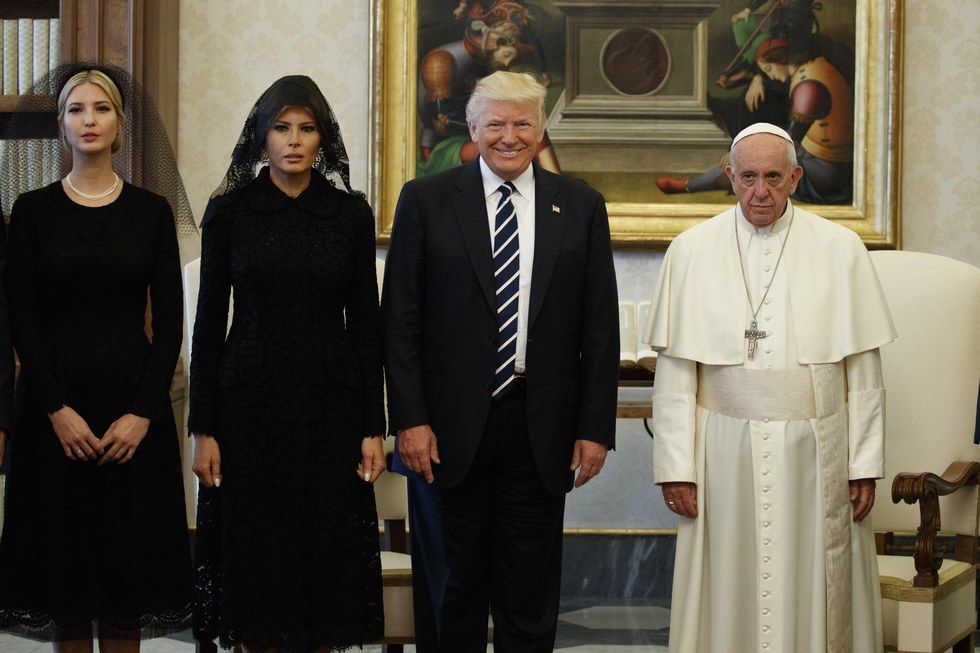 Trump and the Pope meet surrounded by a private audience.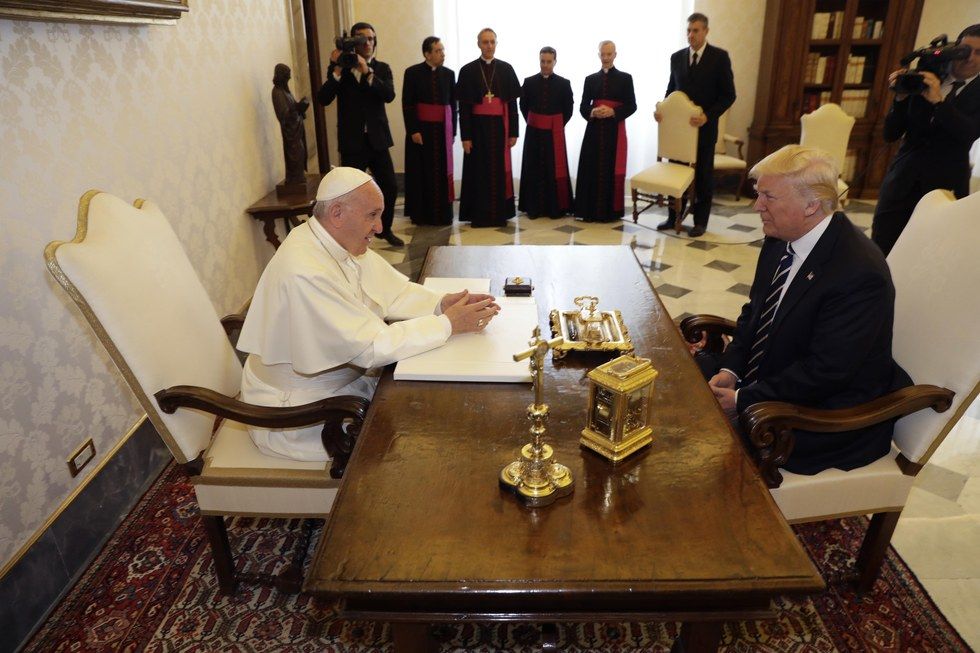 Stephanie Grisham, the first lady's communications director, told CNN: "Per Vatican protocol, women who have an audience with the Pope are required to wear long sleeves, formal black clothing, and a veil to cover the head."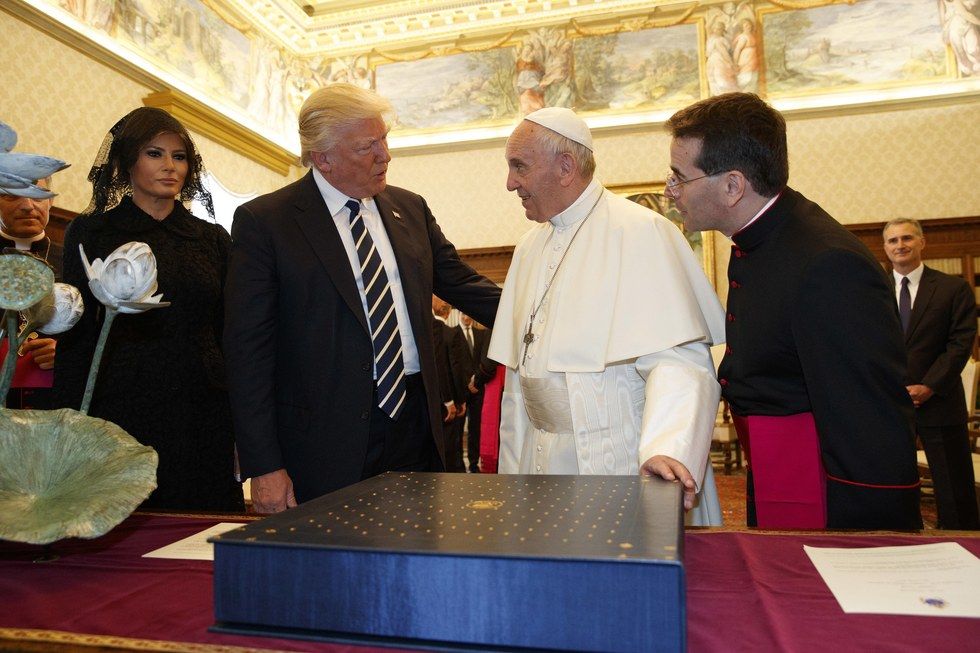 Go deeper