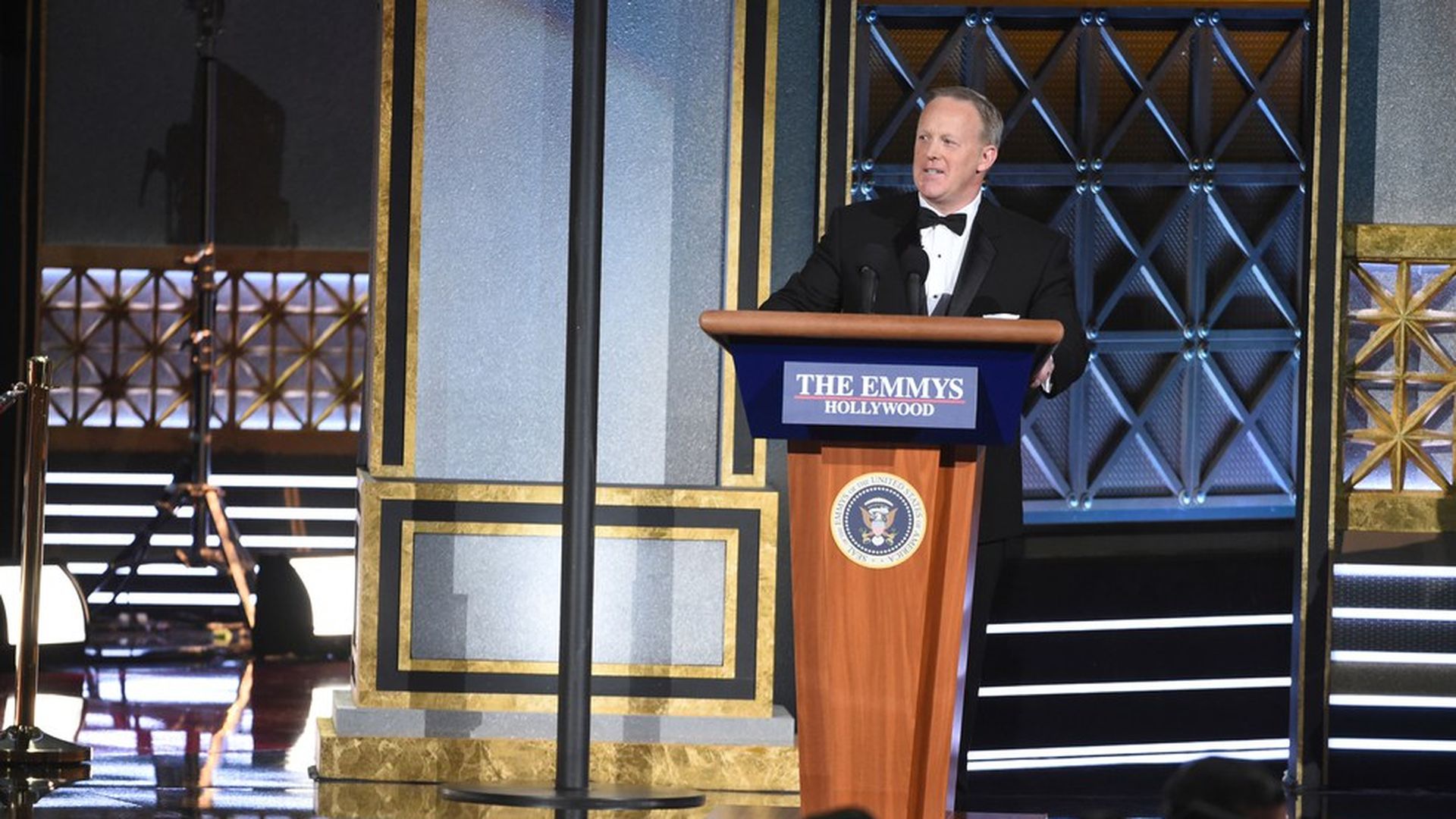 Sean Spicer wheeled onstage at last night's Emmys behind an SNL mobile podium: "This will be the largest audience to witness the Emmys, period — both in person and around the world."
Jon Favreau of Pod Save America tweets: "Harvard fellowships, Emmy appearances, huge speaking fees: there's just gonna be no penalty for working in Trump's White House, huh?"
"Politics Win Big: TV shows reflecting current events are lauded during the ceremony, and stars onstage get in digs at Trump," by L.A. Times TV Critic Lorraine Ali:
"Subtext became text when issues of race, gender and national politics, long a part of Hollywood awards shows, took center stage."
Host Stephen Colbert, in his opening monologue: "You can't deny that every show was influenced by Donald Trump in some way, ... All the late-night shows, obviously. 'House of Cards.' The new season of 'American Horror Story.' " Pause. 'And of course next year's Latin Grammys, hosted by Sheriff Joe Arpaio.'"
"The winner in the drama category was 'The Handmaid's Tale,' a Hulu series based on Margaret Atwood's dystopian tale in which America becomes an theocracy in which dissidents are executed and all women become property."
Emmy moments: "It was also about diversity and new voices, with notable wins, among others, for Sterling K. Brown, the first black actor in nearly 20 years to win for lead actor in a drama; for Lena Waithe, the first black woman to win for comedy writing, and Donald Glover, the first black director to win the comedy award (and best actor, too.)"
"Stories about women won big: 'Big Little Lies,' 'The Handmaid's Tale' and 'Veep' won the top three categories. But there was a notable paucity of Latino and Asian winners."
Go deeper