Trump lawyer emailed Putin aide about real estate deal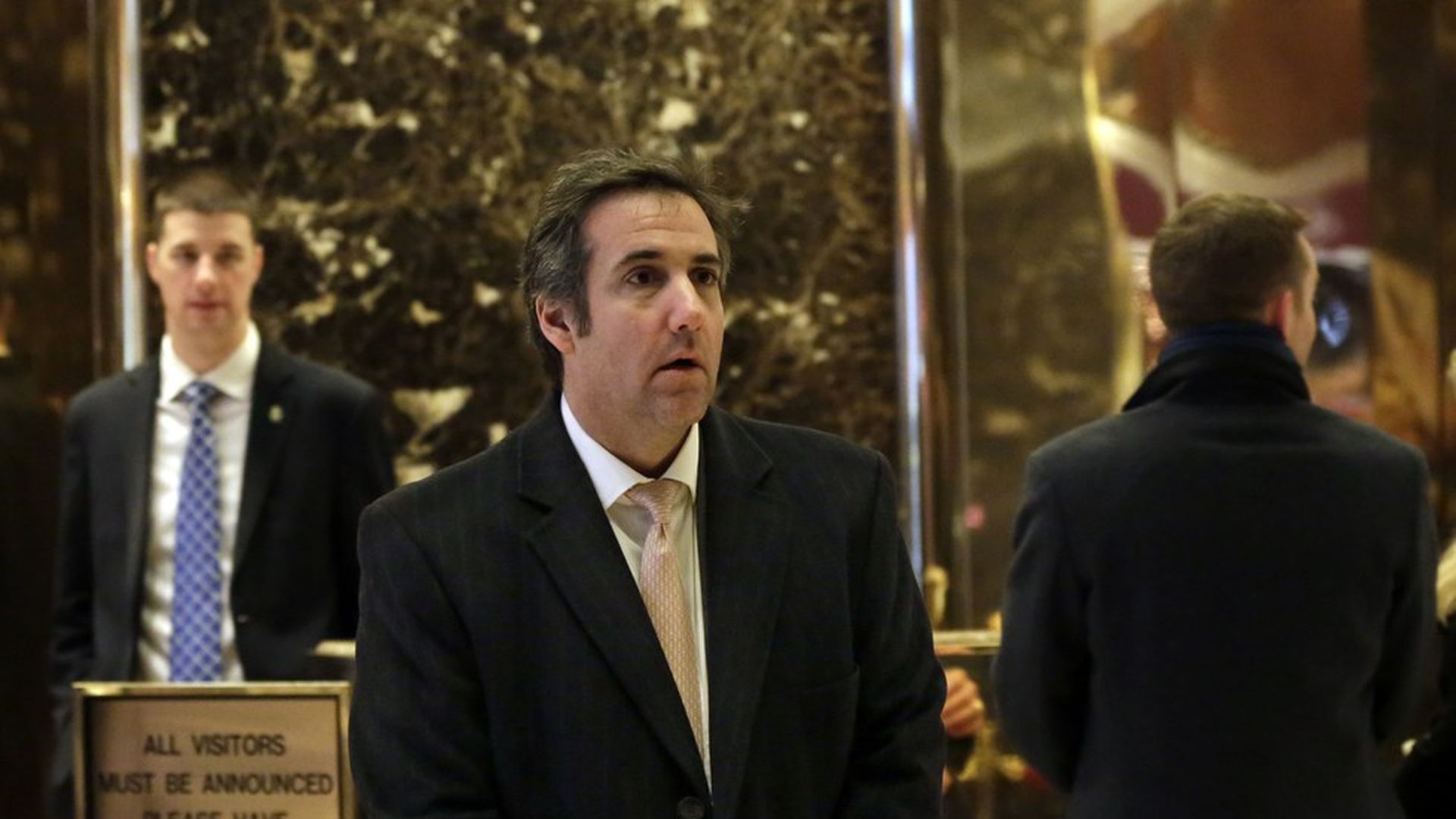 Michael Cohen, an executive vice president of the Trump Organization, emailed Vladimir Putin's spokesman, Dmitry Peskov, in January 2016 and asked him to help accelerate the building of a Trump Tower in Moscow, reports The Washington Post, citing documents submitted to Congress Monday.
"Over the past few months I have been working with a company based in Russia regarding the development of a Trump Tower - Moscow project in Moscow City. Without getting into lengthy specifics, the communication between our two sides has stalled... As this project is too important, I am hereby requesting your assistance. I respectfully request someone, preferably you, contact me so that I might discuss the specifics as well as arranging meetings with the appropriate individuals."
Why it matters: Cohen's email to Peskov is the most direct documented correspondence of a top Trump aide and a high-ranking member of Putin's government during the campaign.
Cohen's background: Cohen, who has been one of Trump's closest aides for more ten years, did not take a formal role in the campaign, but he did sometimes appear as a Trump surrogate in the media.
Trump's involvement: Cohen told congressional investigators that the business deal was proposed as a licensing project, and would have been built by Moscow-based developer I.C. Expert Investment Co. Cohen also said Trump signed a letter of intent with the company on Oct. 28, 2015, after which he "began to solicit designs from architects and discuss financing." Note: The signed letter of intent contradicts Trump's repeated denials that he has no business deals with Russia.
Cohen's response: In a statement turned over to Congress, Cohen claimed that Felix Slater, a Russian immigrant and Trump associate, had advised him to write the email, suggesting that such a massive real estate project in Moscow would require Russian government approval. The New York Times reported Monday that Sater promised in 2015 to build a Trump Tower in Moscow with Putin's help, and said the real estate deal would help Trump win the 2016 election.
Cohen's statement to the Post: "It should come as no surprise that, over four decades, the Trump Organization has received and reviewed countless real estate development opportunities, both domestic and international. The Trump Moscow proposal was simply one of many development opportunities that the Trump Organization considered and ultimately rejected."
Go deeper