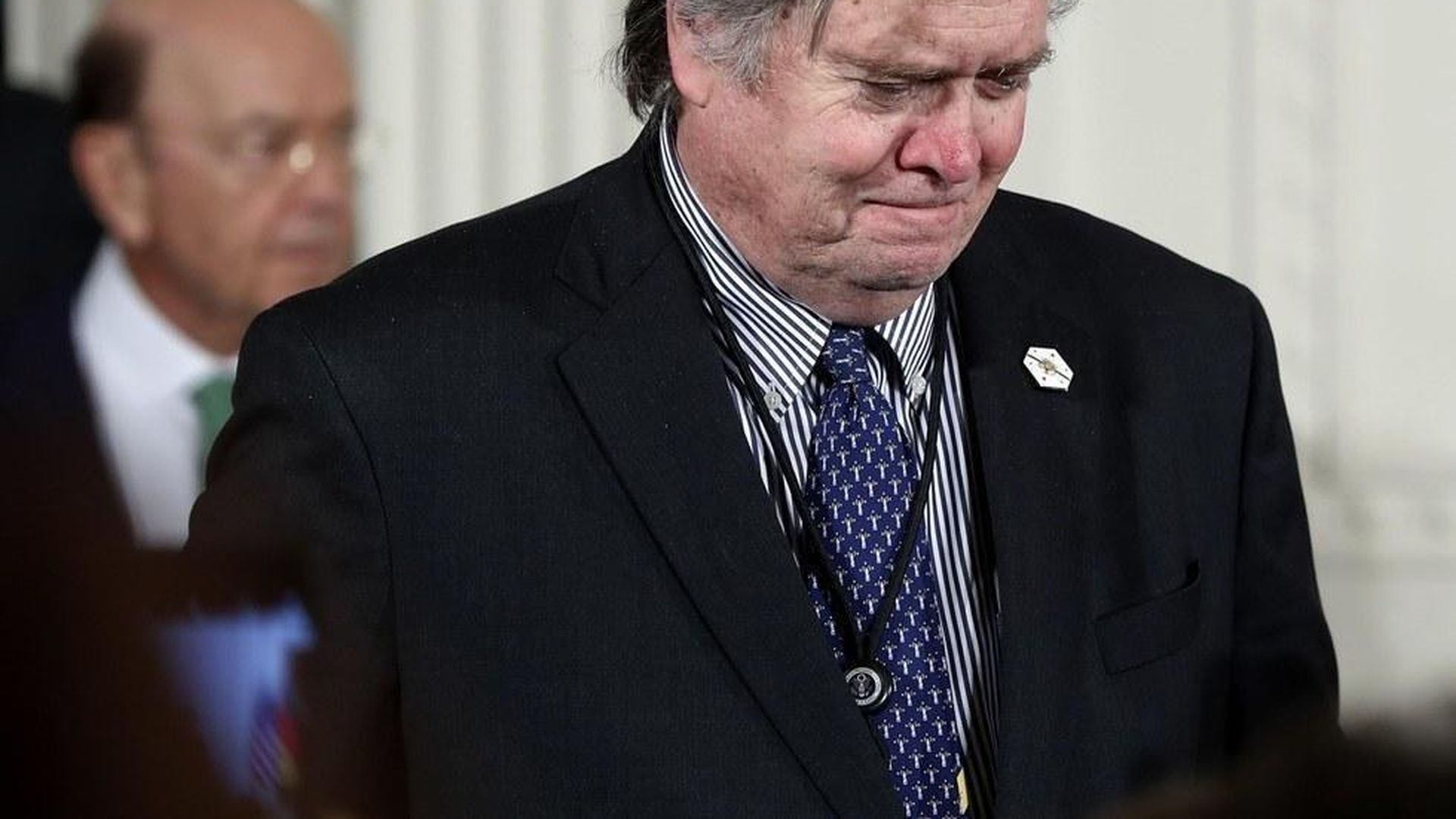 Allies of Steve Bannon fear the White House chief strategist is about to be pushed out, following the posting last night of an ominous interview with Trump by Michael Goodwin, a New York Post columnist and someone the president has been comfortable with over many years.
What it means: Axios' Jonathan Swan points out that if Bannon goes, there's no one of similar status in the White House who has the status to push the nationalist agenda to Trump – and more centrist figures are already ascendant (Jivanka, Gary Cohn). Without Bannon's voice, this becomes a much more conventional White House. It would be an acute normalizing of the staff, although no one can normalize Trump.
The brutal headline: "Trump won't definitively say he still backs Bannon."
What Trump said: "I like Steve, but you have to remember he was not involved in my campaign until very late ... I had already beaten all the senators and all the governors, and I didn't know Steve. I'm my own strategist and it wasn't like I was going to change strategies because I was facing crooked Hillary. ... Steve is a good guy, but I told them to straighten it out or I will."
The instant fallout: Swan hears Bannon allies inside and outside the White House were taken by surprise when Goodwin's column posted, and are distraught. Bannon allies are bitter about the role they believe economic adviser Gary Cohn has played in undercutting their guy to POTUS. In private conversations, they call him "Globalist Gary." In text messages, the shorthand is CTC (Carbon Tax Cohn) or one simple emoji: .
What got Bannon in trouble: Axios AM is told that President Trump didn't like the stories about Bannon as the Svengali, or leaks against Jared and Ivanka, or planted stories that he blamed Bannon for. It was less than 10 weeks ago that Bannon appeared on the cover of TIME as "THE GREAT MANIPULATOR," with the inside story asking if he was "the Second Most Powerful Man in the World."
Bannon's mistake: He did little to build alliances and a personal retinue within the White House, while his rivals did the opposite. So he wound up isolated in "West Wing Survivor.'
The huge risk for Trump: The base (including Breitbart) remains very attached to Bannon, and would go crazy if he were axed. And does the president lose his psychic connection to the issue palette that helped put him in power?
Go deeper