Trump eyes economic nationalism before Day 100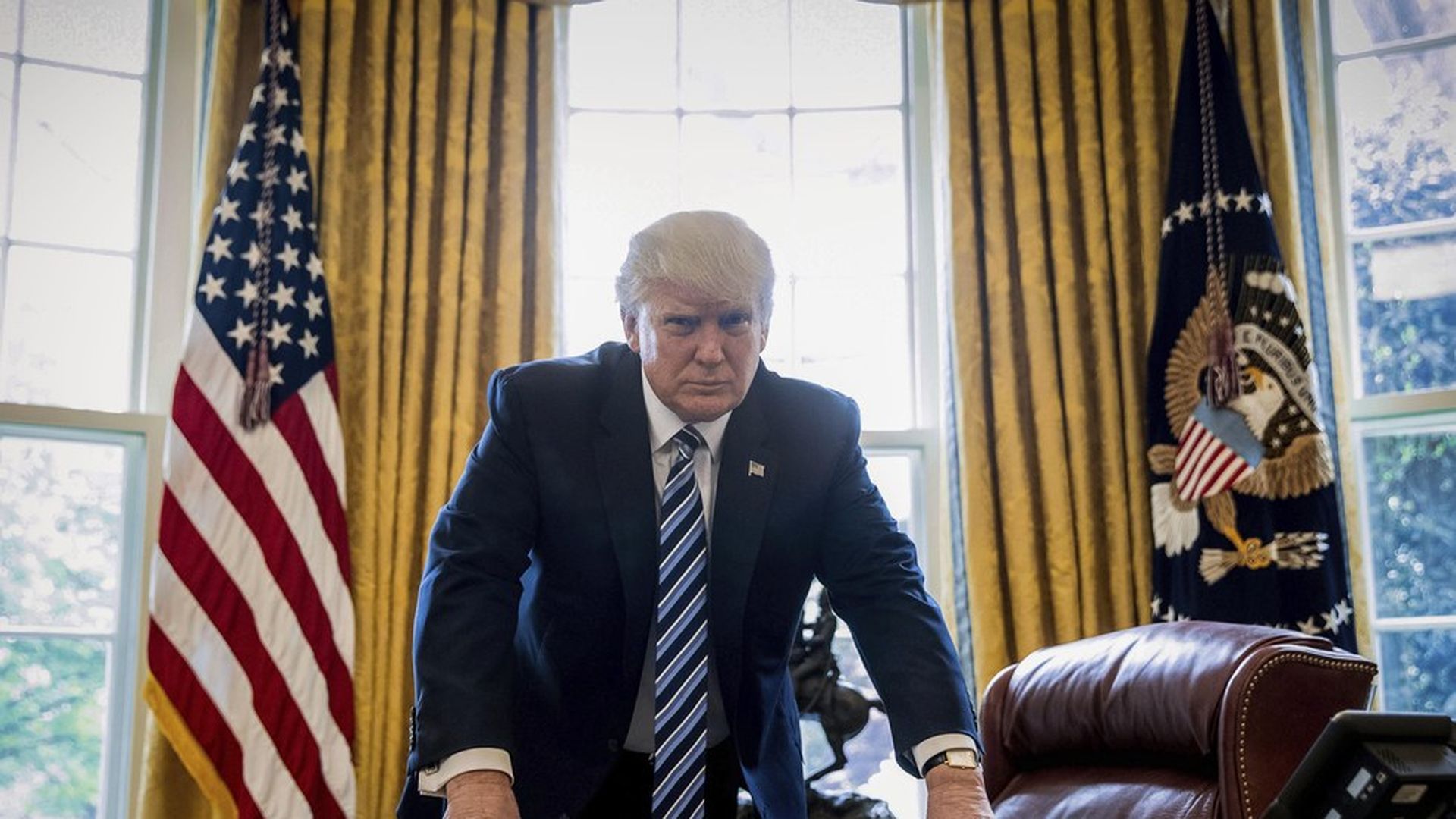 Trump is marking the week leading up to Day 100 (Saturday) with a series of newsy directives and splashy events — this afternoon, he holds a "farmers' roundtable" in the Roosevelt Room — designed to show lawmakers that he can do plenty without them.
The big win for Steve Bannon: Trump made another in an increasingly aggressive series of moves on trade — this time, per the Wall Street Journal, "taking retaliatory action against Canada over a decades-old trade dispute, moving to impose a 20% tariff on softwood lumber."
Commerce Secretary Wilbur Ross said, in an unusually harsh statement aimed at an ally:
"It has been a bad week for U.S.-Canada trade relations. Last Monday, it became apparent that Canada intends to effectively cut off the last dairy products being exported from the United States. Today, ... the Department of Commerce determined a need to impose countervailing duties of roughly one billion dollars on Canadian softwood lumber exports to us. This is not our idea of a properly functioning Free Trade Agreement."
Axios' Jonathan Swan posted this thought bubble: "We're inclined to take this seriously as a sign of things to come. We previewed in [Axios' Sunday-evening newsletter] Sneak Peek that Trump would be making aggressive moves this week on his economic nationalist trade agenda, and there are at least three executive orders still to come. He wants to reexamine every US trade relationship, especially those in Asia."
'The bottom line: "This puts to rest notions that Trump will morph into a 'globalist' on trade. This is the one issue he's been consistent on for 30 years and his entire West Wing staff — including Gary Cohn and Steven Mnuchin — has come to accept that."
Coming attractions: USA Today lead story, "GOP push targets job protections for gays," by Eliza Collins: "[A] senior White House official told USA TODAY that some sort of policy to protect religious liberty is still in the works, but that the president is trying to find middle ground."
How Trump aides are framing Saturday's 100-day mark: The graphic above gives a flavor of the White House's "First 100 Days" website. The White House also has a 14-page "100 Days of Accomplishments," in nine categories: cutting regulations, job creation, trade, ethics, national security, immigration, public safety, helping women and minorities, and Supreme Court.
Go deeper