Trump decertifies the Iran nuclear deal, issues new sanctions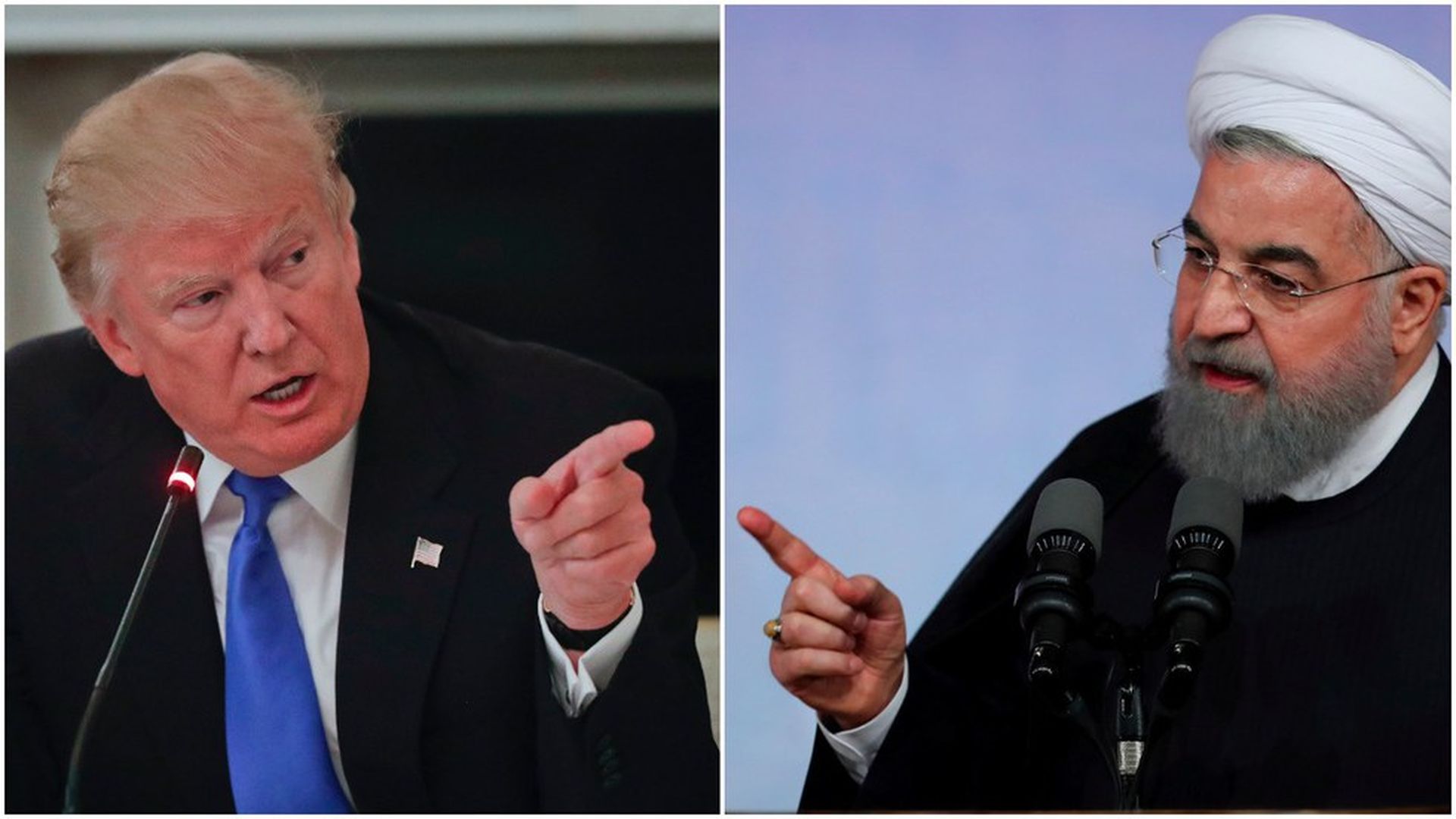 President Trump announced Friday that he is decertifying the Iran deal, and issued new sanctions on Iran's Revolutionary Guard. But he did not withdraw the U.S. from the agreement, instead punting the decision to Congress. This was expected, and comes despite criticism from U.S. allies and other member countries who insist that Iran is fulfilling its obligations, and warn that any change in the agreement could lead to a new nuclear buildup in the Middle East.
Why it matters: The world is already facing a mounting nuclear problem with North Korea. It doesn't want to risk another one with Iran. Trump argues, however, that the deal has emboldened Iran and is counter to U.S. interests.
Trump's quote: "I am announcing today that we cannot and will not make this certification... In the event we are not able to reach a solution working with Congress and our allies, then the agreement will be terminated... our participation can be canceled by me, as president, at any time."
Before the deal
Prior to the deal, Iran had two programs, the uranium-enrichment program (which was furthest along and would allow Iran to quickly build a nuclear bomb) and the building of a research reactor (which could have produced enough plutonium to make a bomb in about a year). Iran has maintained that it never sought to produce a nuclear weapon.
According to the Obama White House archives, Iran's "breakout time" — the time it would have taken to gather enough fissile material to build a nuclear weapon — was only two to three months prior to the nuclear agreement.
The deal
The Iran nuclear deal, known formally as the Joint Comprehensive Plan of Action (JCPOA), is an agreement between Iran and the five permanent members of the UN Security Council — the U.S., China, France, Russia, the U.K. — plus Germany and the EU. It was signed in October 2015 after years of intense diplomacy, and was implemented at the start of 2016.
Terms of agreement: Put simply, the deal was made to ensure Iran's nuclear program is limited to civilian use. It also extended Iran's breakout time to 12 months or more by forcing the country to significantly reduce its amount of enriched uranium; dismantle and remove the majority of its centrifuges (devices that can be used to create weapons-grade uranium); remove calandria from its reactors and fill them with concrete, and provide unprecedented access to its nuclear facilities.
In return, the deal's member countries relaxed sanctions imposed on Iran as punishment for its nuclear action, though several sanctions still remain in place.
The Iran Nuclear Agreement Review Act (INARA) requires the U.S. president to certify to Congress every 90 days that Iran is complying with the deal. So far, Trump has issued two certifications, in April and July, and the next deadline is Oct. 15 (this Sunday).
Compliance: According to the International Atomic Energy Agency (IEA) — the organization responsible for monitoring Iran's nuclear activities and the deal's member countries — Iran has been fulfilling its obligations.
What they're saying
Why decertify? Trump and a handful of administration officials, most notably UN Ambassador Nikki Haley, cite Iran's behavior, such as testing ballistic missiles and supporting terrorist organizations like Hezbollah, as evidence the regime is acting against the "spirit" of the deal, even if it is technically abiding by it.
The move is also in line with Trump's heated campaign rhetoric on the deal. Now he can blame Congress if sanctions aren't reimposed, and the agreement remains in place.
Why certify? The majority of Trump's national security team, including Trump's National Security Adviser H.R. McMaster, Defense Secretary James Mattis, Chairman of the Joint Chiefs of Staff General Joseph Dunford, and Secretary of State Rex Tillerson have indicated they believe the deal is in the U.S. national interest, per Vox. Mattis, when asked during an October 3 Senate hearing whether he feels that staying in the agreement is beneficial for U.S. national security interests, replied, "Yes, senator, I do."
What's next
By refusing to certify the deal, which Trump can do by arguing it is not "vital to the national security interests of the United States," Trump will punt the matter to Congress, leaving them with three options:
Do nothing and choose not to apply new sanctions on the plan, leaving the existing Iran deal in place.
Reimpose sanctions on Iran, and threaten the end of the nuclear agreement. This would leave Iran and the deal's other member countries to decide whether to continue without the U.S.
Strengthen the deal and find a new comprehensive strategy moving forward (though Europe, Russia, and China have suggested they do not want to renegotiate a new deal).
Where the other members come in: White House officials explained Thursday that they think they can work with the Europeans or go it alone to set benchmarks that the Iranians will be forced to follow or else risk being completely cut-off from the international system.
Long-term implications: If it decides to go it alone in working out a new deal, the U.S. risks isolating itself in the international space. Other countries may also become skeptical of future negotiations with the U.S.
Go deeper