Trump bullish on tax reform at dinner with conservative leaders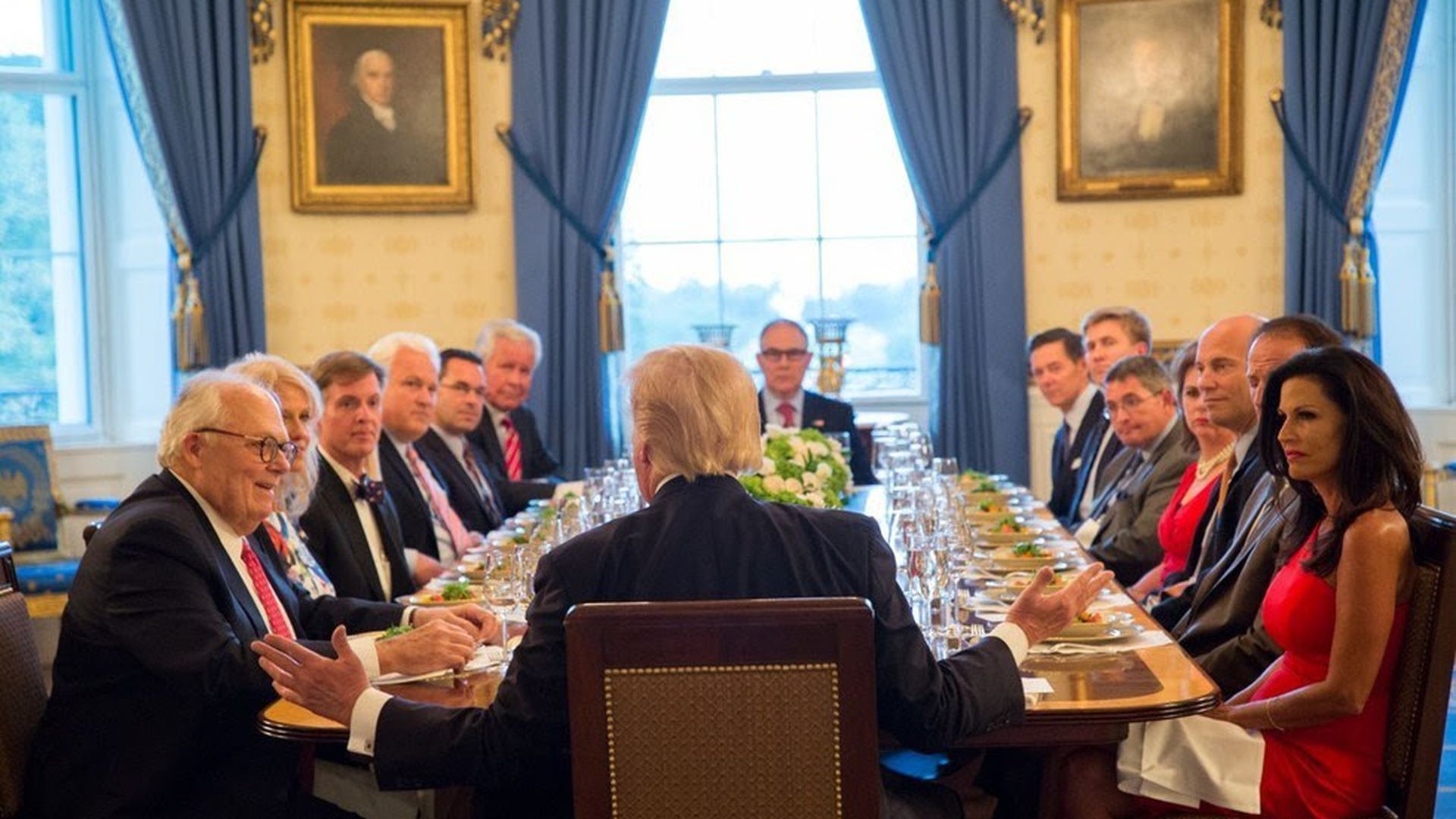 President Trump was in an unapologetic mood last night, dining on beef Wellington with conservative grassroots leaders in the Blue Room, joined by EPA Administrator Scott Pruitt and White House aides Marc Short, Kellyanne Conway and Nick Ayers.
A source in the room told all-terrain Jonathan Swan: "He was very juiced up about tax cuts... very bullish on passing tax reform, and he was specifically calling it a tax cut."
Trump — who was still equivocating on the Republican tax plan as recently as yesterday morning — told the group it's going to be "great, we're going to do tax cuts for everyone," said the source, paraphrasing the president. Trump said he's going to lower the corporate tax rate, "and that he wanted it to be lower but it's going to be great ... There were a lot of 'greats' in there."
Trump wasn't worried about NFL blowback, and gushed over Alejandro Villanueva — the Pittsburgh Steelers offensive tackle and Afghanistan veteran — who stood alone with his hand over his heart while the rest of his team stayed in the locker room. (His gear was the NFL's best seller yesterday.)
Who's who — The White House released this list of attendees: Penny Nance, CEO of Concerned Women for America; Tim Phillips, president of Americans for Prosperity; Matt Schlapp, chairman of the American Conservative Union; Leonard Leo, executive vice president of the The Federalist Society; Ralph Reed, chairman of the Faith & Freedom Coalition; Marjorie Dannenfelser, president of Susan B. Anthony List; Ed Feulner, founder and acting president of the Heritage Foundation; Tim Goeglein of Focus on the Family; and Bob McEwen, former congressman and executive director of the Council for National Policy.
Go deeper