Trump at UN: We will "destroy" North Korea if necessary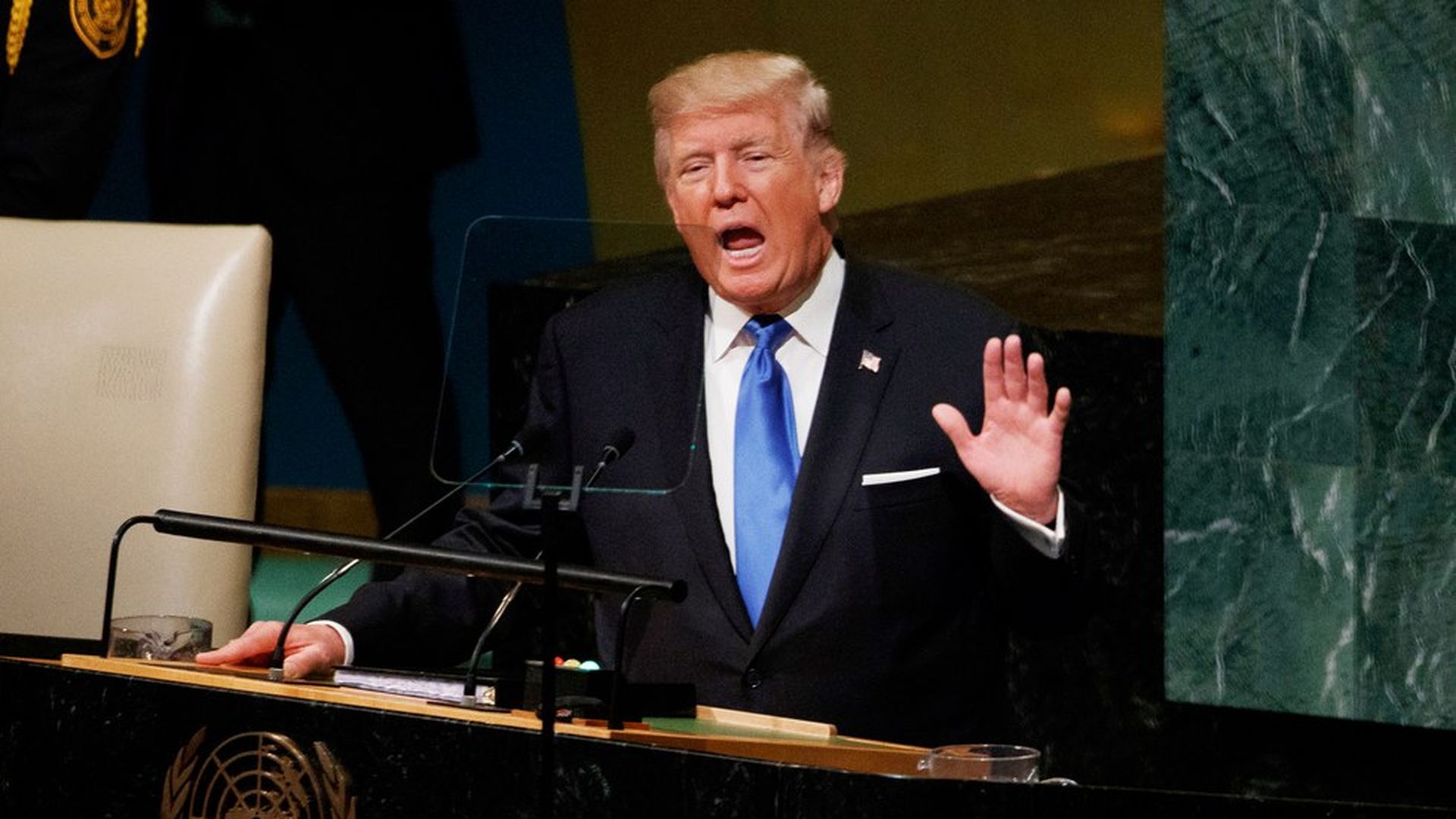 President Trump addressed the UN General Assembly today, discussing everything from the escalating North Korean threat to the Iran nuclear deal. It was the first such speech of Trump's presidency, and he used the platform to urge the world's leaders unite in aggressively ramping up pressure on Pyongyang.
Hardline on North Korea: "No nation on earth has an interest in seeing this band of criminals arm itself with nuclear weapons and missiles," Trump said. "The U.S. has great strength and patience but if it is forced to defend itself or its allies, we will have no choice but to totally destroy North Korea."
More on North Korea
"Rocket man [Kim Jong Un] is on a suicide mission for himself and his regime."
"We cannot let a murderous regime continue these destabilizing activities."
"If the righteous many do not confront the wicked few, then evil will triumph."
Overall message to UN member countries
"I will always put America first, as you should always put your countries first... in America, we do not seek to impose our way of life on anyone but rather, to let it shine as an example for everyone to watch."
"We can no longer be taken advantage of or enter into a one-sided deal where the U.S. gets nothing in return."
"Major portions of the world are in conflict, and some, in fact, are going to hell. But the powerful people in this room under the guidance and auspices of the United Nations can solve many of these vicious and complex problems."
Iran regime
"The Iran deal was one of the worst and most one-sided transactions the United States has ever entered into...an embarrassment."
"The Iranian government masks a corrupt dictatorship behind the false guise of democracy... It is time for the entire world to join us in demanding that Iran's government end its pursuit of death and destruction."
The U.S. and its foreign allies will "crush loser terrorists."
Syria and the Assad regime
"The actions of the criminal regime of Bashar al Assad, including the use of chemical weapons against his own citizens... shock the conscience of every decent person. No society can be safe if banned chemical weapons are allowed to spread."
On refugees migrating to other countries: "Uncontrolled migration is greatly unfair for the receiving and sending countries."
The "very real crisis" in Venezuela
"We are prepared to take further action if the government of Venezuela persists" on its authoritarian path.
"The problem in Venezuela is not that socialism has been poorly implemented, but that socialism has been faithfully implemented."
Cuba
The Cuban regime is "corrupt, destabilizing," and the U.S. will not lift sanctions on the Cuban government until "tough reforms" are seen.
Go deeper