Trump 101: What he reads and watches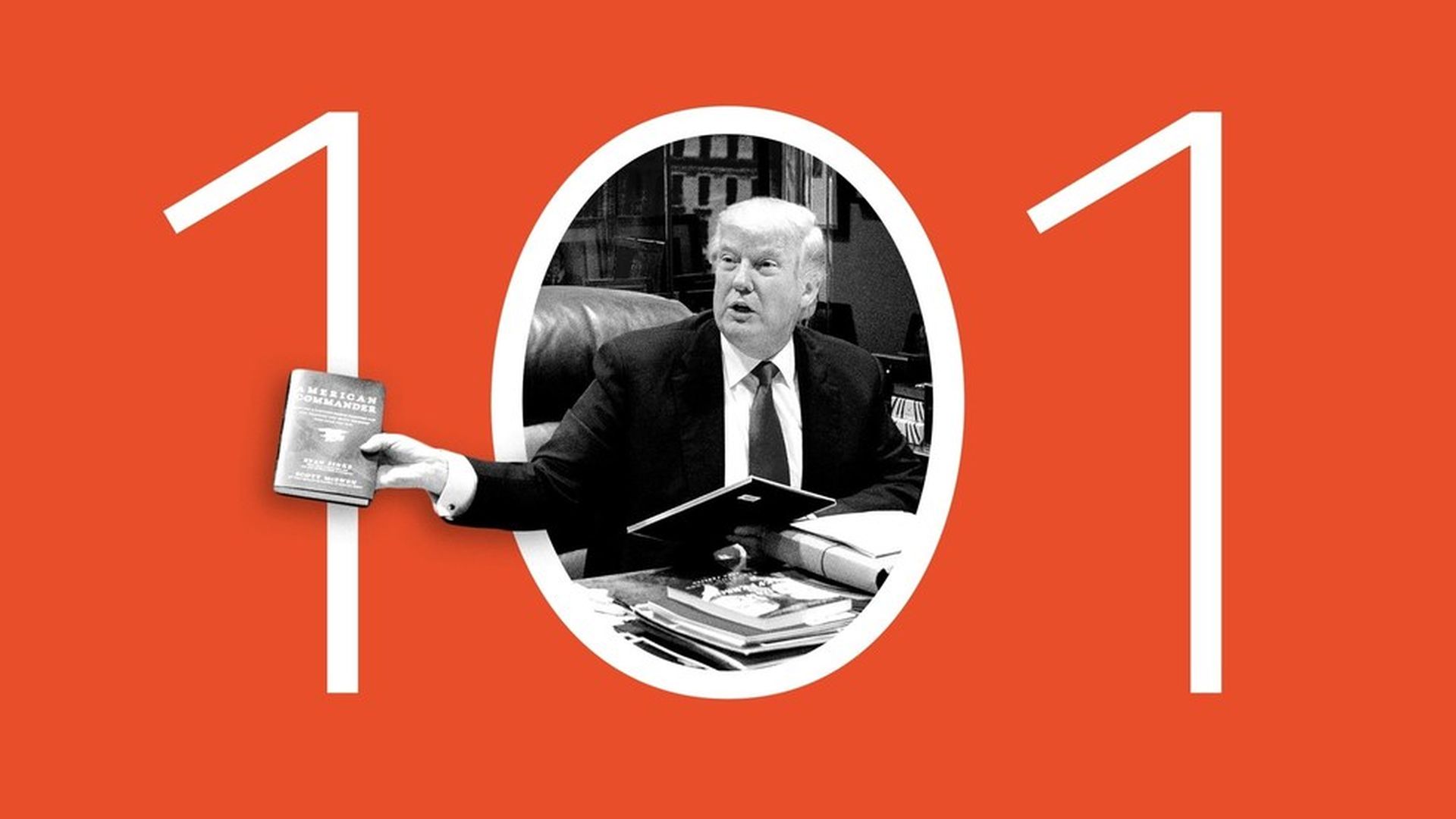 President Trump spends substantial time and energy ridiculing the media. He spends even more time consuming —and obsessing about — it.
Print copies of three newspapers. When Billy Bush was on, "Access Hollywood" every night. TiVo of the morning and evening news shows so he can watch the tops of all of them. Always "60 Minutes." Often "Meet the Press." Lots of New York talk radio.
He's not a book guy: In fact, some advisers say they don't recall seeing him read one or even talking about one beyond his own, "The Art of the Deal." And, as he told us, he's not one for long reports or detailed briefings. One page usually suffices. Bullet points are even better. But he does consume — often in huge doses — lots of traditional media.
"He's an analog guy," one top adviser told us, saying he never sees the boss on a computer or using his phone for anything but calls.
The president's media diet:
When Trump was in the tower, he got hard copies of the N.Y. Times and N.Y. Post (which a friend calls "the paper of record for him" — he especially studies Page Six). He "skims The Wall Street Journal," the friend said. No Washington Post, although friends assume he'll add it now. He had started skipping the other New York tab, the Daily News, because he thought it treated him shabbily.
Trump knows specific bylines in the papers and when he's interviewed by a reporter, he can recite how the reporter has treated him over the years, even in previous jobs.
Before the campaign, his aides subscribed to an electronic clipping service that flagged any mention of his name, then his staff printed out the key articles. He'll scroll through Twitter, but he doesn't surf the web himself.
With an allergy to computers and phones, he works the papers. With a black Sharpie in hand, he marks up the Times or other printed stories. When he wants action or response, he scrawls the staffers' names on that paper and either hands the clip to them in person, or has a staffer create a PDF of it — with handwritten commentary — and email it to them. An amazed senior adviser recently pulled out his phone to show us a string of the emailed PDFs, all demanding response. It was like something from the early 90s. Even when he gets worked up enough to tweet, Trump told us in our interview he will often simply dictate it, and let his staff hit "send" on Twitter.
Most mornings, Trump flicks on the TV and watches "Morning Joe," often for long periods of time, sometimes interrupted with texts to the hosts or panelists. After the 6 a.m. hour of "Joe," he's often on to "Fox & Friends" by 7 a.m., with a little CNN before or after. He also catches the Sunday shows, especially "Meet the Press." "The shows," as he calls them, often provoke his tweets. The day of our interview with him, all of his tweet topics were discussed during the first two hours of "Morning Joe."
"60 Minutes" is usually on his DVR. "He's so old-school that he thinks it's awesome to go on '60 Minutes," a friend said. "He loves being one of Barbara Walters' '10 Most Fascinating People' of the year." Before Trump ran, a staple that he watched every weeknight was Billy Bush's "Access Hollywood." Same with Time Magazine. His office and hotels are full of framed copies of him on the cover.
Why this matters: Trump has been hooked on coverage, especially of himself, since the glory days of the New York tabloids, when he would happily leak details about his affairs and business deals. He can't quit it. So the notion he will surrender the remote, or Twitter, or his grievances with reporters is pure fantasy. Aides talk of giving him "better choices" or jamming his schedule with meetings to keep him away from reading about or watching himself on TV. But this is an addiction he will never kick.
Go deeper