Top Trump campaign officials knew of Carter Page Russia trip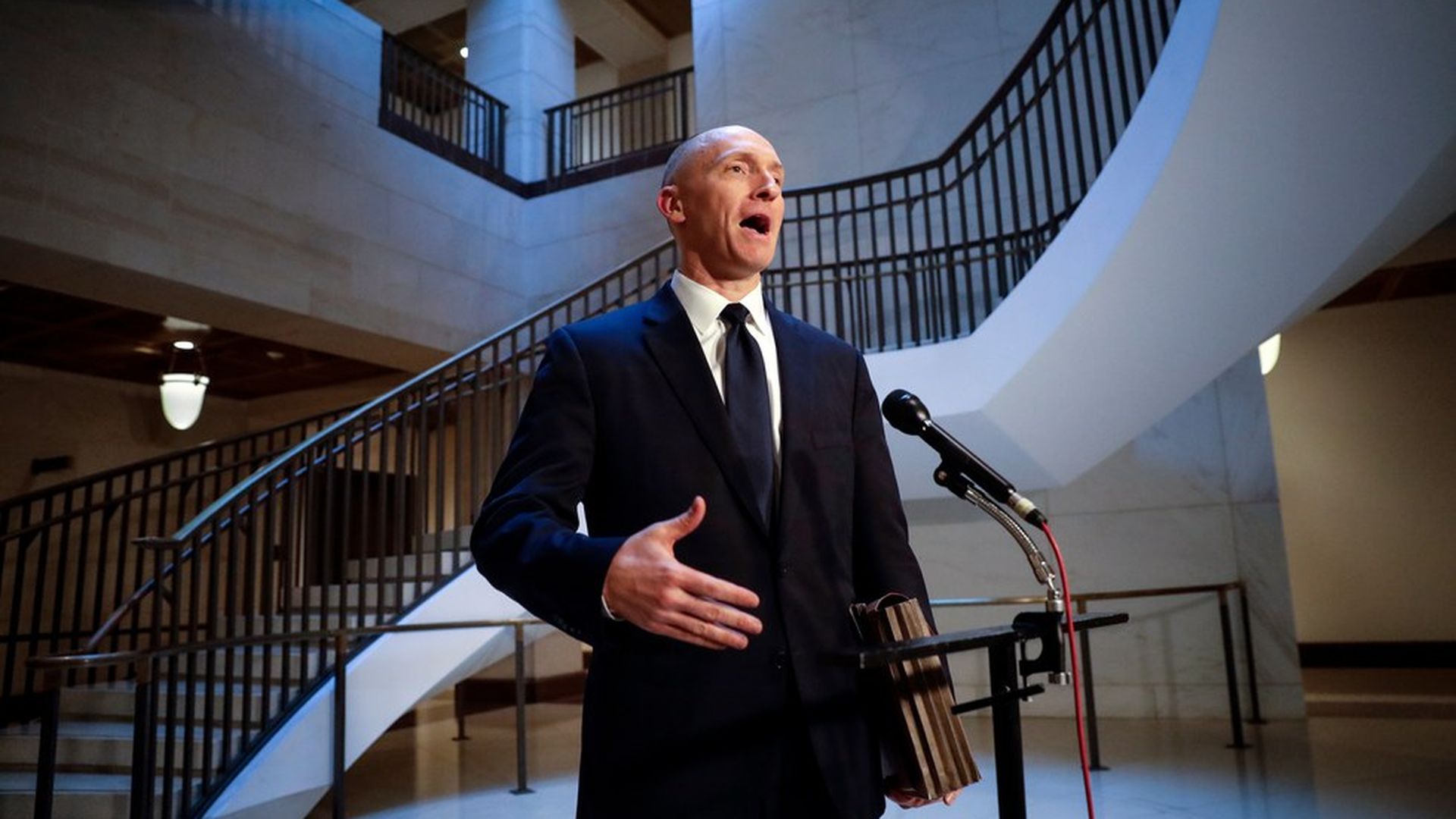 Carter Page's 6.5 hours of testimony before the House Intelligence Committee last week revealed that senior members of Donald Trump's campaign knew about Trump's former foreign policy advisor 2016 trip to Moscow, and were updated on the details of the trip upon his return, according to a transcript of the interview released Monday night. Page also admitted to meeting with high-level Russian officials, and said he relayed that information to his campaign supervisors.
Why it matters: It's long been known that Page, who has become a key figure in the Russia investigation, traveled to Moscow in 2016. But prior to his testimony he maintained that it was in a private capacity, and unrelated to his role with the Trump campaign. However, the transcript reveals that top members of the Trump camp knew more than they have let on.
More details from his marathon testimony, which he gave without a lawyer present:
Page asked for permission to go to Moscow: He said he sent an email to several campaign officials in advance of his trip, including to former campaign manager Corey Lewandowski, Trump advisor Hope Hicks (now the White House communications director), and to policy aide J.D. Gordon. Page said Lewandowski gave him the OK on the condition the trip was not associated with his campaign work, per Politico.
Support from deputy Russian prime minister: Page, whose meeting with Arkady Dvorkovich has been previously reported, said he told the campaign that Dvorkovich "expressed strong support for Mr. Trump and a desire to work together."
Other meetings with top Russian officials, beyond Dvorkovich: Page admitted to having met with other high-level Russian officials, and said they discussed the U.S. presidential election "in general terms," per NBC. In a statement, Rep. Adam Schiff (D-CA) said Page "was forced to acknowledge that he communicated with high-level Russian officials while in Moscow."
Page said he was invited to speak in Russia after joining the campaign, in a similar way that foreign policy advisor George Papadopoulos, who was approached by a professor with links to Moscow after joining the campaign, was invited, per CNN. Page said he knew of Papadopoulos' meetings with the professor, but said he wasn't aware of his interest in arranging a trip for Trump to travel to Russia during the campaign.
Page denied the Steele dossier claims about him. The dossier, written by former British spy Christopher Steele, claimed that Page met with Igor Sechin, president of state-run Rosneft, in an effort to broker a deal to lift U.S. sanctions on the oil company if Moscow helped Trump win. Page denied it under oath, per CNN, but later revealed he had met with a separate high ranking energy official — Andrey Baranov, the head of Rosneft's investor relations. Page said Russian sanctions may have come up in his conversation with Baranov, but "not directly," and he vehemently stated that there were no negotiations or any quid pro quo about brokering a deal.
He has been "in contact" with Mueller: Page said he has met with the FBI several times in relation to the Russia probe, and said agents have generally asked him about the Steele dossier and the "multiple outstanding requests" he made to get more information about FISA warrants that were reportedly used against him by the Obama administration. Page said Special Counsel Robert Mueller has not made any indication so far that he would be indicted in his probe.
Go deeper