Top priority for insurers: Keep Obamacare's coverage mandate and subsidies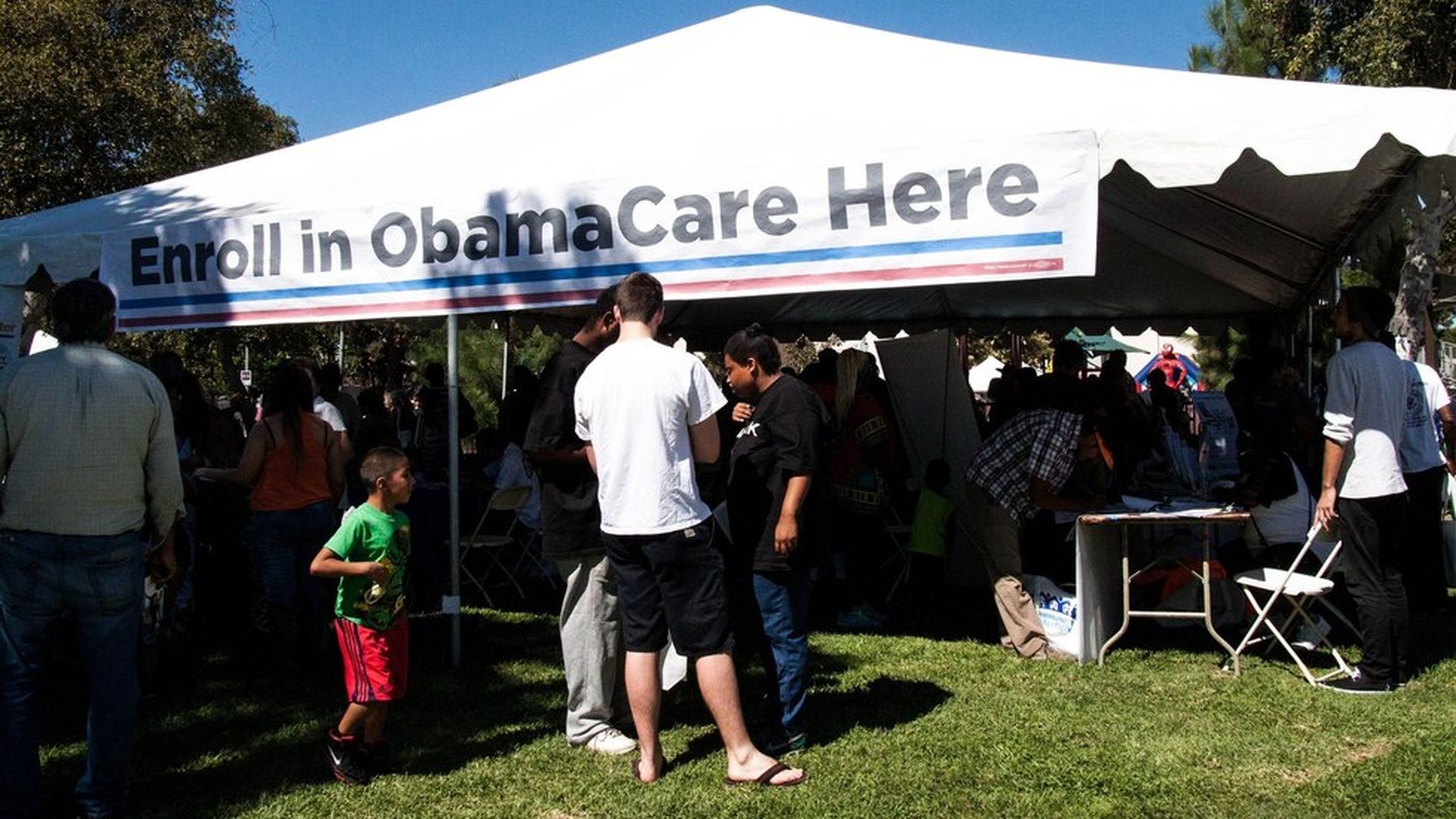 The Trump administration's highly anticipated Obamacare "market stabilization" regulation, which could come as soon as this week, may help insurers by tightening the enrollment rules. But that's not what's at the top of health insurers' wish list. They care a lot more about keeping the subsidies and individual mandate tax — and they want the taxes on them repealed permanently.
That was the message Blue Cross Blue Shield Association lobbyists presented at a meeting with White House and Department of Health and Human Services officials on Feb. 6. Documents housed at the White House's Office of Management and Budget reveal that the industry wants the feds to temporarily keep the individual mandate until high-risk pools are funded and there are new rules for covering people with pre-existing conditions.
They also want to repeal the Obamacare taxes and "do no harm by maintaining cost-sharing reductions." And they're reminding federal officials that the insurance industry needs to know what to expect by this spring.
The problem: Republicans have been hostile to the mandate and subsidies. They view the mandate as anathema to individual choice, and they prefer the subsidies to be tied to age instead of income. Republicans also are not fans of the cost-sharing subsidies for low-income people. Yet, insurers and actuaries know those components are needed and overshadow the other administrative fixes.
"Without the penalty, the underlying actuarial soundness of the exchanges would be in trouble," said John Baackes, CEO of L.A. Care Health Plan, a Medicaid-based plan that has about 25,000 exchange members.
"The cost-sharing reduction subsidies are a big deal, and if those weren't paid, that effect would swamp some of this other stuff," said Cori Uccello, senior health fellow at the American Academy of Actuaries.
So what is that other stuff that could change how insurers price their plans in 2018?
Age band rating: Obamacare says insurers can charge older people only three times as much as younger people. The proposal to increase that ratio to 3.49-to-1 is viewed as inconsequential to many insurers, not to mention legally questionable, and the industry favors a statutory change to 5-to-1. But that could have its own negative ripple effect. "You don't want to increase premiums so much so that the healthy older folks drop coverage or don't enroll," Uccello said.
Special enrollment periods: The government has already tinkered with limiting how and when people can enroll for coverage outside of open enrollment, but the biggest insurers want a complete clamp-down on those exceptions. However, any changes to special enrollment periods "may give some who qualify pause to apply…which may further unbalance the risk pools," said Margaret Murray, CEO of the Association for Community Affiliated Plans.
Nonpayment of premiums: Obamacare enrollees have 90 days to pay overdue premiums before insurers can end their coverage. Baackes said he would want a compromise of that grace period to be 60 days.
And more: The Blue Cross Blue Shield Association also said it wants states, not the federal government, to handle reviews of health insurance rates and benefits; the continuation of so-called "grandmothered" and "grandfathered" plans; and the elimination of the federal small business exchanges, among other items.
Go deeper