Timeline: Michael Flynn's secret work for Turkey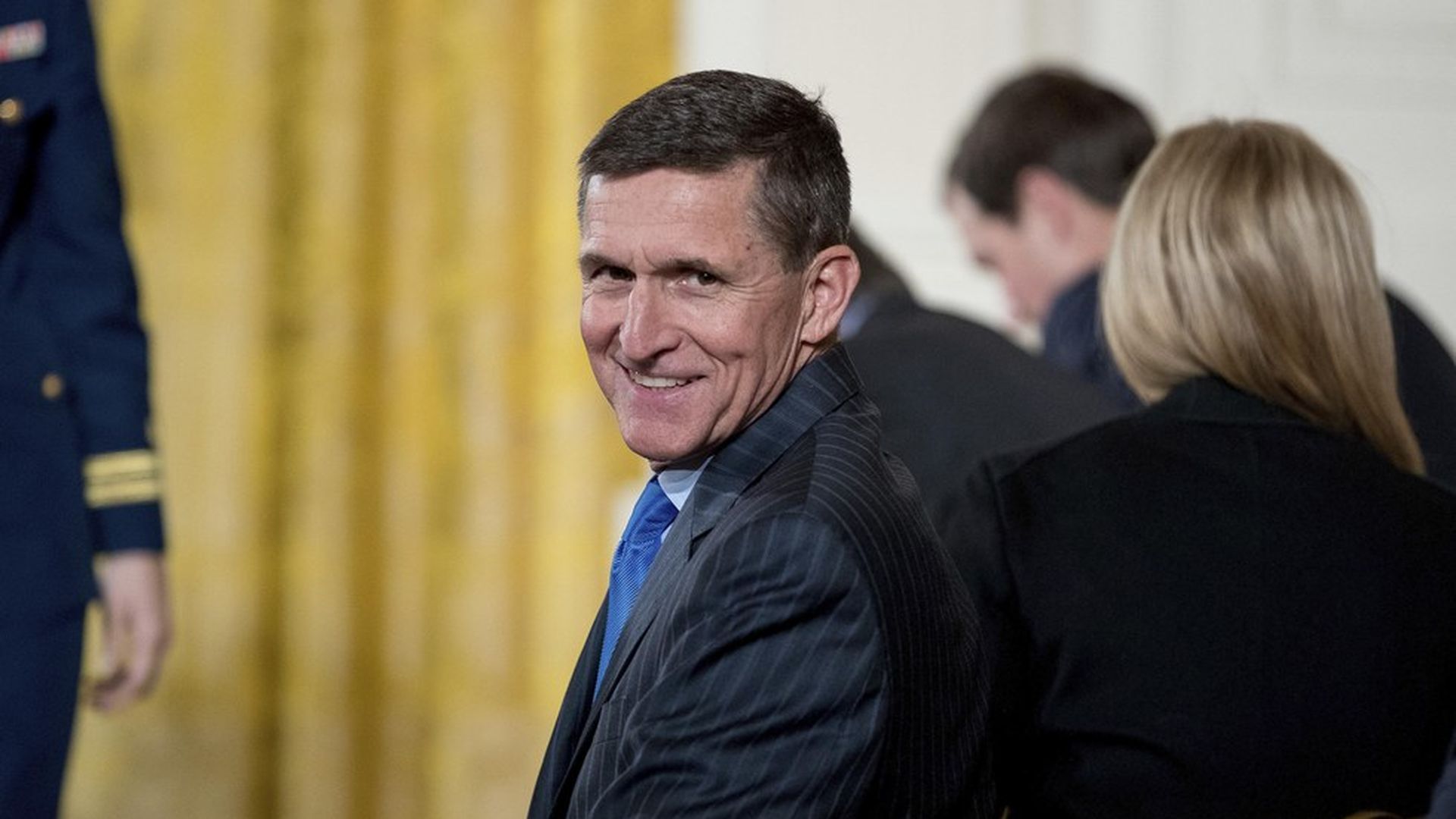 Michael Flynn is expected to plead guilty to lying to the FBI about his conversations with the former Russian Ambassador this afternoon. What's not included in the charges against Flynn is his foreign work for Turkey last year, which was the subject of investigations earlier this year after foreign interests led Flynn to delay an Obama administration military attack on ISIS.
Why it matters: While Mueller doesn't seem as interested in his foreign work, Flynn did not legally lobby for a foreign country, which doesn't seem to help his case.
Here's how and when Flynn worked for Turkey over the past year:
Last year, Flynn registers as a U.S. lobbyist, but not a foreign agent. He claims he will not receive more than $5,000 for lobbying.
August 9: Michael Flynn signs a contract with a Dutch firm, Inovo BV, which is owned by a Turkish man with close ties to Ankara. Flynn was promised $600K in exchange for three months of work for the Turkish government.
Nov. 8: Flynn publishes a pro-Turkey op-ed on the Hill's website.
Nov. 11: Daily Caller reporter Chuck Ross reports that Flynn's firm had been hired by a Dutch company with ties to Turkey, pointing to Flynn's op-ed at The Hill as a potential example of such work. That Ross story launched the first investigation into Flynn.
Nov. 30: He is first contacted by the Department of Justice's National Security Division for more information. Flynn's contract with Inovo BV ends, and his firm received $530,000 as they had not completed a video they were asked for.
Dec. 1: Flynn terminates his lobbying contract with the Senate, claiming he had received less than $5,000 from Inovo BV.
Jan. 4: Flynn and his lawyers tell the Trump transition team about the DOJ's investigation into his work with Turkey.
January, days before inauguration: Flynn denies Susan Rice's request to sign off on a plan for retaking Raqqa from ISIS. The move was in line with Turkey's interests.
Feb. 13: Flynn resigns from his position as National Security Advisor, after it was discovered that he lied to Mike Pence about his conversations with the Russian ambassador.
Feb. 14: Trump reportedly asks FBI Director James Comey to let go of the investigation into Flynn.
March 7: Flynn files paperwork at the DOJ, claiming to be a foreign agent and disclosing that he had been paid $500K to work for Turkey's interests last year.
Go deeper