Tillerson: Trump pushed Putin on election interference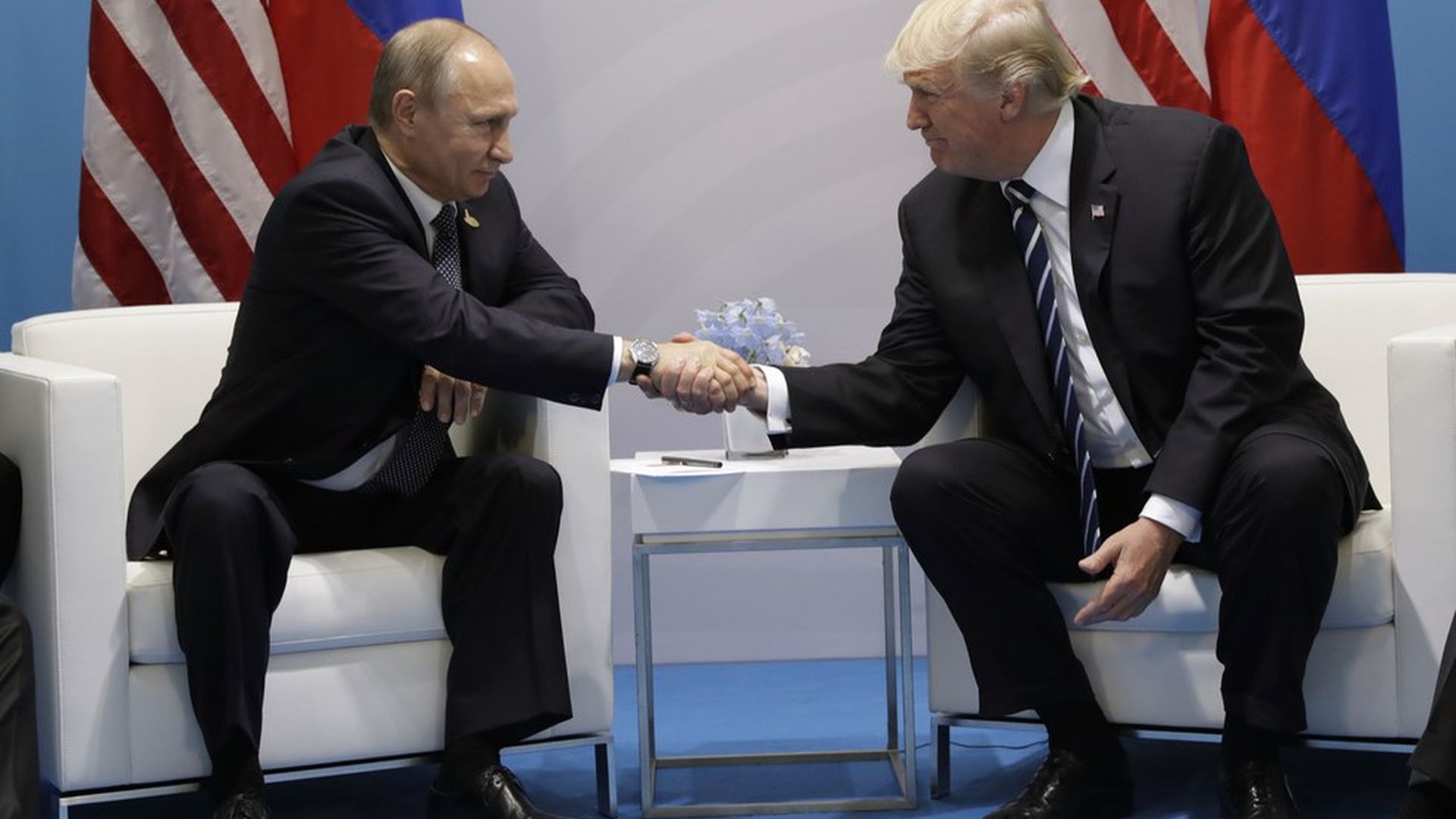 President Trump and Russian President Vladimir Putin's meeting at the G20 summit has ended after 2 hours and 16 minutes — it was originally planned to last only 30 minutes.
The first big news out of the meeting: Russia and the U.S. are prepared to announce a ceasefire in southwestern Syria beginning on Sunday, per the AP.
The other big news out of the meeting: During an off-camera briefing with reporters, Secretary of State Rex Tillerson stated that Trump opened the discussion by pressing Putin on the issue of Russian interference in last year's election — a charge Putin repeatedly denied. Tillerson called the election hacking an "intractable disagreement" between the two nations.
Russia's side: Russian Foreign Minister Sergey Lavrov said that Trump accepted Putin's denials regarding election hacking. Tillerson also said that Russia had asked for proof of their involvement in any election interference, which Trump said he'd leave to the U.S. intelligence community to provide.
More from Tillerson's post-meeting briefing:
The focus: "How do we move forward from here?"
On the Syria ceasefire: "I think this is our first indication of the U.S. and Russia being able to work together in Syria."
Syria's future: The United States does not view the Assad regime as a long-term solution for the country.
North Korea: Tillerson said that Russia has different views on the urgency of the North Korean issue, but noted that Trump and Putin had a "pretty good" conversation regarding the country.
The length: Trump and Putin talked for so long that Melania was sent in to break up the meeting, but the two continued talking for another hour due to their "level of engagement and exchange."
More from Russia's side:
According to Russian state media arm RT, Putin said, "We've had a very long discussion with the U.S. president. Many issues accrued, including Ukraine, Syria and other problems, as well as some bilateral issues." Trump and Putin also discussed terrorism and cybersecurity.
The juice from the pre-meeting pool spray:
Trump and Putin exchanged pleasantries ahead of the sit-down. Trump: "It's an honor to be with you." Putin: "I'm delighted to meet you personally."
The body language: Putin slouched, relaxed, unsmiling. Trump leaned forward, more upbeat.
Also in the room: Tillerson, Lavrov, and two translators.
Worth asking: Is this the first time Trump and Putin have met? Trump previously said the two "have a relationship" in 2013 and that he "got to know [Putin] very well" in 2015. Check out the Washington Post's great breakdown of the potential interactions.
Go deeper