Theresa May reaches out to the working class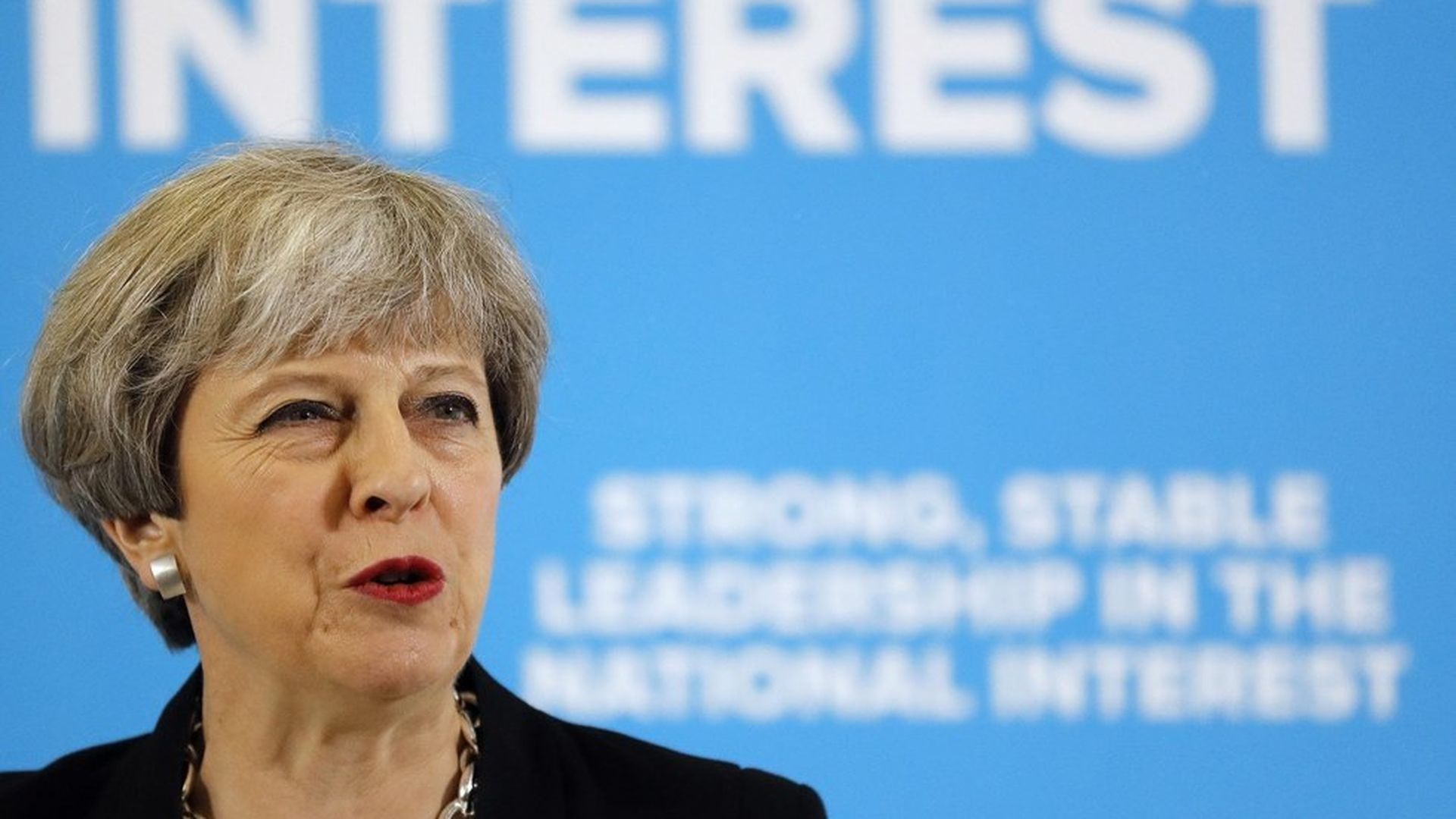 A year after the UK's working class was a primary factor in Brexit, it appears to be key to how big a victory Prime Minister Theresa May will win in snap elections on Thursday. While she is taking fire after last Saturday's terror attack in London, that's why, even though polls say her Conservative Party will retain a majority in Parliament, May is attempting to persuade the working class that she is truly on their side.
May's key target: The "Jams," or the "just about managing," her administration's soundbite for the working class.
Why it matters: This election is May's attempt to win a mandate for her own particular brand of conservatism — an attempt to bridge the gap between traditional globalism and the populism that powered Brexit, reflected in her two oft-repeated mantras: "strong and stable" and "Brexit means Brexit."
Understand May's belief system:
May's understanding of the working class as vital to her vision of Brexit Britain stems from the influence of her chief of staff, Nick Timothy, described as her "political brain." From working class Birmingham, Timothy cites Joseph Chamberlain, the radical 19th century mayor of Birmingham and an influential MP, as a political hero. Timothy summed up Chamberlain's beliefs in 2012:
He believed that the state must remain small, capitalism must be preserved and private property protected, but working-class children needed to be educated, workers protected from industrial injuries and unscrupulous bosses, and the ownership of property extended to people of all classes.
May's namecheck of Chamberlain during one of her first major policy speeches as PM last year made headlines across the U.K., sparking speculation that she was stepping away from the laissez-faire globalist attitude that had prevailed in the Conservative Party since Margaret Thatcher. Indeed, the guiding tenet of Mayism can be summed up by Timothy's description of Chamberlain: "always motivated by the elevation of the people and the greatness of Britain."
Prime ways she's reaching out
Immigration: May pledged to reduce net immigration to the U.K. to 100,000 by 2022 — a huge cut from the current level of 273,000. It's a contentious policy that's been described as "cruel," "catastrophic," and bad for Britain's economy, but it's red meat for working class voters.
Brexit: In a speech last week: "[The Brexit vote] was a quiet revolution driven by all those who felt let down and left behind for too long. A revolution in which millions of our fellow citizens stood up and said they were not prepared to be ignored anymore."
The risks
Shifting margin: May called this election with a nearly 20-point Conservative lead, expecting a huge majority. That lead now sits in the single digits over Jeremy Corbyn's Labor Party. For the first time, her approval ratings have plunged into negative territory.
Hard truths: After the Conservative policy on home health care for retirees was blasted as a "dementia tax" by Labor critics, May abruptly reversed the policy, and highlighted the pitfalls of meshing right-wing austerity with strong social protections.
Be smart: People don't like being forced to the polls via a political decision, making Thursday's election a referendum on May herself.
Go deeper