The Women's March heralds a new era of protest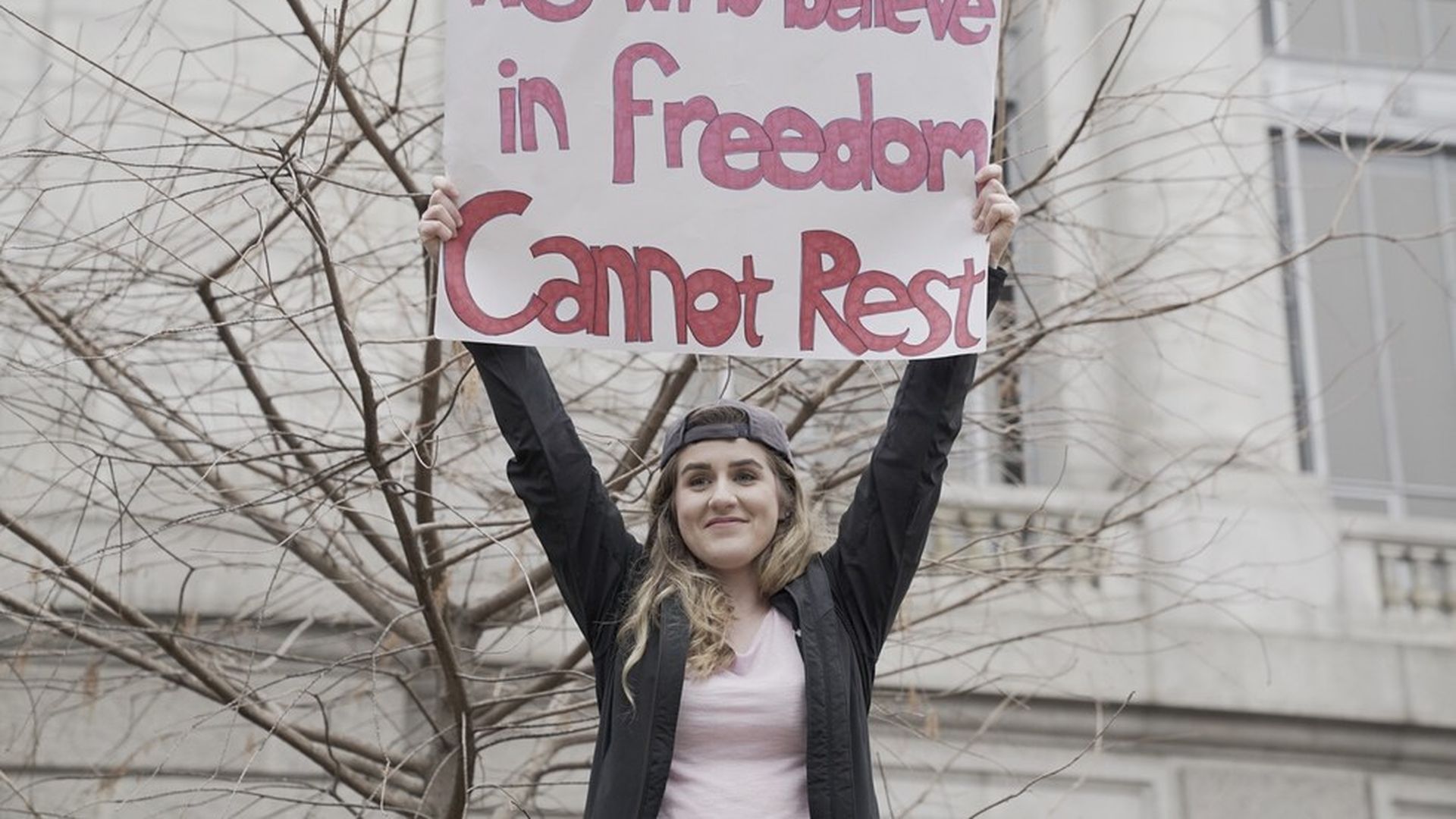 The overwhelming size of yesterday's peaceful women's marches against Trump in 50-plus countries stunned even the organizers. In Washington, a huge column marched past Lafayette Park, across from the White House, and women with pink hats and signs screamed and chanted at Trump's motorcade.
How it came together: Jenny Backus, a veteran Dem organizer, emails us: "[O]ne of the biggest winners of this whole thing is Facebook and Zuckerberg. This was pretty much a testimony of what the Internet can do right … after an election which was an example of what the Internet can do wrong — fake news."
Backus says the untraditional organizing showed up in good and bad ways. Good: "reaching folks who had never done something like this — looking and feeling truly organic." Bad: "lack of traditional organizers and advance folks to help on staging, crowd movement."
The big picture: A front-page analysis by the L.A. Times' Cathleen Decker, who has covered 10 presidential campaigns, says marchers talked about trying to form a lasting opposition: "Not for decades, since 1960s protesters took to the streets against the Vietnam War, has a chief executive faced such visible opposition."
The crowd math: N.Y. Times graphics editors Tim Wallace and Alicia Parlapiano quote crowd-counting experts as saying that the D.C. march was roughly triple the size of the inauguration — 160,000 on the National Mall and vicinity in the hour leading up to Trump's speech on Friday, and 470,000 at about 2 p.m. yesterday.
Just asking: Did anyone notice the irony of the crude, discriminating language and signs used by some to lambaste a president they condemn as crude and discriminating?
Spotted … Josh Kushner — investor and entrepreneur, and Jared's younger brother — at the anti-Trump women's march in D.C. Sources close to Josh Kushner tell Axios' Dan Primack that he's in D.C. supporting his brother, and that he was taking a walk near his hotel when a photo was taken. He also wanted to observe what the source referred to as "a peaceful form of self expression."
Go deeper