The wildest gifts given to U.S. presidents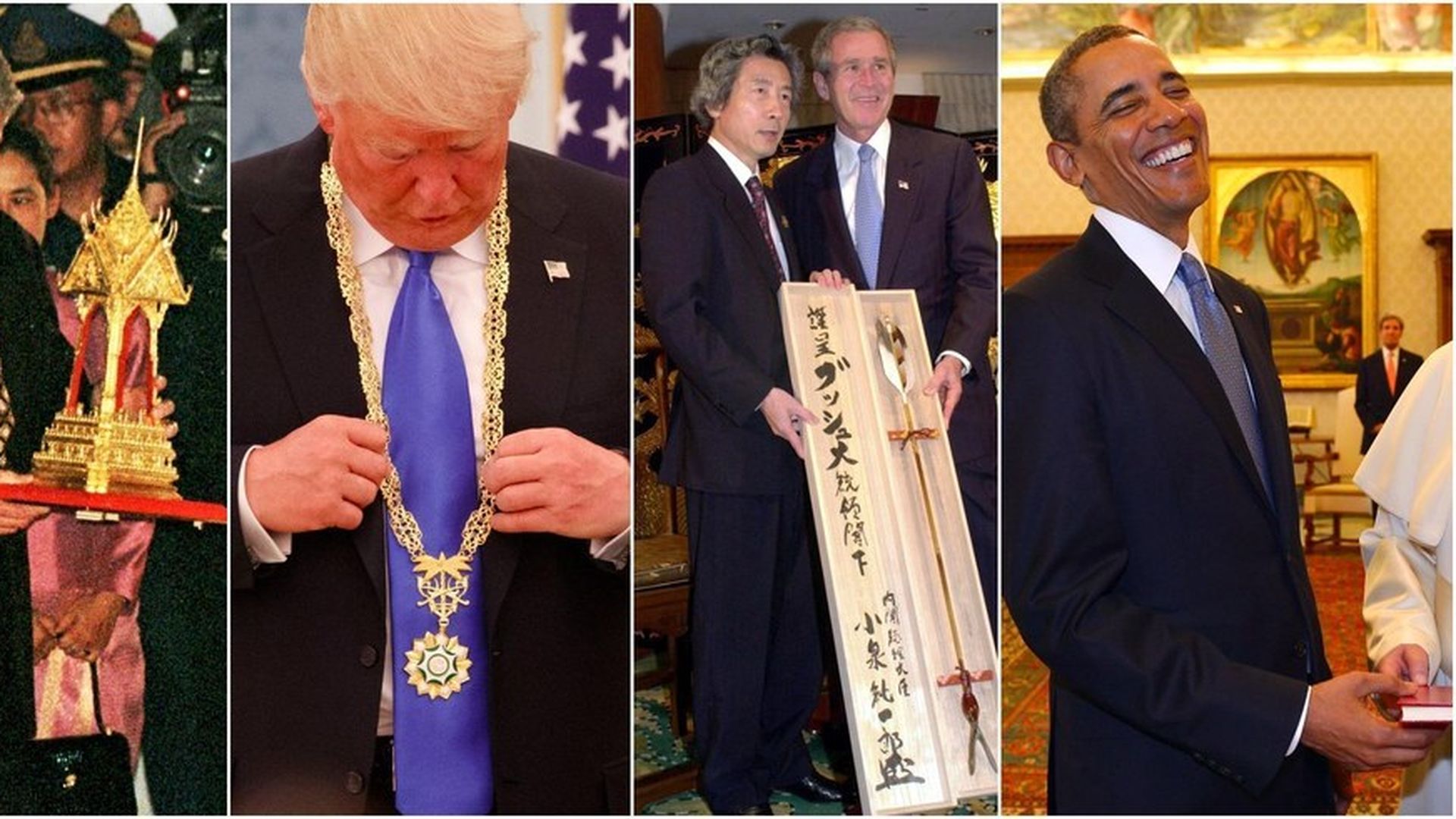 As Trump experienced this week, part of the perks of being POTUS include lavish gifts from foreign leaders. Unfortunately, presidents don't get to just keep those gifts.
The rules: In 1966, Congress instated a rule that prevents the president, from accepting gifts worth more than a certain amount from foreign governments. As of 2014, that amount is $375. Gifts worth more than that go to the National Archives.
The catch: The president or any diplomats are able to keep gifts worth more than $375 if they pay the market price for it, which is rarely done, although Hillary Clinton paid $970 for a black pearl necklace given to her by the Myanmar opposition leader. With Trump being the richest U.S. president yet, he could easily afford to buy some of the foreign gifts presented to him if he chooses to.
The most extravagant giver: Saudi Arabia by far has given the most costly gifts, sometimes costing more than half a million dollars.
Here's some of the wildest gifts, according to the National Archives, the Atlantic, Foreign Policy and NBC News:
Living animals:
Theodore Roosevelt got a zebra and a lion from Ethiopia.
Richard Nixon got a panda from China.
George W. Bush was given a puppy from Bulgaria, which he ended up giving to a family in Maryland as the puppy couldn't be archived.
Bush also got a Komodo dragon from Indonesia, which he gifted to the Cincinnati zoo.
Non-living animals
And the president of Tanzania gave him a stuffed leopard and lion.
George W. Bush received 300 pounds of raw lamb from Argentina.
Home decor:
The leader of Azerbaijan gave Bill Clinton an oriental carpet... with large portraits of Bill and Hillary woven into it.
He also got a gold mechanical bird that "tweets, turns, and flaps its wings once per hour," according to the archive entry, and priced at $110K from Qatar.
He also received a fancy, personalized ping pong table from the British Prime Minister.
Practical:
Obama was given crocodile insurance, which entitled Michelle to 50,000 Australian dollars if Barack was attacked by a crocodile. This obviously came from Australia. "I have to admit, when we reformed health care in America, crocodile insurance is one thing we left out," Obama said, according to FP.
Lyndon B. Johnson was given a Burberry coat from the U.K., but it was the wrong size and his aides had to rush to exchange it.
Obama was given a gold and gem-encrusted sword from Saudi Arabia.
Go deeper