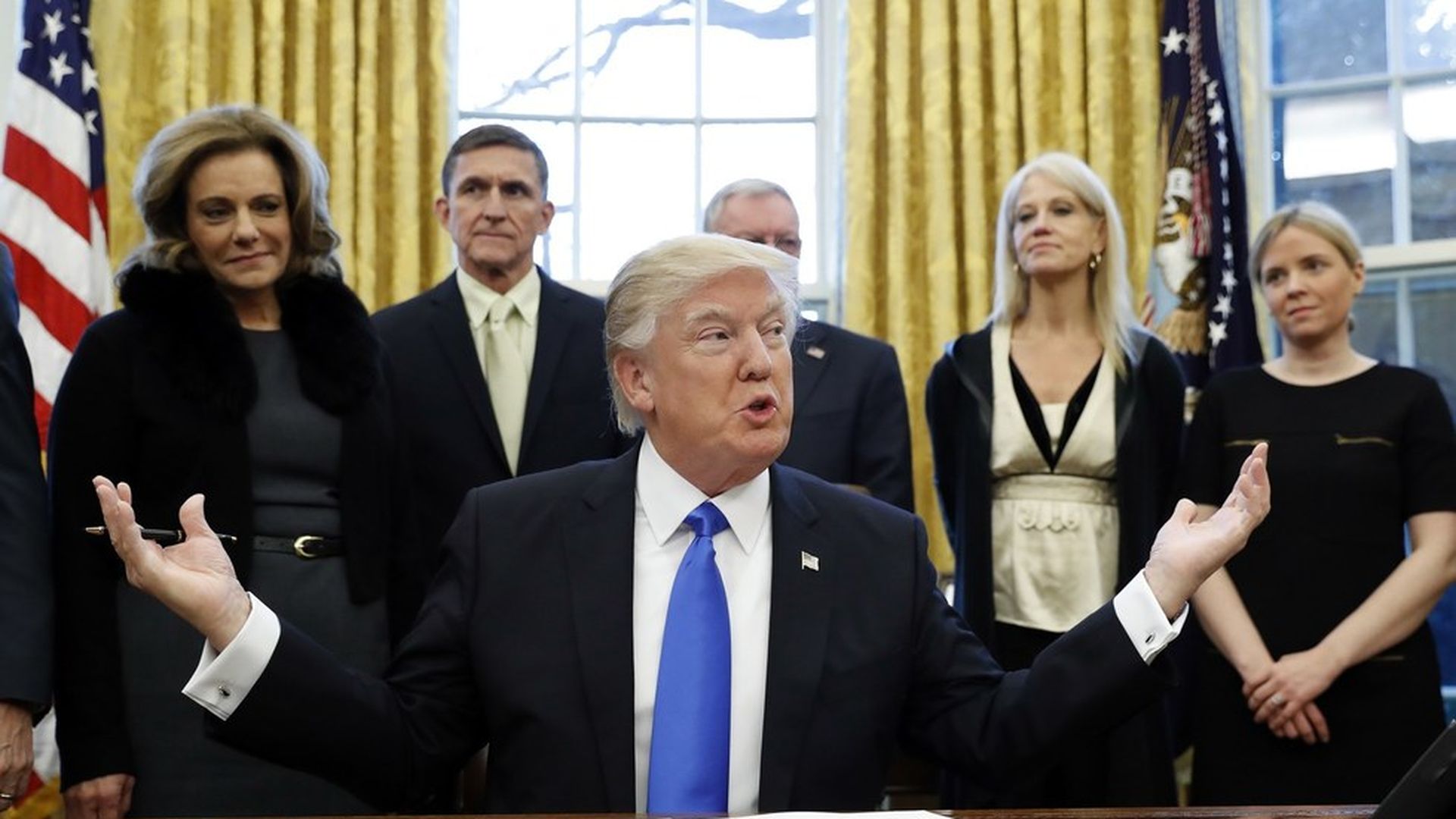 We can't stress this enough: Watch closely the specific, substantive moves of the Trump White House. Try to block out the white noise of outlandish statements and unforced errors, and the hyperventilating they provoke.
Otherwise, you miss the big — and in some cases, radical — changes coming our way. In fact, White House officials tell us they welcome what seem like needless distractions, because it allows them to jam through transformative, disruptive ideas and orders without focused public scrutiny of any particular item. (Remember the justified conflict-of-interest hysteria?)
Read the weekend papers, and flick through cable, and the unambiguous conclusion is that Trump's debut was pretty much a debacle. But was it?
If you examine what he did based on what he wants to do and ignore much of what he says for show, this was actually a remarkably productive start. By the White House's count, 13 presidential actions in first week tied to specific campaign promises.
No doubt, the fears of his critics are real and could easily be realized. We could see a trade war with Mexico, or retaliation for his ban on people coming from seven Muslim nations, or other leaders exploiting Trump's inward focus and impulses.
But from the point of view of the president's brain trust, he's getting his way, and, with each passing day, more Republicans and outside leaders seem to be falling in line, even as critics rage. This is more a bulldozer than a runaway train.
Political, business and even union leaders buckled...
The CEOs and labor leaders who met with Trump walked away mainly impressed with the new president's economic plan and willingness to play ball. Inside the room, Trump was in full deal mode. Several of the attendees — most of whom were not supporters of Trump — said they found his approach refreshing compared with President Obama's more rigid, frustrating style.
These visitors all have a vested interest in having their dealings with the White House being as normal as they can, so everyone seemed to accept the new reality. Like members of Congress, the business leaders all fear the tweet or taunt that could hurt their professional interests. So they succumb.
... taking the global stage...
For all the talk of Putin love, the diplomatic highlight of this week was the White House visit by British Prime Minister Theresa May, a fellow beneficiary of the global populist wave. Their press conference and working luncheon went off without a gaffe, and now Trump plans to visit the U.K. later this year. He talked via phone with Putin, but did the same with more traditional allies. They all need the United States, so like CEOs or union bosses they have huge incentive to behave like all is normal.
...securing the base...
He locked down some of his most fervent backers by exceeding their expectations with policies and promises. Case in point: He won strong, loyal support of Christian conservatives by sending Vice President Pence to the March for Life rally, restricting U.S. funds for abortion-related services overseas and telling the Christian Broadcasting Network that Syrian Christian refugees should get preference in coming to America. Hard to imagine these voters turning on Trump anytime soon.
...Republicans fell silent — and in line.
All those who ridiculed the Muslim ban during the campaign — from Speaker Paul Ryan on down — stayed largely silent as it took effect and left some refugees literally stranded at airports.
Ryan and others refuse to comment when Trump says things that makes them uneasy, brushing it off as Trump being Trump. This pattern has broken what was once a very credible wall of critique and opposition.
A senior Republican member told us that Trump holds real power over congressional Republicans (especially the House) — the likes of which he's never seen. Nobody wants to be the first to cross him. Hence, the nothing-to-see-here-folks silence.
So far, Trump is owning the policy debate:
There is broad agreement now to fund his wall (even if U.S. taxpayers foot the bill), repeal Obamacare and replace it with something that protects coverage for the sick and poor, and pursue the tax reform and infrastructure plans Trump has promised.
He banned Syrian refugees and suspended those from specific Muslim countries, just as promised during the campaign, and started his crackdown on illegal immigration.
He withdrew from a major overseas trade deal and made plain NAFTA is headed for serious renegotiation. And he ordered a housecleaning of federal regulations, and paved the way for two big pipeline projects to resume.
As the next week begins, never forget how effortlessly people in power can normalize, rationalize and bargain away their core beliefs in pursuit of the bottom line. It's one of the most captivating story-lines of the Trump era.
Go deeper