The tech world isn't taking Trump's immigration ban lightly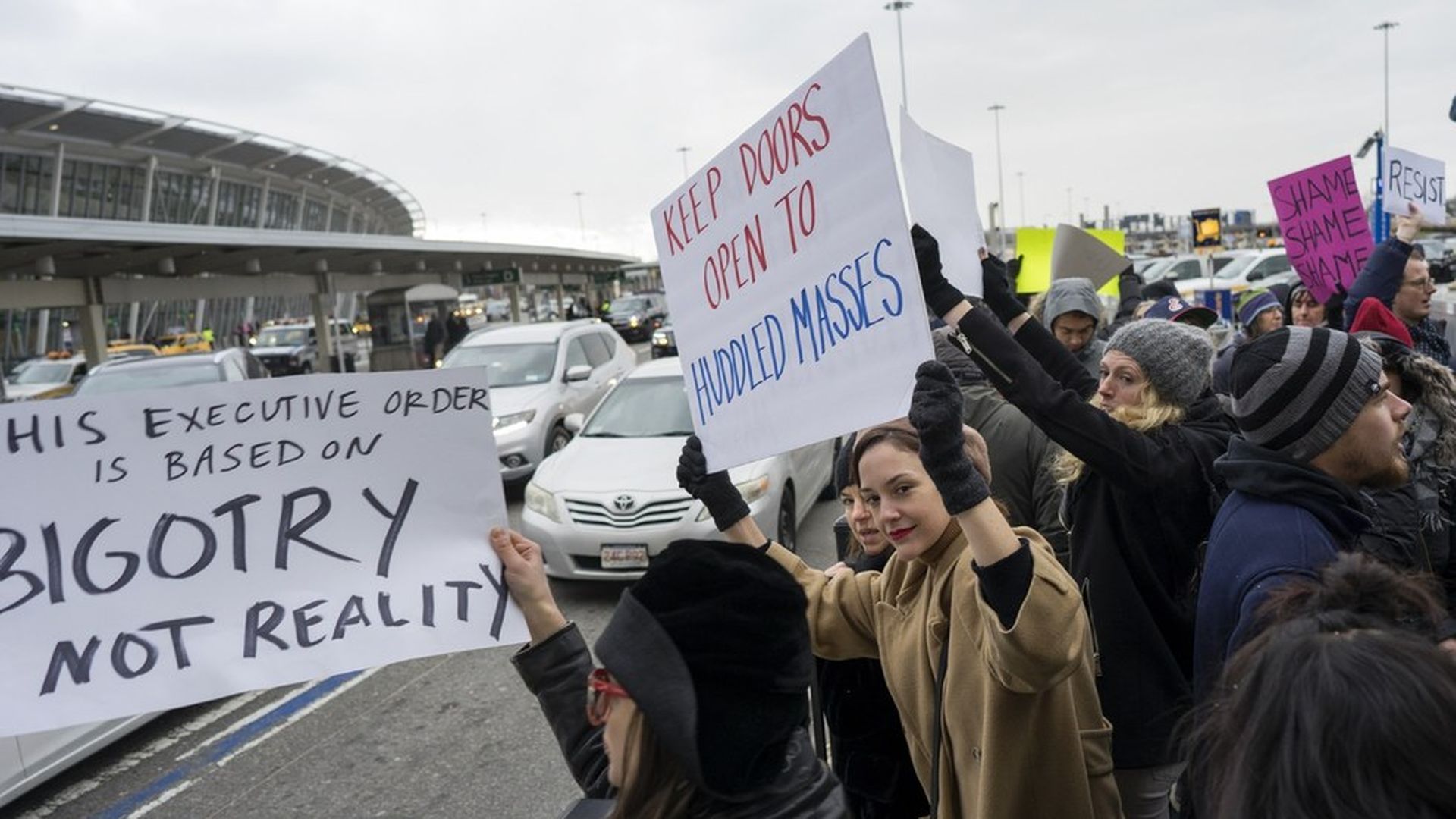 CEOs of tech giants across the country are issuing statements condemning Trump's executive order banning people from Iran, Iraq, Syria, Sudan, Libya, Yemen and Somalia from entering the U.S.
Apple: CEO Tim Cook sent out a memo to his employees: "I share your concerns," Cook wrote. "It is not a policy we support."
"There are employees at Apple who are directly affected by yesterday's immigration order. Our HR, Legal and Security teams are in contact with them, and Apple will do everything we can to support them."
Google: CEO Sundar Pichai sent out a note directing employees traveling abroad with visas or green cards to return immediately.
"It's painful to see the personal cost of this executive order on our colleagues," Pichai wrote. "We've always made our view on immigration issues known publicly and will continue to do so."
Uber: CEO Travis Kalanick sent an email to his employees, which he later posted on Facebook, and has reached out to those affected in particular. He also said he will raise the issue when he visits the President on Friday for the first business advisory group meeting.
"We are working out a process to identify these drivers and compensate them pro bono during the next three months to help mitigate some of the financial stress and complications with supporting their families and putting food on the table."
The Internet Association: CEO Michael Beckerman issued a statement warning that Trump's order has "troubling consequences."
"Internet companies in particular thrive in the U.S. because the best and the brightest are able to create innovative products and services right here in America."
Facebook: CEO Mark Zuckerberg said in a Facebook post that he's concerned about the impact of the orders and that the U.S. should keep its doors open to refugees.
"We need to keep this country safe, but we should do that by focusing on people who actually pose a threat. Expanding the focus of law enforcement beyond people who are real threats would make all Americans less safe by diverting resources, while millions of undocumented folks who don't pose a threat will live in fear of deportation."
Microsoft: CEO Satya Nadella shared on LinkedIn:
"As an immigrant and as a CEO, I've both experienced and seen the positive impact that immigration has on our company, for the country, and for the world. We will continue to advocate on this important topic."
Netflix: CEO Reed Hastings took to Facebook to share his views.
"Trump's actions are hurting Netflix employees around the world, and are so un-American it pains us all. Worse, these actions will make America less safe (through hatred and loss of allies) rather than more safe."
Go deeper