The shadow Secretary of State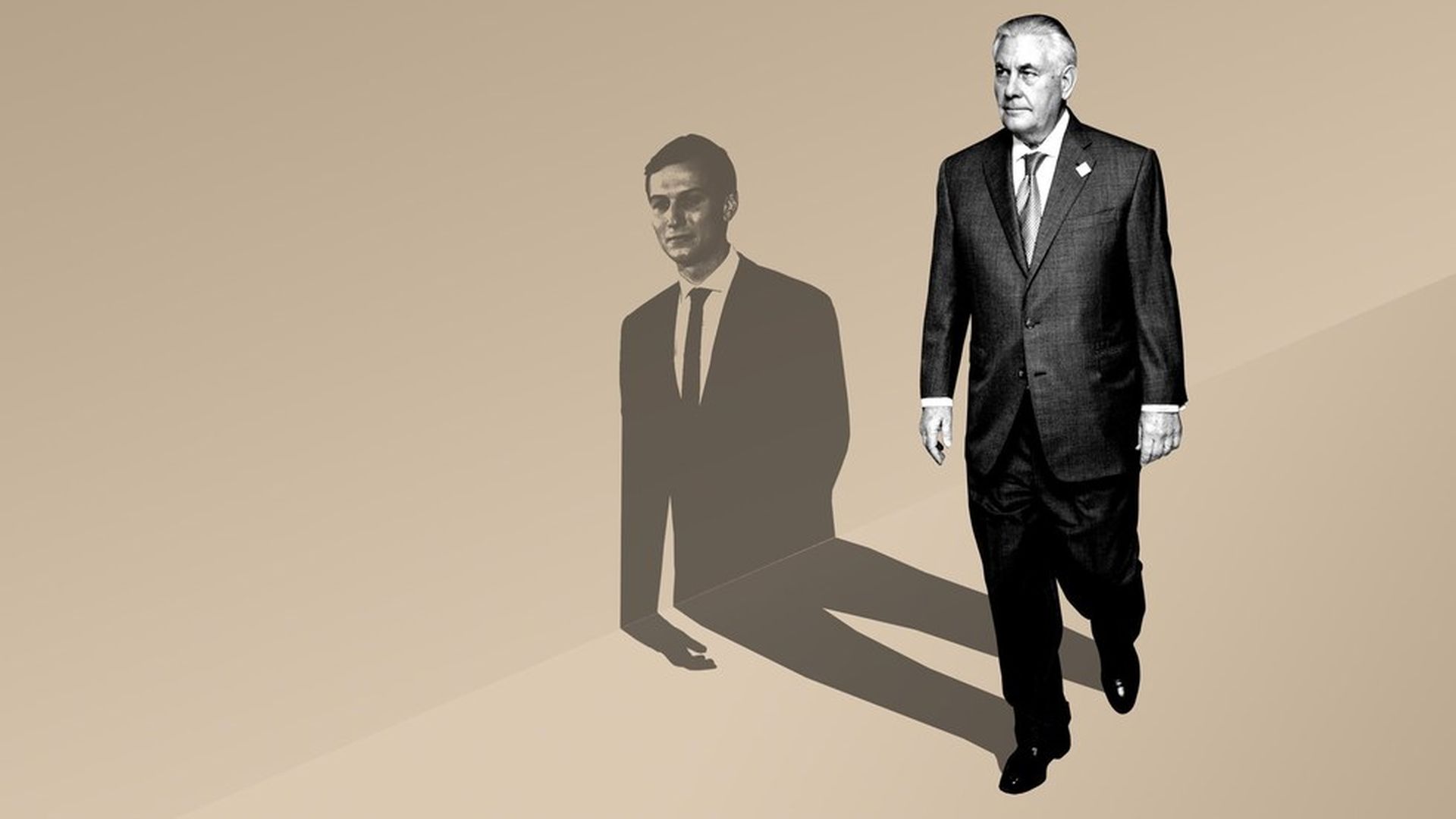 While Rex Tillerson fills the official duties of America's top diplomat, Jared Kushner, President Trump's son-in-law, has a parallel foreign policy role that was on full display during Trump's first foreign trip last week.
Why it matters: Kushner is viewed internally as the official most capable of gathering competing viewpoints and translating/presenting the policy to Trump. That's why Trump has put him in charge of issues as big as Middle East peace, and why he has served as point person on the U.S. relationship with China. But he's facing new scrutiny amid reports he tried to set up secret communications with the Russians (to discuss Syria strategy, according to the New York Times).
A White House official told Axios that Kushner was the one who helped plan and oversee the first part of the trip — to Saudi Arabia, Israel and Italy — with the theme of speaking to 3 of the world's biggest religions. During the Saudi Arabia stop, an arms deal Kushner reportedly helped negotiate was finalized.
What Kushner's been up to:
Helped negotiate the $100+ billion arms deal that was unveiled during Trump's visit to Saudi Arabia
Was closely involved in NAFTA discussions and calls from the presidents of Mexico and Canada to Trump (although the exact order of business between Trump and Trudeau is disputed, both versions of the story involve Jared Kushner).
Helped facilitate the February meeting between Israeli Prime Minister Netanyahu, who he has known for years, and Trump.
Helped smooth relations between Trump and Mexico's President Enrique Nieto through his personal bond with Mexican Foreign Minister Luis Videgaray. The two share mutual friends.
Had a hand in organizing Trump's meeting with China's President Xi Jinping in Mar-a-Lago in April (Kushner has a good relationship with China's ambassador to the U.S., Cui Tiankai).
What Tillerson's been up to:
Foreign trips to Belgium, China, Germany, Ireland, Italy, Japan, Mexico, Republic of Korea, Turkey and Russia.
Meetings with foreign leaders including Russian President Vladimir Putin, Japan's President Shinzo Abe and South Korea's president and foreign minister
Bottom line: So far, Tillerson and Kushner seem to be working together smoothly. Tillerson lets Kushner take the lead on Mexico, the Middle East and even China, while Tillerson handles Russia, meets with other world leaders, participates in foreign councils and forums and gives the public briefings. Trump likes that Tillerson is discrete and doesn't elevate himself above the president, and Kushner has told associates he appreciates that there have been few leaks out of State.
Go deeper