The people known to have met with Robert Mueller's team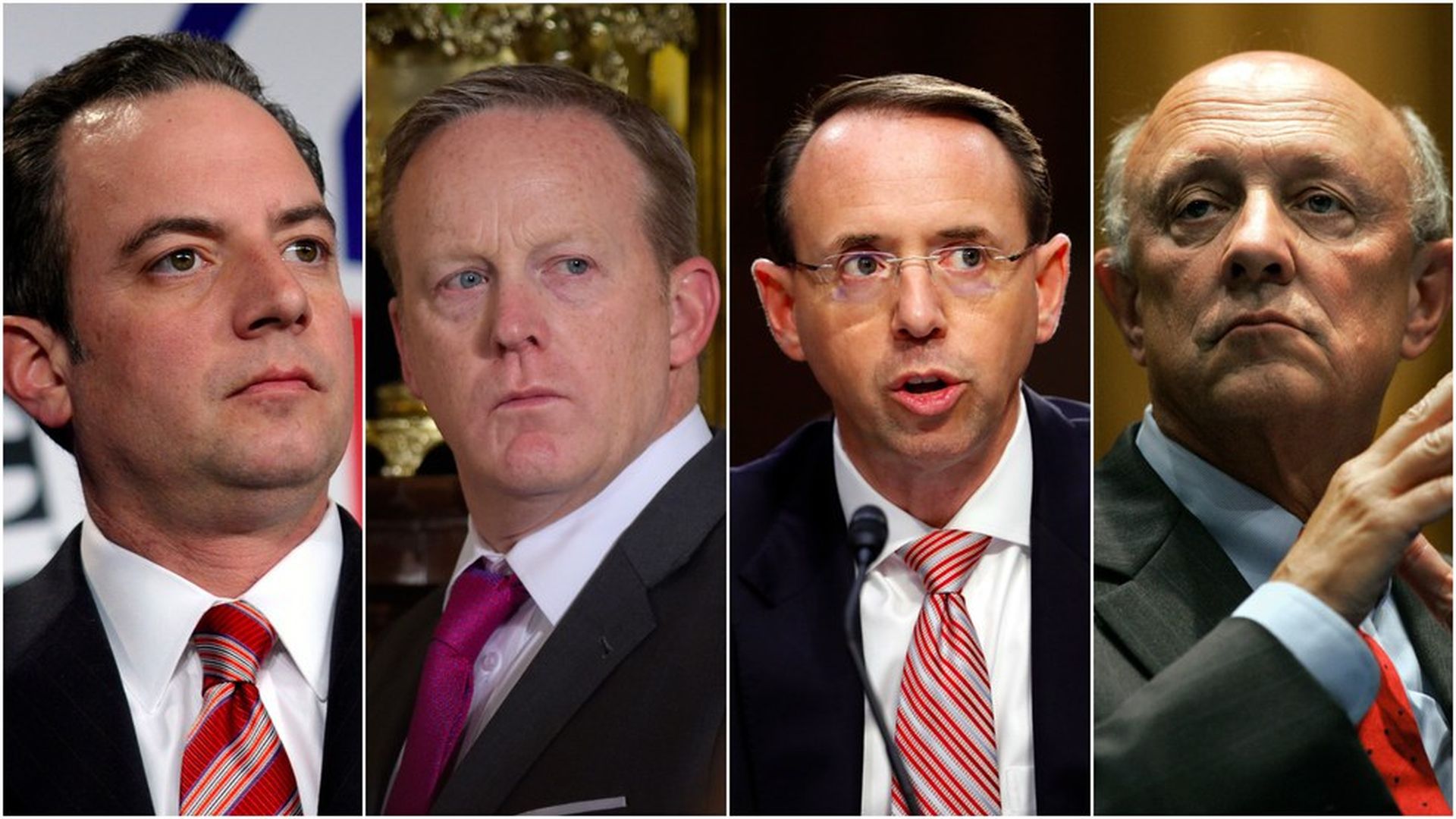 Special Counsel Robert Mueller's months-long Russia probe has reached current and former White House officials who were in the room when President Trump made key decisions and statements that are now under scrutiny. And Monday, the first indictments from the probe were announced.
Here's a look at the individuals we know have met with the Special Counsel's team, per reports.
Reince Priebus
Mueller's team met with the former White House chief of staff on Oct. 13. A lawyer for Priebus told Politico that Priebus was interviewed "voluntarily" and "was happy to answer all of their questions."
Sean Spicer
Trump's former press secretary was interviewed by Mueller's team on Oct. 16 in a meeting that lasted several hours, per Politico. Their discussions reportedly covered the firing of James Comey and Trump's meetings with Russians, including his Oval Office meeting with Russian Foreign Minister Sergei Lavrov. Spicer is also known to have kept extensive notebooks detailing goings-on at the White House.
Rod Rosenstein
The Special Counsel's team interviewed Deputy Attorney General Rod Rosenstein over the summer, Politico reports. After the interview, Rosenstein continued to oversee Mueller's probe from his position at the Department of Justice. There has been speculation as to whether Rosenstein should recuse himself from that role given his involvement in Trump's firing of Comey.
Trump's legal team
Trump's lawyers met with Mueller several times throughout the summer since he was appointed Special Counsel on May 17, per the Wall Street Journal. During the meetings, the president's legal team reportedly presented memos defending Trump against the claim that his firing Comey constituted obstruction of justice. One memo said Trump had constitutional authority to fire the former FBI director and another discredited Comey as a source of leaks.
Christopher Steele
Mueller's team met with the author of the infamous Trump-Russia dossier during the summer, per CNN. The dossier, which contains memos detailing Trump's interactions with the Kremlin is reportedly playing a role in Mueller's probe.
James Woolsey
Woolsey, a former CIA director, was interviewed by Mueller about a September 2016 meeting he had with former national security advisor Michael Flynn, per NBC. During the September meeting, Flynn allegedly discussed removing Turkish cleric Fethullah Gülen from the U.S., a potentially illegal act. Turkish President Recep Tayyip Erdogan has accused Gülen of inspiring the July 2016 military coup attempt in Ankara, NBC reports. Flynn's suggestion to remove Gülen would be questionable because the former national security advisor was paid over $500,000 to lobby for the Turkish government in 2016.
Worth noting: These are just the meetings we know about. There is almost certainly far more going on behind the scenes.
Go deeper