The most heated moments at the Republican town halls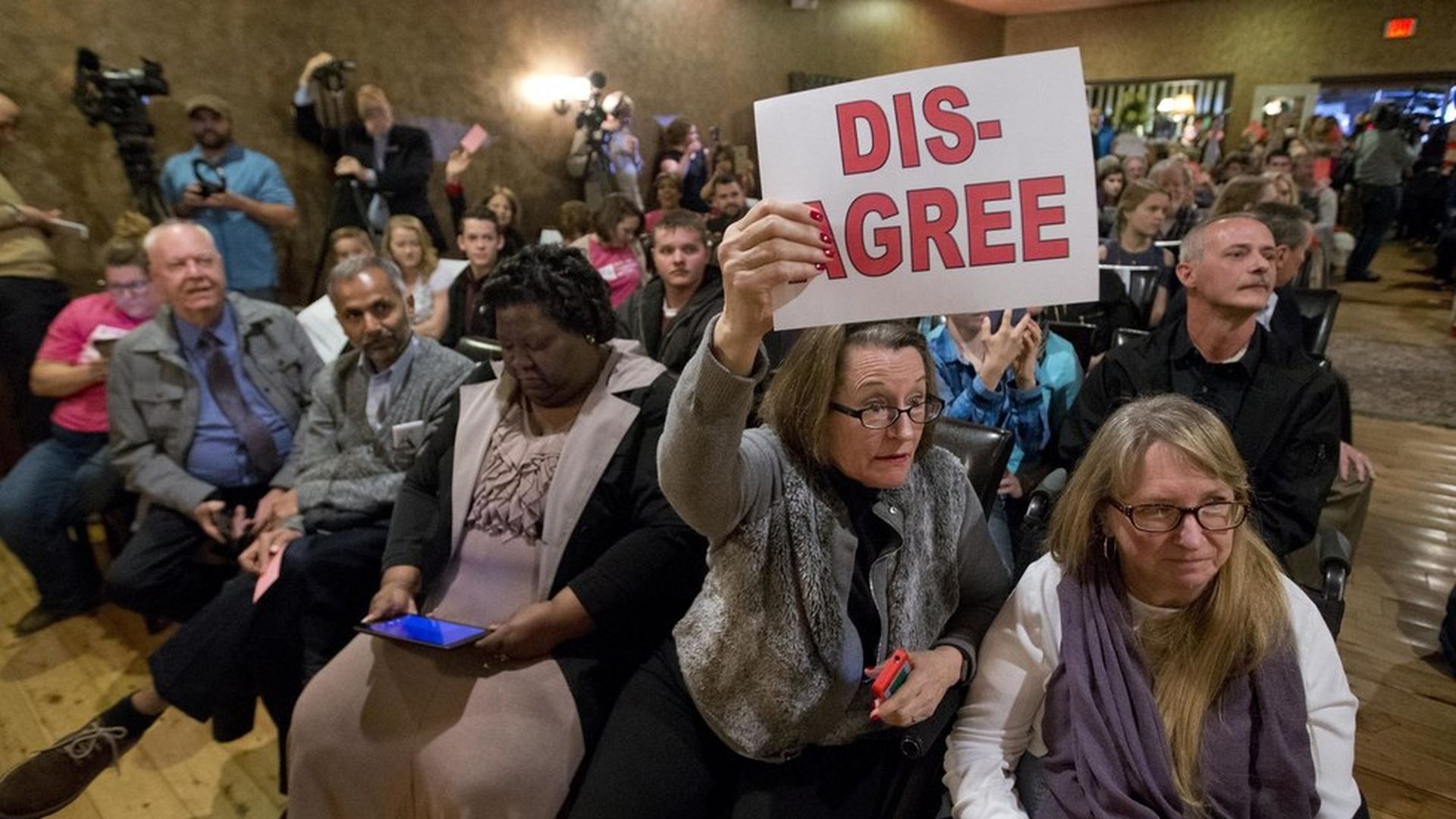 Town halls across the country last night erupted as U.S. citizens expressed their opinions and discontent with the political scene and demanded answers from their Congressman. Here are videos of recent hot moments.
At Dave Brat's town hall, the crowd laughed after one member asked if Brat thought everything was running smoothly, as Trump has claimed.
Here's a good example of the rowdiness/frustration at Rep. Dave Brat's town hall tonight. He took over 30 Qs, got lots of pushback. pic.twitter.com/L3kHyDUNKw — Ashley Killough (@KilloughCNN) February 22, 2017
At a town hall with Mitch McConnell, a woman demanded to be answered about what would happen with Obamacare.
Chuck Grassley's town hall attendees complained that they wouldn't be able to afford health insurance without Obamacare.
Angry constituents confront Chuck Grassley in Iowa: "If it wasn't for Obamacare, we wouldn't be able to afford insurance!" pic.twitter.com/vrbhbOiBMM — Bradd Jaffy (@BraddJaffy) February 21, 2017
Tom Reed got booed late last week when he told the crowd Obamacare would be repealed.
Republican Rep. Tom Reed met with chorus of boos as he discusses repealing Obamacare at town hall: https://t.co/Ob8D9pdCla pic.twitter.com/c92uYCb9eZ — ABC News (@ABC) February 18, 2017
In Iowa, the crowd started chanting "Do your job!" at Joni Ernst when the town hall came to an abrupt end.
Crowd erupts at Joni Ernst event in rural Iowa pic.twitter.com/cSd829Q4YC — Bradd Jaffy (@BraddJaffy) February 22, 2017
Ted Cruz did not hold a town hall...
And protesters let an absent Darrell Issa have it.
.@DarrellIssa Over 2000 of your constituents were looking for you at a #townhall they hosted for you tonight. #WhereIsIssa pic.twitter.com/DXXC0C4TtS— TashiLynn (@TashiLynnCA) February 22, 2017
Background reading: Why Republicans should be nervous about repeal, and inside the new effort from a McConnell-linked group to push back on conservative hardliners.
Go deeper