The messy history between Trump & Morning Joe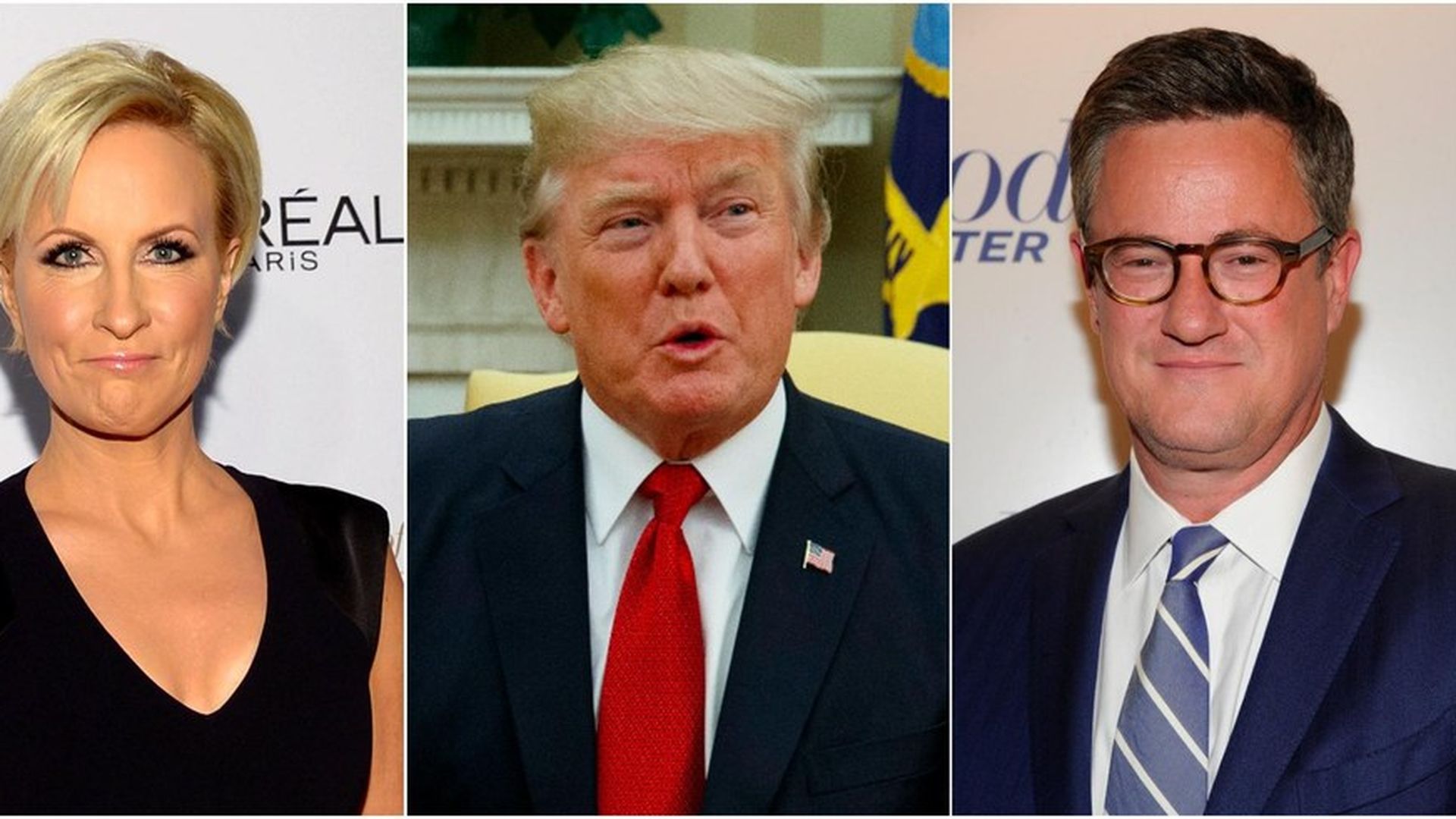 President Trump's cutting tweet toward Morning Joe hosts Mika Brzezinski and Joe Scarborough has run the news cycle with GOP senators and even Michael Flynn Jr. and Richard Spencer condemning his reaction. There has always been drama between Donald Trump and the Morning Joe crew. In 2015, there were claims of their relationship being too cozy. Here's what's gone down since.
Pre-election positivity
February 10, 2016 Trump: "You guys have been supporters, and I really appreciate it. And not necessarily supporters, but at least believers. You said there's some potential there."
February 22, 2016 Tapes are released in which Mika and Joe seemingly discuss with Trump whether to ask harder or easier questions during his interview.
Negativity
February 16, 2016 After playing a clip of Trump refusing to condemn David Duke, Scarborough: "That is disqualifying right there. To say you don't know about the Ku Klux Klan... you don't know about David Duke? ... I mean, is he really so stupid that he thinks southerners aren't offended by the Ku Klux Klan and David Duke?"
June 3, 2016 Trump: "I don't watch or do @Morning_Joe anymore. Small audience, low ratings! I hear Mika has gone wild with hate. Joe is Joe. They lost their way!"
August 22, 2016 Trump:"Tried watching low-rated @Morning_Joe this morning, unwatchable! @morningmika is off the wall, a neurotic and not very bright mess!" and "Some day, when things calm down, I'll tell the real story of @JoeNBC and his very insecure long-time girlfriend, @morningmika. Two clowns!"
September 2, 2016 Trump: "Just heard that crazy and very dumb @morningmika had a mental breakdown while talking about me on the low ratings @Morning_Joe. Joe a mess!"
Positivity
October 10, 2016: Scarborough: "Whether you think last night made any difference at all to the final outcome in November, I think there are a couple of things that people in the press may not want to admit. But it was plainly evident watching him on TV last night. Number one, it was Donald Trump's most effective debate performance to date. There's not a close second."
Brzezinski: "No Republican in America could have done what he did last night. My God. It was epic. It was vintage Trump. He produced a day-long show that rocked the political world."
October 29, 2016: Trump: "Thank you @morningmika and @JoeNBC for all of your nice words and comments on the debate!"
November 1, 2016 Trump:
Scarborough: "If you said I get to run the last week of a campaign and I get to choose her position or Trump's position, I take his. Because you've got the momentum, you've got the wind at your back."
Post-election negativity
January 23, 2017 Scarborough: "You look at the first full day in the White House for this president. It could not have gone worse. it could not have been more disturbing to America and America's closest allies."
March 6, 2017 Brzezinski: "I had hope and an open mind. And I have lost hope completely and my mind is closed. This presidency is fake and failed. This is really bad. Just for the record, we are all really nervous."
May 24, 2017 Scarborough: "Admitting to something that nobody charged him of, and yet in so doing, revealed himself as the jackass that leaked top secret Israeli intel."
June 8th, 2017 Brzezinski: "Well I think he's such a narcissist, it is possible that he's mentally ill in a way... he's not well. At the very least he's not well and he's so narcissistic he does not believe the rules apply to him. And that's where the ignorance label may apply because this is a man who says he can grab women anywhere because he's famous... I think theres a innuendo to perhaps the other sex. But anyhow, everyone has their ideas as to why he said what he said."
June 28, 2017 Brzezinski: "Phony. A phony, fake, pathetic, made up cover of Time magazine. That's your boss. That's needy."
Today
Scarborough:"What a populist. Oh, way to stand up to Goldman Sachs Mr. President. We're really proud of you, buddy. Way to go. Hey, you're a populist."
Brzezinski: "Nothing makes a man feel better than making a fake cover of a magazine about himself, lying every day and destroying the country." and "Oh, well, he's covering his hands here because they're teensie!"
Trump:"I heard poorly rated @Morning_Joe speaks badly of me (don't watch anymore). Then how come low I.Q. Crazy Mika, along with Psycho Joe, came to Mar-a-Lago 3 nights in a row around New Year's Eve, and insisted on joining me. She was bleeding badly from a face-lift. I said no!"
Go deeper