The message behind Bob Corker's public Trump intervention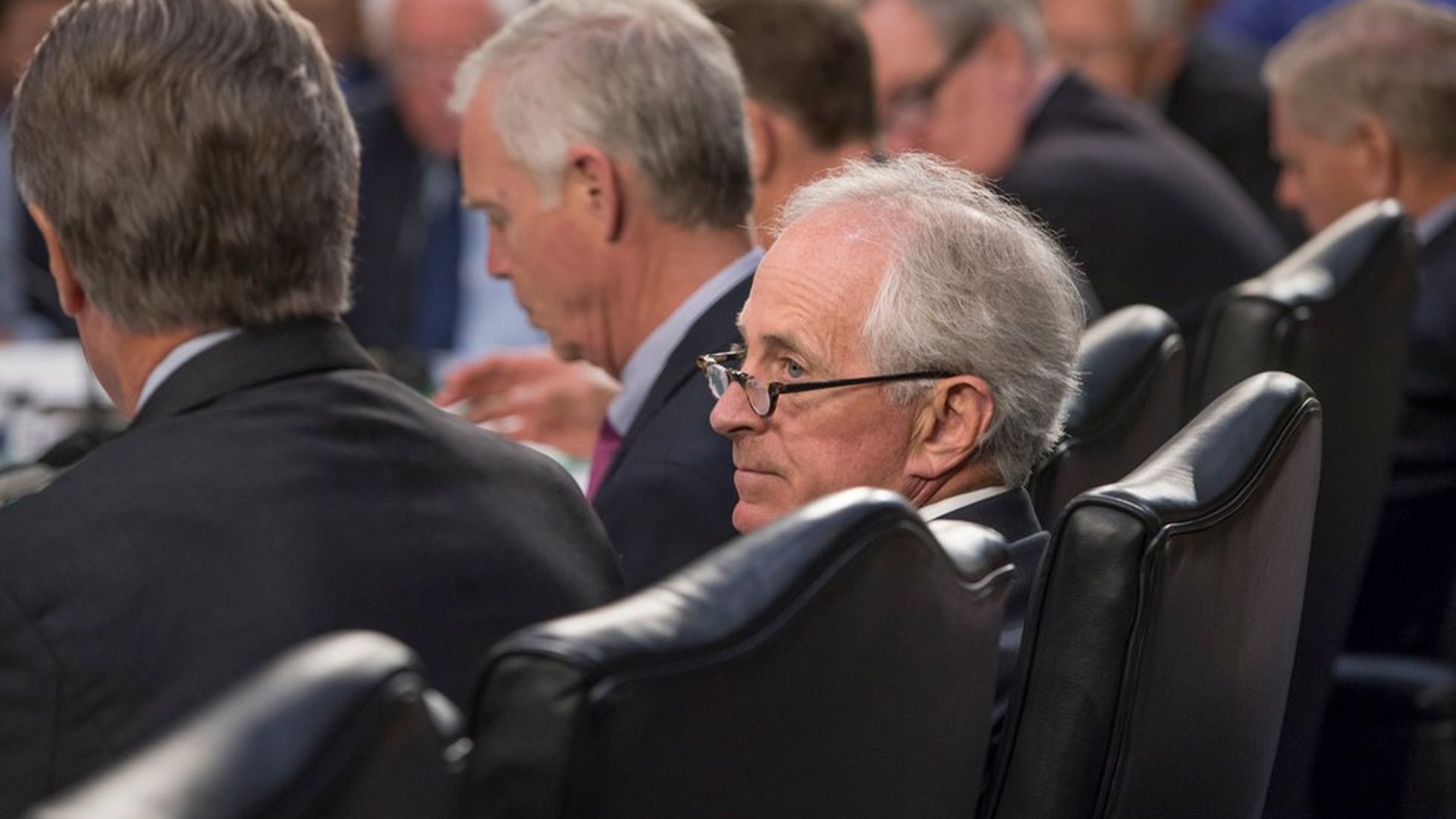 That escalated quickly. After a nasty Twitter back-and-forth with President Trump on Sunday morning, retiring Senate Foreign Relations Chair Bob Corker (R-Tenn.), told the N.Y. Times' Jonathan Martin that Trump's "reality show" could set the nation "on the path to World War III."
Why it matters: A Republican close to the White House told me: "These comments now shape the criticism of the President going forward. Corker's comments will be the catalyst for all the doubts about Trump's fitness ... [H]e has sewn the strands of doubt about Trump into a vivid tapestry."
"He concerns me," Corker said. "He would have to concern anyone who cares about our nation."
Corker — once friendly enough with Trump that he was a serious vice-presidential possibility — announced last month that he won't seek reelection, and so is free to speak his mind in a way that most pols aren't.
Be smart: This looks like a public intervention, but it's really a very targeted message. Corker, sources tell me, knows that the best way to reach Trump is through the media.
Corker is trying to send a signal flare to Trump — and, especially, the couple of aides closest to him (especially Chief of Staff John Kelly) — that Trump needs more restraint and constraints.
The unthinkable exchange began with Trump tweeting that Corker "[d]idn't have the guts to run": "Corker 'begged' me to endorse ... I said 'NO' and he dropped out ... He also wanted to be Secretary of State, I said 'NO THANKS.'"
A top lobbyist texted me: "Bye, bye tax reform."
Corker responded from his official Senate account: "It's a shame the White House has become an adult day care center. Someone obviously missed their shift this morning."
Corker's frustration had been building. In August, after Charlottesville, he had said Trump lacks "stability" and "competence."
A Republican who has worked on Capitol Hill, in the Executive Branch and on K Street emailed me: "Simply stunning. A high-wire act with a nation's destiny hanging in the balance."
But, wait: There's more! Corker told JMart he speaks for most of his Republican Senate colleagues:
"Look, except for a few people, the vast majority of our caucus understands what we're dealing with here. If you write that, I'm sure there will be some that will come to you and say, 'No, no, no. I don't believe that.'"
"But of course they understand the volatility that we're dealing with, and the tremendous amount of work that it takes by people around him to keep him in the middle of the road."
Be smarter: The Corker mission could backfire. The more stories there are about the retired generals "babysitting" Trump, the more he'll resist.
Go deeper