The history of singing the national anthem before NFL games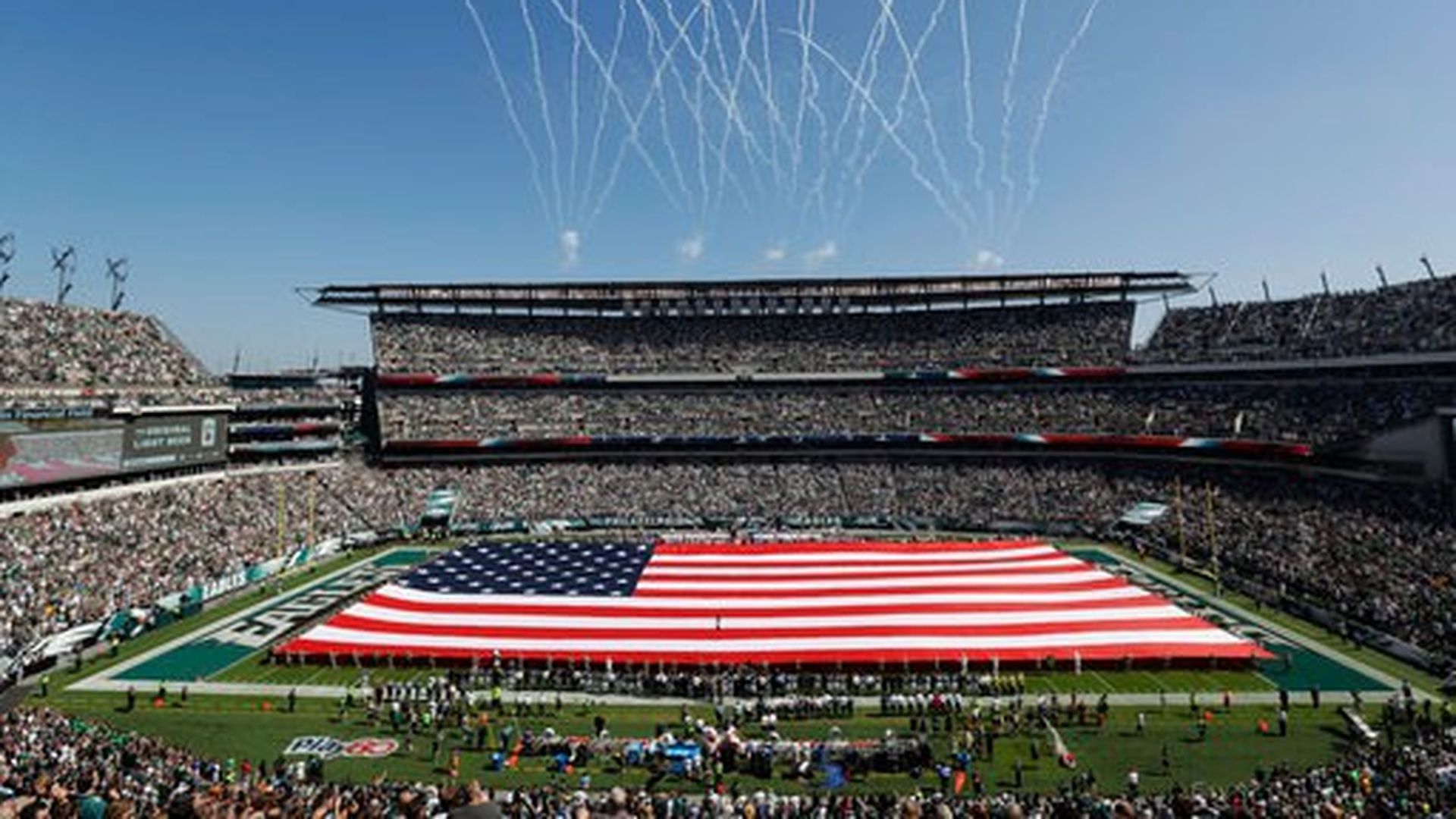 Football season is now at the center of a heated political debate over whether or not players should be allowed to sit or kneel during the national anthem. Some agree with President Trump and find the move offensive, claiming it is disrespectful to those who serve in the U.S. military; others argue that the protest is a form of patriotism, and the U.S. guarantees the right of players to protest however they choose.
Why it matters: While patriotism should not be conflated only with the military, the history of playing the national anthem before sports games does have strong ties with honoring the armed forces.
Here's a timeline of how the national anthem became a sports tradition in the first place:
1814: Francis Scott Key wrote the Star Spangled Banner, while watching the bombardment of Fort McHenry in Baltimore.
1889: Secretary of the Navy Benjamin F. Tracy called for the song to be played whenever the American flag was raised.
1916: President Woodrow Wilson signed an executive order declaring the "Star Spangled Banner" the American national anthem.
1918: The song was played spontaneously during the seventh-inning stretch of game one of the World Series between the Cubs and Red Sox, while the country had been in World War I for a year and half. After this, the song was often played on holidays or special occasions in many baseball parks.
1931: Congress passed an act officially confirming the "Star Spangled Banner" as the national anthem, and President Hebert Hoover signed it into law.
1941-42: Playing the national anthem before the start of regular season baseball games became the standard. And with the U.S. in World War II now, the National Football League also included the playing of the anthem before games.
1945: NFL commissioner Elmer Layden said, "The playing of the national anthem should be as much a part of every game as the kickoff. We must not drop it simply because the war is over. We should never forget what it stands for."
2009: NFL players began standing on the field for the national anthem before the start of primetime games. Before this, players would stay in their locker rooms except during the Super Bowl and after 9/11.
2015: Senators John McCain and Jeff Flake released a report revealing that the Department of Defense had spent $6.8 million between 2012 and 2015 on what the senators called "paid patriotism" events before professional sports games, including American flag displays, honoring of military members, reenlistment ceremonies, etc. The DoD justified the money paid to 50 professional sports teams by calling it part of their recruiting strategy. However, many teams had these ceremonies without compensation from the military, and there was nothing found in the contracts that mandated that players stand during the anthem.
Go deeper