The great Russia meddling storyline collision has arrived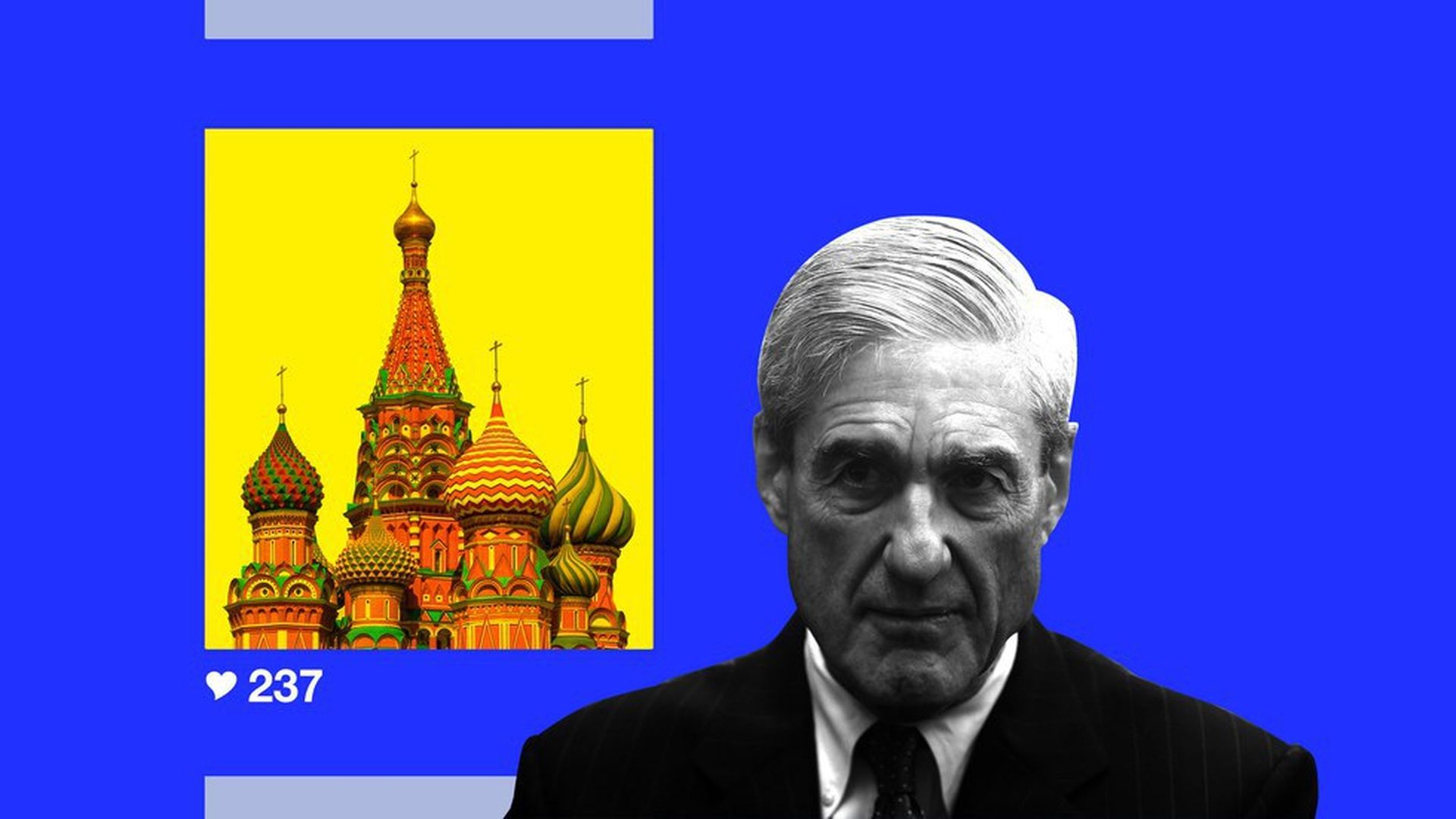 In an epic collision of this year's two biggest Washington storylines — both precipitated by Russian meddling in the election — special counsel Bob Mueller is expected to bring his first indictment today, and Big Tech (Facebook, Google and Twitter) gets grilled on the Hill tomorrow and Wednesday.
As we begin this historic week, a poll for Axios by SurveyMonkey has ominous findings for both the Trump White House and the tech giants:
51% (including 49% of independents) think the Russian allegations against the Trump campaign are a serious issue.
54% (including 50% of independents) take seriously the allegations that Russia used social platforms to deliver targeted advertising.
The partisan breakdown: 85% of Democrats say the allegations are a serious issue. 82% of Republicans say they're a distraction.
51% say social media does more to harm than help democracy and free speech.
By a 2-to-1 ratio, Americans say technology will likely take away more jobs than it creates over the next 10 years.
Just 18% of Americans say the amount of data in tech's hands is a good thing, yielding better products and services. 78% see it as a bad thing because of potential misuse.
But, but, but ... People have strongly favorable views of the biggest tech brands, and don't trust the government to properly regulate the tech companies — partly because of the fear of overreach.
That's a sobering backdrop for potentially the most consequential week since Trump was inaugurated nine months ago.
Why this week matters: After months of spin and bile, we'll finally see the tangible impact of Russia's meddling in 2016.
The special counsel's first move could lead to pardons or Mueller's firing, igniting a debate over executive authority.
The tech companies' testimony opens an equally potent battle to define the boundaries of free speech and press freedom in the Internet era.
We'll see a new struggle over the balance of power between Congress and the Executive Branch, and the beginning of the fight to constrain the economic and social power of the Internet titans.
Be smart: This week may only deepen our partisan trench warfare — more impeachment calls from the left, and more outrage about the "Hillary dossier" from the right. We'll see that the Russia issue isn't some subplot. It's multifaceted and ongoing, and will require a response from every element of public life.
Go deeper: "Americans don't trust tech firms or feds to police Russian meddling in U.S. politics," by Axios tech editor Kim Hart ... "Americans worried about Russian influence on election," by David McCabe.
Editor's Note: Sign up for Axios newsletters to get our smart brevity delivered to your inbox every morning.
Go deeper