The GOP senators standing up to Trump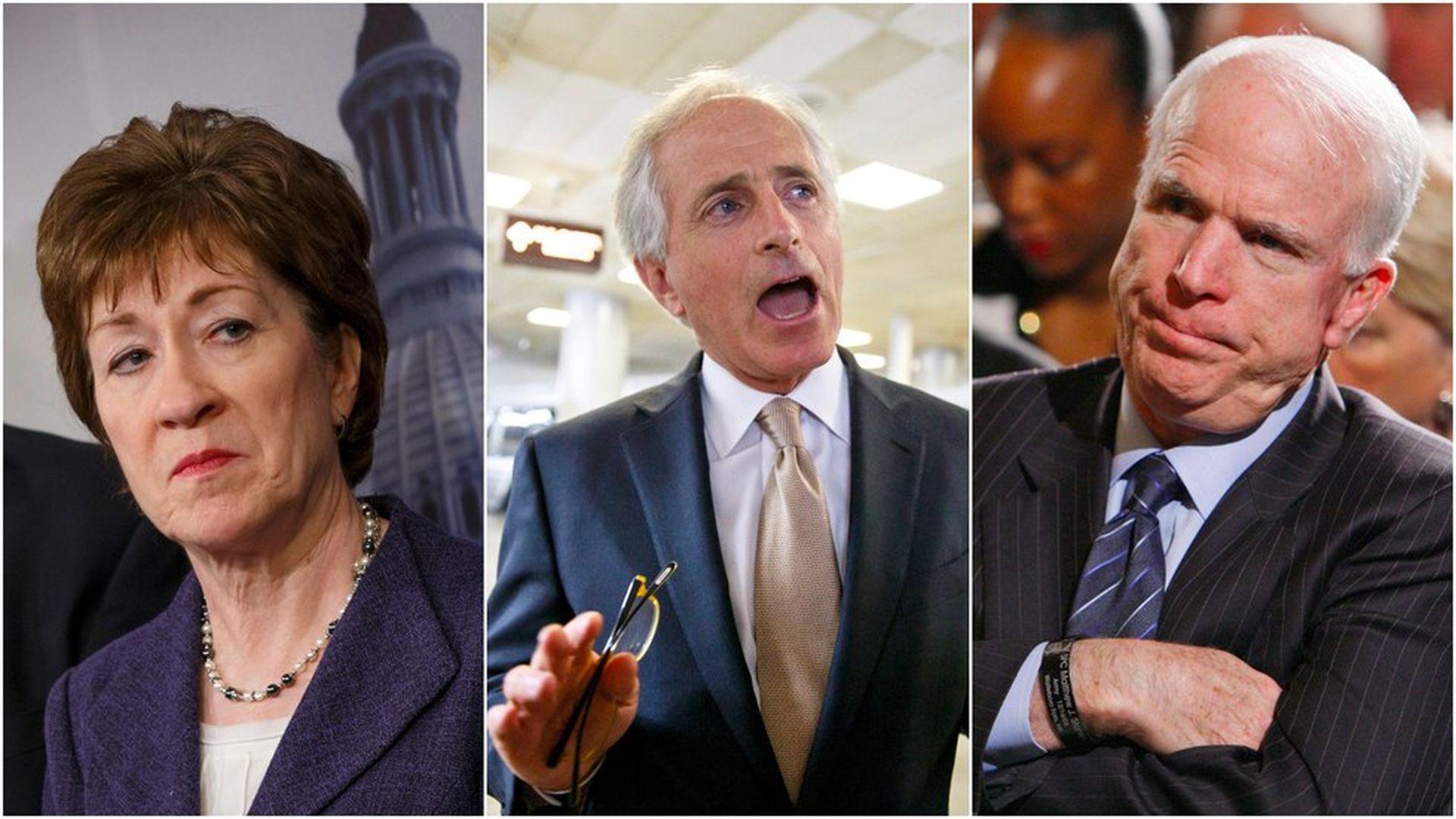 Republicans have a narrow majority in the Senate, with only two votes to lose, and President Trump has thus far been unable to thread the needle and get major legislation passed. At least three Republican senators seem unmoved by presidential pressure, putting Republican priorities issues like health care and tax cuts further into doubt.
Sen. Bob Corker
Key issue: The deficit
Where things stand: Corker, who has had a sudden burst of candor since announcing his intention to retire after this term, recently had this to say on the GOP tax plan: "Unless it reduces deficits — let me say that one more time — unless it reduces deficits and does not add to deficits ... I don't have any interest in it." Corker is also the latest senator to incur Trump's Twitter wrath — after Trump said he lacks "guts," Corker said the White House has become "an adult day care center."
Sen. John McCain
Key issue: "Regular order"
Where things stand: After a brain cancer diagnosis, McCain returned to the Senate floor and implored his colleagues to get back to "regular order," lambasting the closed-door drafting of the "skinny repeal" plan. He then voted no, and killed the repeal effort. The senator was a "no" on the second GOP attempt as well, again calling for "regular order." Trump went after him on Twitter, but McCain brushed it off .
Sen. Susan Collins
Key issue: Bipartisanship
Where things stand: Collins was among the first to come out against both GOP attempts to pass health care legislation. She called for a bipartisan effort to fix the Affordable Care Act rather than outright repeal. Trump tweeted that Collins, along with her colleagues McCain and Sen. Lisa Murkowski, "let the American people down" after health care failed in the senate over the summer. Collins is a blue state senator, and is considering a run for governor, so she has less incentive than most of her colleagues to get in line behind Trump.
Worth noting: Murkowski opposed Trump on health care, and Sen. Rand Paul helped kill the second attempt at ACA repeal, but Murkowski has been far less vocal in her opposition and Trump has a better relationship with Paul. Ahead of the most recent health care vote, he tweeted, "I know Rand Paul and I think he may find a way to get there for the good of the Party!"
Go deeper