The Freedom Caucus chair is trying to make a deal on Trumpcare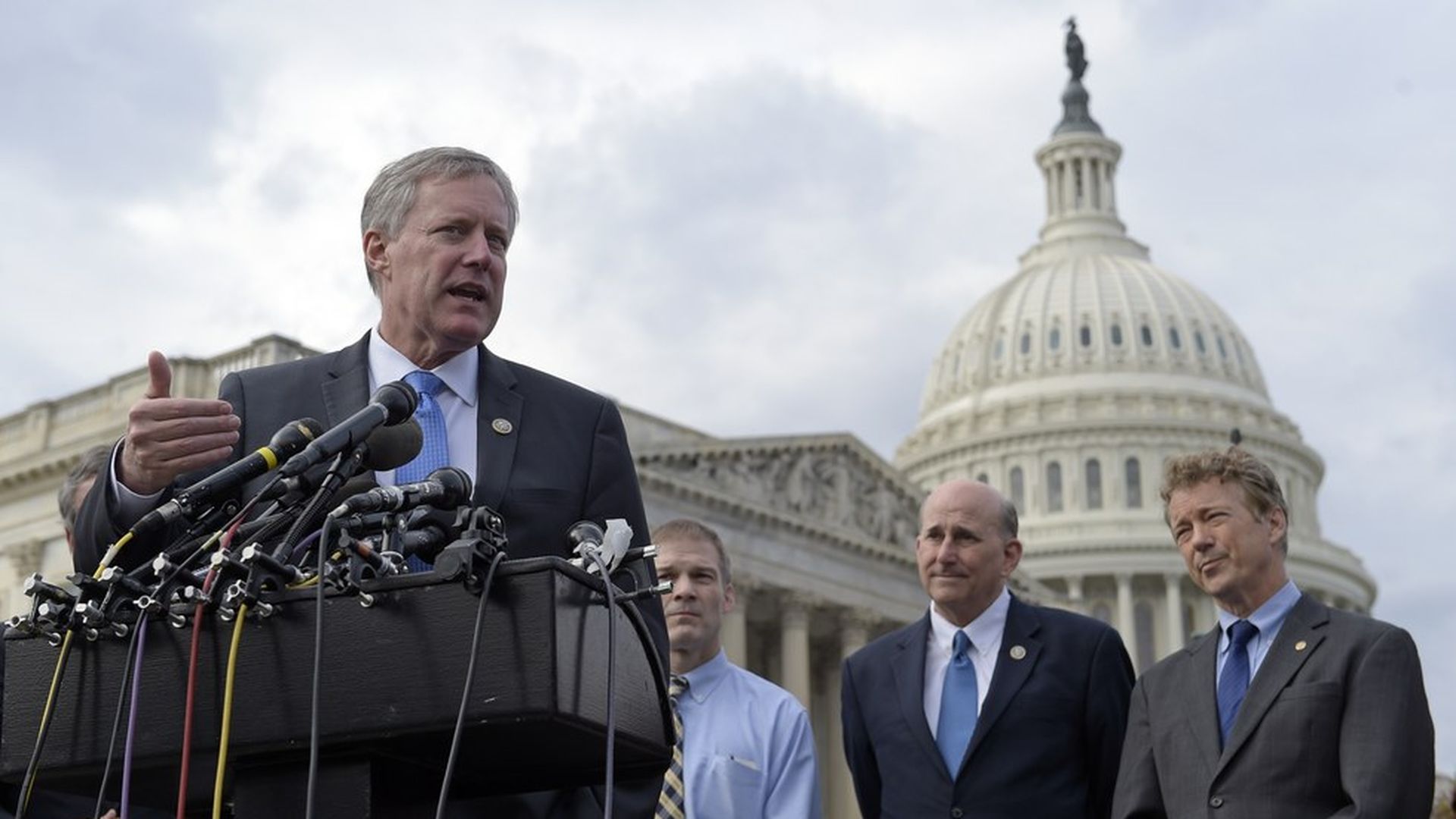 Rep. Mark Meadows, chairman of the House Freedom Caucus, says he's really trying to find a deal on Obamacare repeal and replacement. Not only has he — along with plenty of other conservatives — been in conversations with the administration, but he's also reaching out to senators who are on the fence about the House bill to try to find middle-ground solutions.
Why it matters: House leadership says the bill isn't going to change. Meadows, who says the current bill won't pass, is trying to work with everyone else to make sure the bill does, in fact, change.
He's met with five senators so far, he told me early Tuesday afternoon, including Sens. Steve Daines and Mike Lee. Lee, of course, has been by Meadows' side at every conservative press conference opposing different pieces of the bill. But Daines, a more moderate member from a Medicaid expansion state, is more surprising.
"We've spent several hours together," Meadows said of Daines. "Right now it's trying to be prepared for friendly amendments we might be able to convince our leadership would be viewed favorably in the Senate."
Meadows wouldn't elaborate on specific changes he'd like to see made to the current bill.
House leadership still seems to be resistant to changing the bill, their thought being the current legislation toes the best line between moderates and conservatives. But after the Congressional Budget Office released estimates Monday showing the bill will cause 24 million people to lose coverage and increase premiums in the short-run (before decreasing them down the road), it seems highly unlikely the current House bill ever becomes law.
Meadows said the temporary premium increase, in particular, is problematic. "I think the only way we ultimately drive down prices is to get rid of the Obamacare rules and regs," he said, which aren't repealed in the current House bill. The assumption is they can't be included, per Senate rules about budget reconciliation, the method being used to pass the bill. But Meadows hopes this can be successfully challenged.
Some bad news for Paul Ryan: Like some other members, Meadows is questioning leadership's assurance Obamacare repeal and replacement will actually be done in three phases:
The first bill passed through reconciliation (meaning no Democratic votes are needed).
Then administrative action.
Finally, further legislation addressing market reforms and regulations — which would need 60 Senate votes.
"The only way I know to address it at this point is to put it in the phase one package, where we can guarantee it'll be addressed," Meadows said. "To count on the executive branch to do something we should be doing legislatively becomes a pretty high hurdle for many of us to jump over."
Some good news for Mitch McConnell: Meadows isn't pushing for the Senate to break its rules regarding reconciliation, or for Trump to push the Senate to do so. "I don't see that actually being something that there's an appetite for in the Senate...and if there's not an appetite for that among at least 41 Republican senators, it's not something I would ask the president to do."
Go deeper